When it comes to staying ahead of the curve, the role retail data plays in the evolution of the retail ecosystem has been increasing like never before. These days, data has become a multipurpose tool, assisting retailers big and small in specifying anything from ways to improve their product offerings to fresh ideas for creating new ones. To make those data-based decisions, retailers are finding ever more efficient methods of data collection able to transform their raw data into action points. Here's where web scraping can help retailers to both harness the power of analytics and tackle the ambitious challenges of the market.
What is retail analytics?
… and what does web scraping have to do with it? Retail data analytics is a whole area of collecting and studying retail data to find emerging trends, make accurate decisions, estimate outcomes, and make forecasts. When done the right way, data analytics empowers retailers to get more insight into the performance of their products, stores, consumers, suppliers and vendors — and use that insight to scale their profits.
This is why data has become increasingly important for retailers. Managing a retail business is impossible without data analytics in some shape or form — even if they look like only punching some numbers into an Excel spreadsheet. So retailers have an opportunity to move from manual data collection to automated solutions. In fact, applying just a little bit of web scraping can be the first step to moving towards fully automated, complex solutions that combine data collection, cleansing, merging, visualization and forecasting.
Web scraping = descriptive retail analytics
This most widely known kind of data analytics - descriptive analytics - is used by retailers for collecting and organizing data. That's it. In simple terms, it's just gathering raw data from multiple sources to produce insights, see some correlations in the past and perhaps patterns for the future. As you can probably imagine, analysts used to do all of this copy-pasting manually in Excel: gathering data from various sources, merging it, cleaning the fluff, etc. UGH.
Luckily, today a lot of this data extraction and collection can be automated with special tools like scrapers. Such descriptive analytics gathered automatically can serve as a base for further diagnostic, predictive, and prescriptive analytics. A web scraping workflow is just the first step to turning raw data into proper business intelligence, and the next step in that journey is knowing how to use it.
How to use product data analytics
There are many tangible ways to apply scraped retail data to real-life decision-making. We'll be exploring just the most prominent ones, including, but not limited to:
Scrape Amazon to monitor pricing and reviews
Tracking pricing and the quality of reviews on Amazon is a textbook example of how hard it is for a product to compete against hundreds of other listings on a retail website, as well as of how hard it is to track it. This shouldn't be a  manual job. You need a tool allowing you to carry out data extraction from the website automatically and regularly. You would then export the data into flexible formats such as Excel or JSON and further integrate it directly into your data analysis tool via an API. Our Amazon Scraper will help you to get started right away with that.
You can also use that Amazon web scraper to monitor product reviews and collect feedback. You can use it to develop and improve any aspects of your online business that need attention. You can find more details on how to scrape Amazon on our blog.
Discover emerging trends with Shopify Scraper
The internet is not only a limitless library but also a catalog of new products and items, though those can be hard to pinpoint or if not searched for regularly. Web scrapers can scan entire websites for both of the above activities, and much more. If you use this method of trend monitoring, there will be soon more than enough material for whole clusters of trends.
For example, apart from our general Shopify Scraper, which can automate monitoring prices on this most popular solution for building online stores, we've just launched 300+ mini Shopify scrapers for shops created there. So if you're into scraping niche and lesser-known Shopify-powered online stores, you can extract a list of all products in a structured form, including product title, price, description, etc. Keep an eye on the most interesting ones and you won't miss out on the next big thing.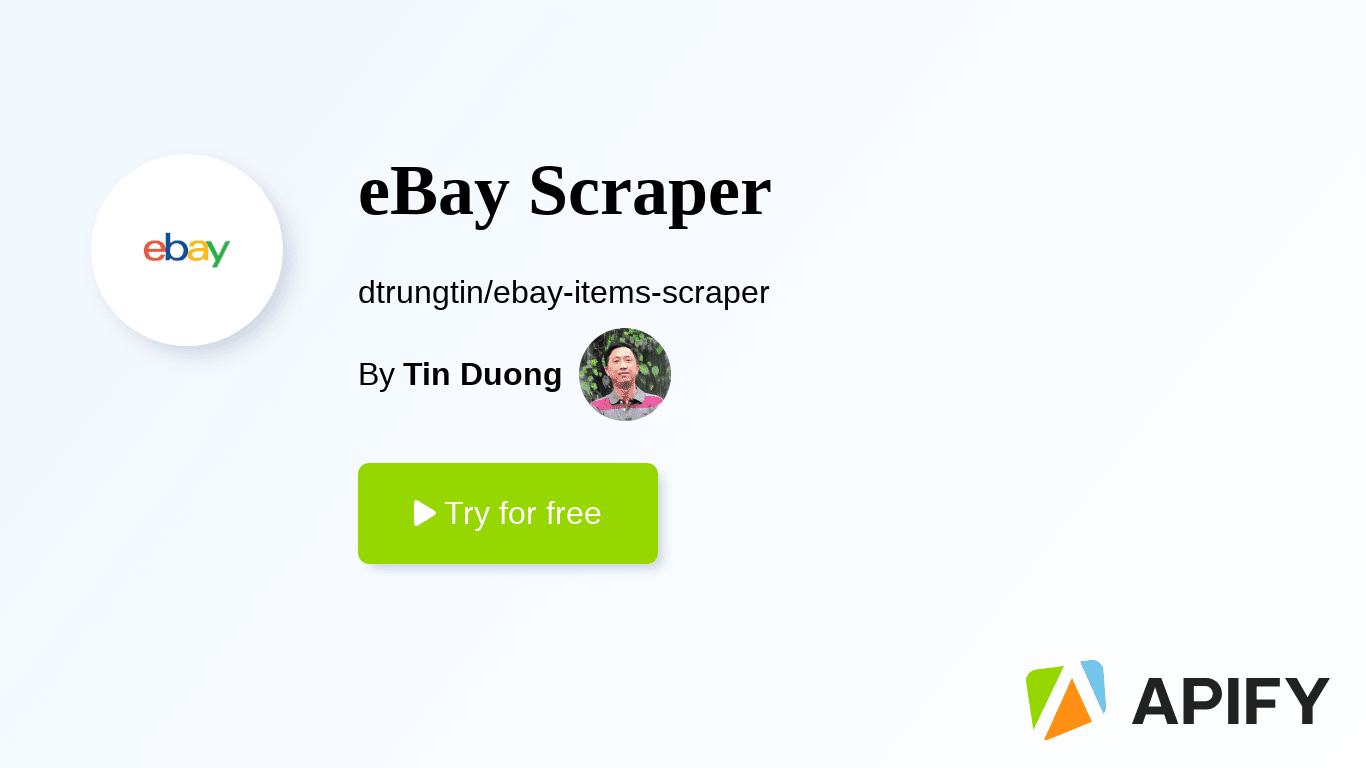 Conduct data-backed competitor analysis by scraping eBay
Product competitor analysis doesn't have to cost you a fortune. You can use web scraping to track retail competitor pricing from millions of e-commerce websites and products simultaneously. Sounds like a dream, right? Combining just a couple of actors and scrapers can easily make for your own free competitor analysis tool. And with just a little bit of that scraping magic, you can streamline product monitoring so you can and adapt your own pricing strategy accordingly.
For example, you can use our eBay Items Scraper (tutorial right here) to extract whole categories of items and also set up a monitoring bot on top that will send you a notification every time the price on your competitor's webpage changes. You can set up this watchdog for any e-commerce website in literally 5 minutes. This way you will be able to easily monitor targeted e-commerce websites for any content changes, not only price-related ones, and do so automatically.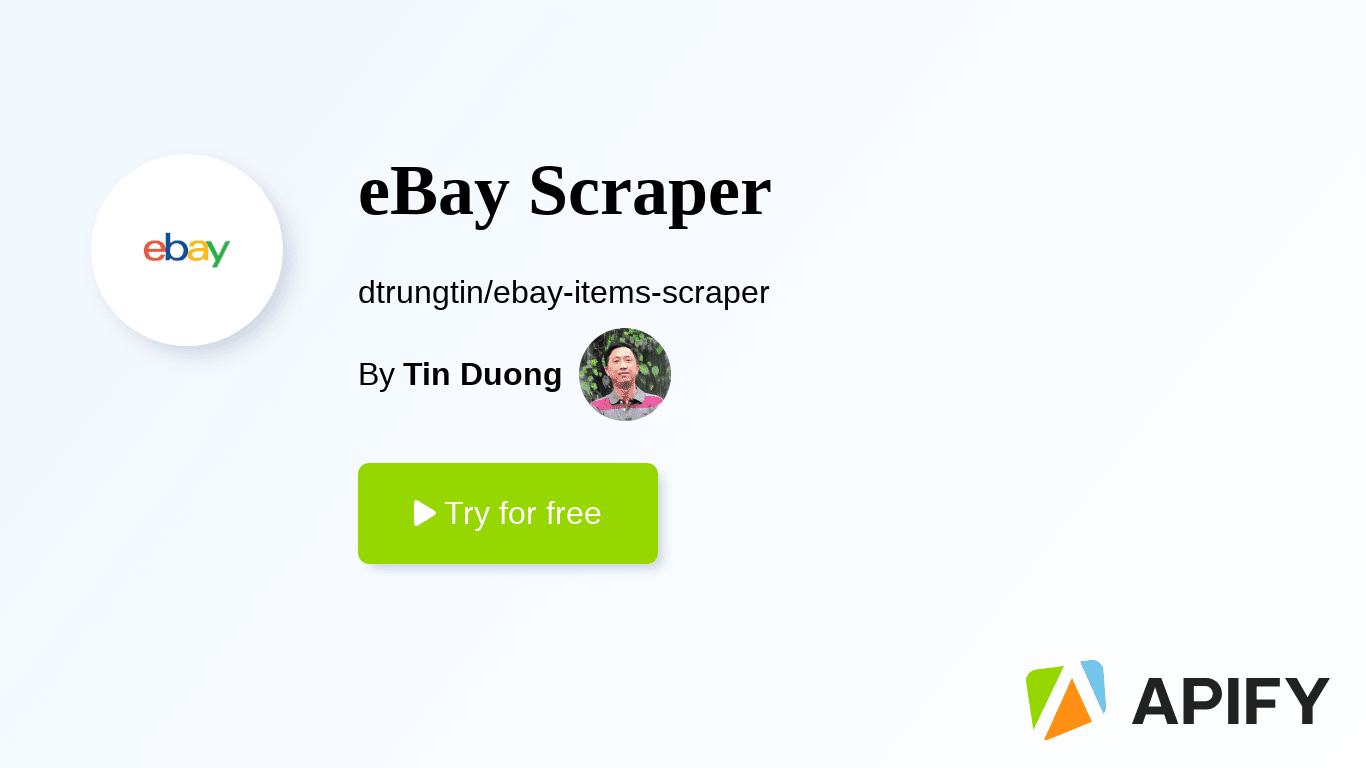 Update and improve your e-commerce listings by scraping AliExpress
Manually updating your e-commerce listings can be a source of never-ending iterations. This is where automatic updates can save the day by turning a problem into a solution. By fetching data for catalogs, a web scraper will provide a never-ending data supply - automated, scheduled, and not require much oversight. Automating this step means that new and updated listings won't be delayed or missed.
This rings especially relevant if you're in dropshipping business, where receiving fresh product data at the right moment can mean a loss or a win for the deal. You can read more about how to customize our AliExpress Scraper to your needs.
Level up market research with Google Shopping Scraper
Retail analytics can help you build a comprehensive picture of what is happening on the market. This is achieved by combining various sources of data: could be online, offline, and purchased.
Check out our Google Shopping Scraper and see how easy it is to scan the platform for ratings, product listings, images, related keywords, and more to stay ahead of emerging customer habits and trends. With this scraper on your side, you can not only collect product insights but also feed your machine learning or new product developments. All of this combined can make for a perfect market analysis toolkit - at least for starters - to analyze the market needs, quickly find and react to new business opportunities, improve sales rates and enhance profitability.
What's next for web scraping in retail?
It's a well-known fact that retail businesses are very complex, and there are many correlations between factors of demand, customer behavior, price differences, available product listings, competitors' moves, etc. Web scraping could be just that very first, but very affordable, step towards building a whole ecosystem of reliable retail analytics.
Web scraping tools can feed data to an entire business for it to act upon and use for further decision-making. You can find even more e-commerce scrapers in our Store or read about 4 challenges that retailers have to face when scraping e-commerce and how to navigate them.
Last but not least, you can see how not to do BlackFriday as our annual price monitoring hunt exposed some of the dirty tricks applied during this time of the year.