Scraping Amazon is a fast and efficient method of extracting useful data in the e-commerce industry. Our simple step-by-step guide will show you how to get ahead of the competition with a powerful Amazon Product Scraper.
How can you benefit from scraping Amazon?
Amazon is getting bigger every day, with more and more sellers using it to create successful online businesses. That means more competition. Web scraping is one of the tools that these sellers are using to keep ahead of their competitors. We'll show you how scraping Amazon with a ready-made Amazon Product Scraper lets you extract and download Amazon data to supercharge your online business.

Is scraping Amazon legal?
It is legal to scrape publicly available data such as product descriptions, prices, ratings, or reviews. Read through our blog post on the legality of web scraping to learn more about how the law sides with extracting data from the web.
How do I scrape data on Amazon?
Apify Store is packed with dozens of readymade tools for scraping and automation. One of the most popular scraping tools is Amazon Product Scraper, which allows you to extract data from Amazon automatically. This tool effectively creates an Amazon scraper API that enables you to get the data you need.
Let's find out how to scrape data on Amazon in 7 simple steps:
Step 1. Go to the Amazon Product Scraper page on Apify Store
Click on Try for free. If you already have an Apify account, you'll be taken straight to Apify Console, so you can go to step 3.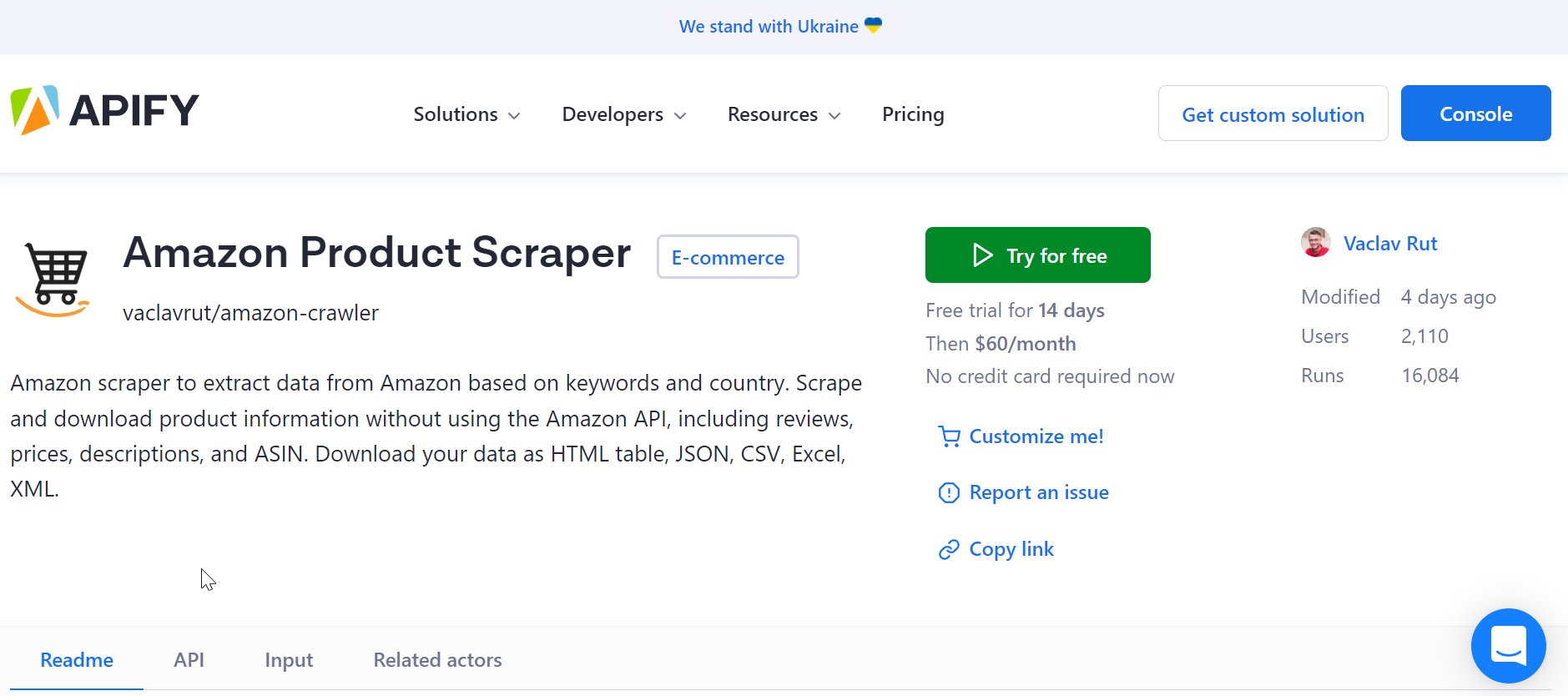 Step 2. Sign up if you don't have an Apify account
If you don't have an Apify account, you can sign up for free using your email address, Google, or GitHub.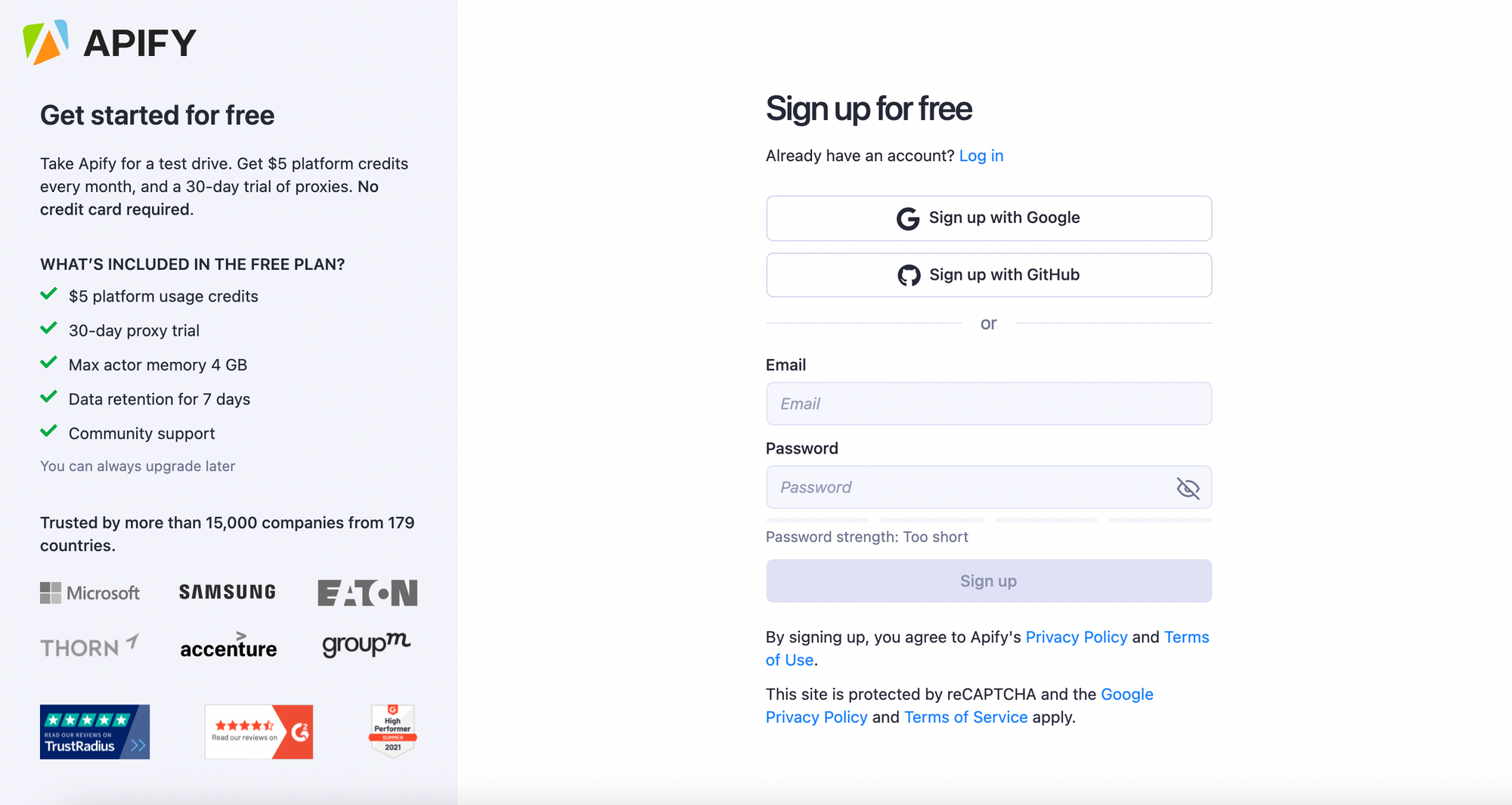 Step 3. Copy and paste the Amazon category URLs you want to scrape
Once you're in Apify Console, insert the Amazon category URL from which you want to extract data. In the example below, we have simply copied and pasted the URL for the first category on Amazon.com: Arts & Crafts. You can click on the + Add button to insert more category URLs.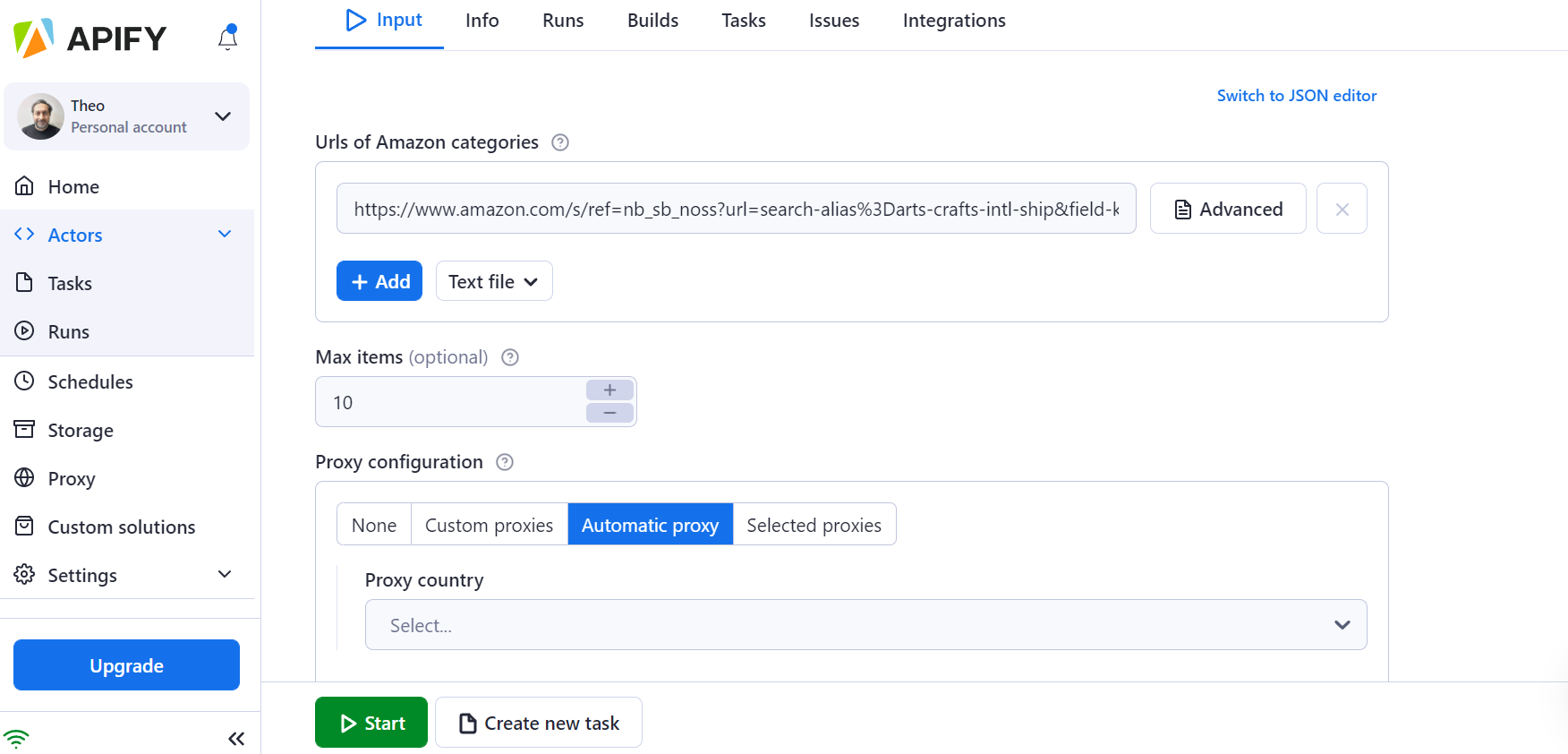 Step 4. Select the maximum number of results you want to scrape
Just insert the maximum number of items you want to scrape in the Max items field. In the above example, we have set the number low and opted for a mere 10 results.
Step 5. Select the proxy option you want
In the above example, we selected Automatic proxy, but you can also opt for Custom proxies or Selected proxies.
Step 6. Start the actor
Now just click Start, and wait for your results to come in. Your task will change from Running to Succeeded when it has finished.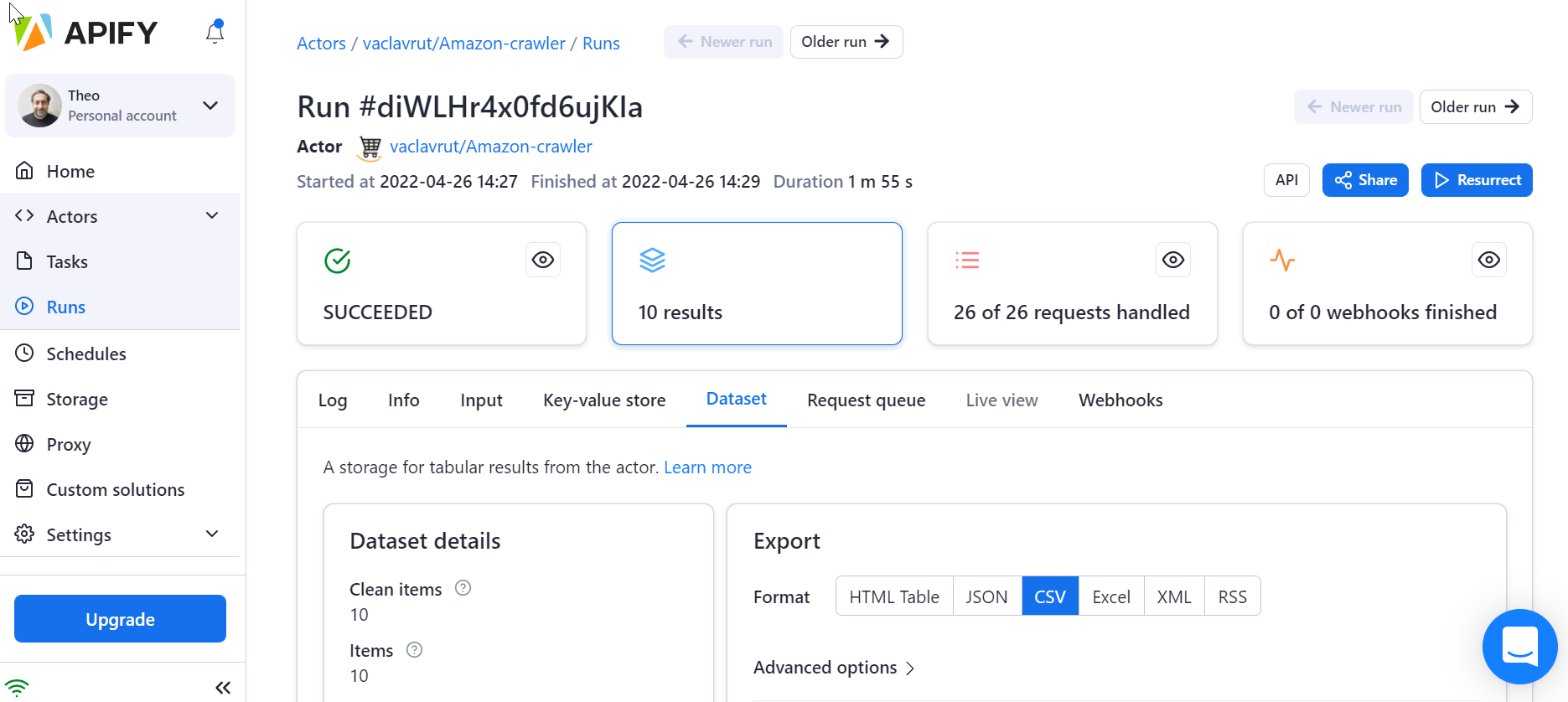 Step 7. Get your data
Go to the Dataset tab to see your results. You can preview and download them in several formats: HTML table, JSON, CSV, Excel, XML, and RSS feed.
Here, for example, is a sample preview of the data in the HTML Table: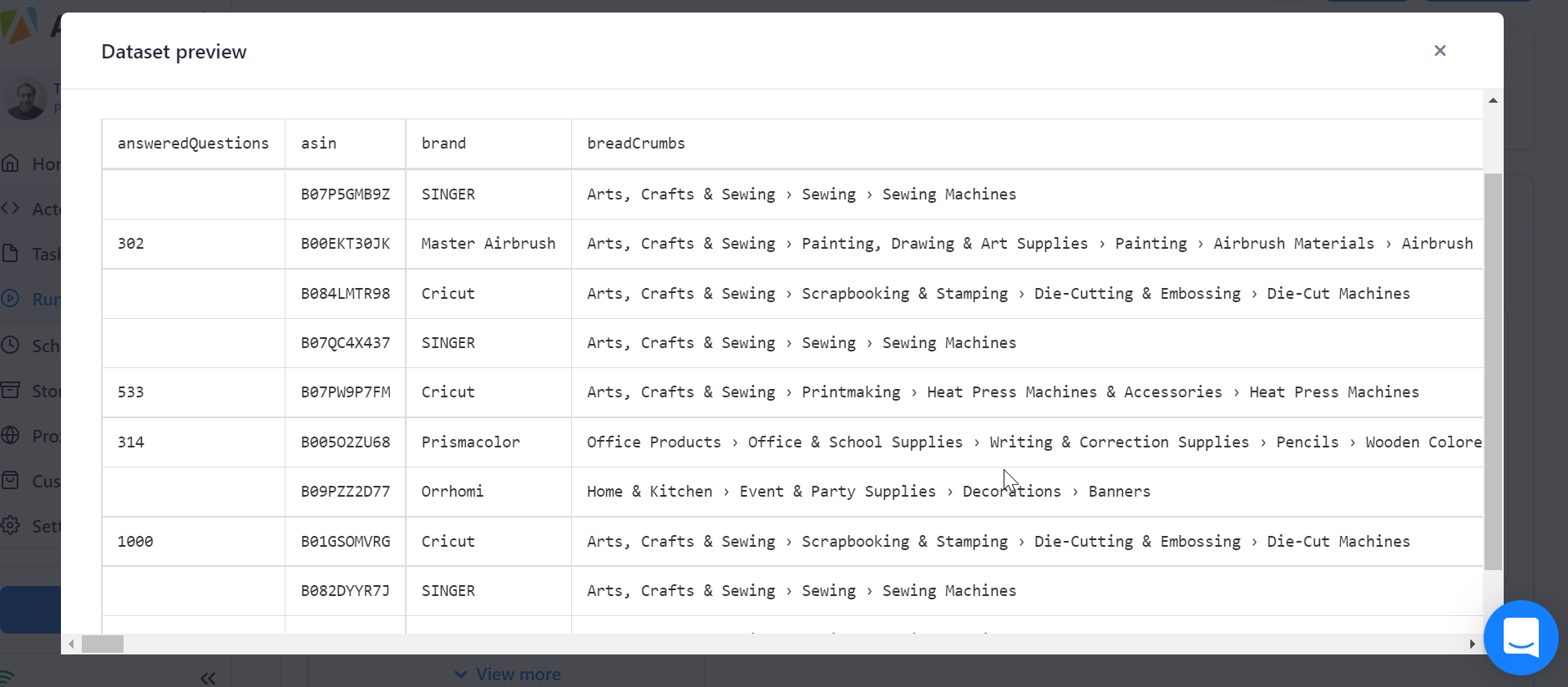 It really is that easy! Now you can download the data to use it in spreadsheets, reports, and other apps.

If you like our Amazon Product Scraper, you might also like to try our Amazon Best Sellers Scraper.
---
---