Why sellers are scraping Amazon
Amazon is getting bigger every day, with more and more sellers using it to create successful online businesses. That means more competition. Web scraping is one of the tools that these sellers are using to keep ahead of their competitors. Find out below how you can use free, pre-built Apify scrapers to extract and download data from Amazon and supercharge your online business.
How to scrape data from Amazon with Apify
The Apify platform is packed with dozens of readymade tools for scraping and automation. One of the most popular is Amazon Scraper, which allows you to extract data from Amazon automatically.
This is how you do it.
1. First, you need to sign in at Apify.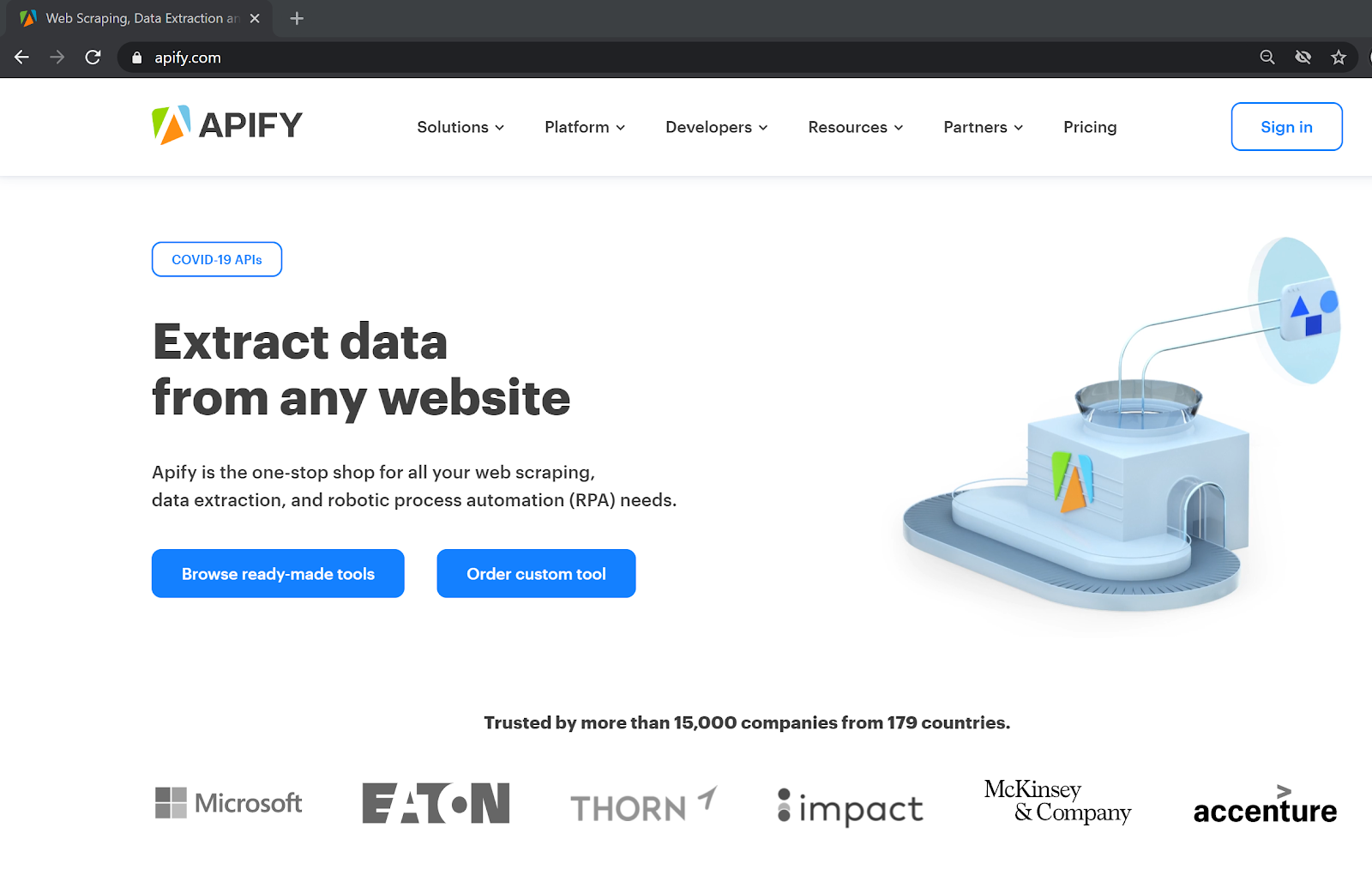 If you don't already have an account, you can sign up by using your email, Google account, or GitHub account.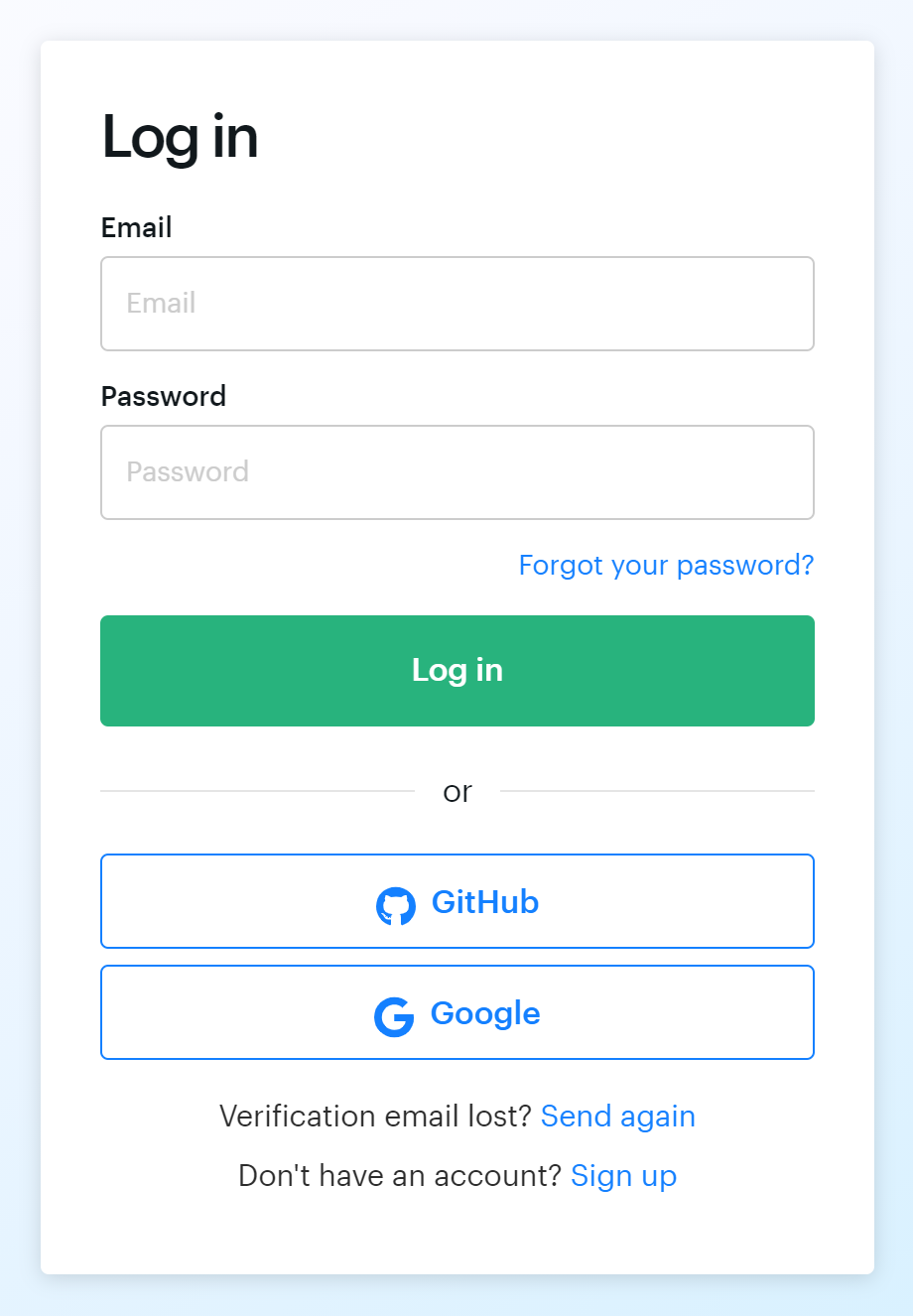 2. Once you sign in, you'll end up on the Apify Dashboard. You can explore this later, but for now we just want to start scraping Amazon!
3. Click on the Store button. This is where you can find readymade web scraping and automation tools called actors.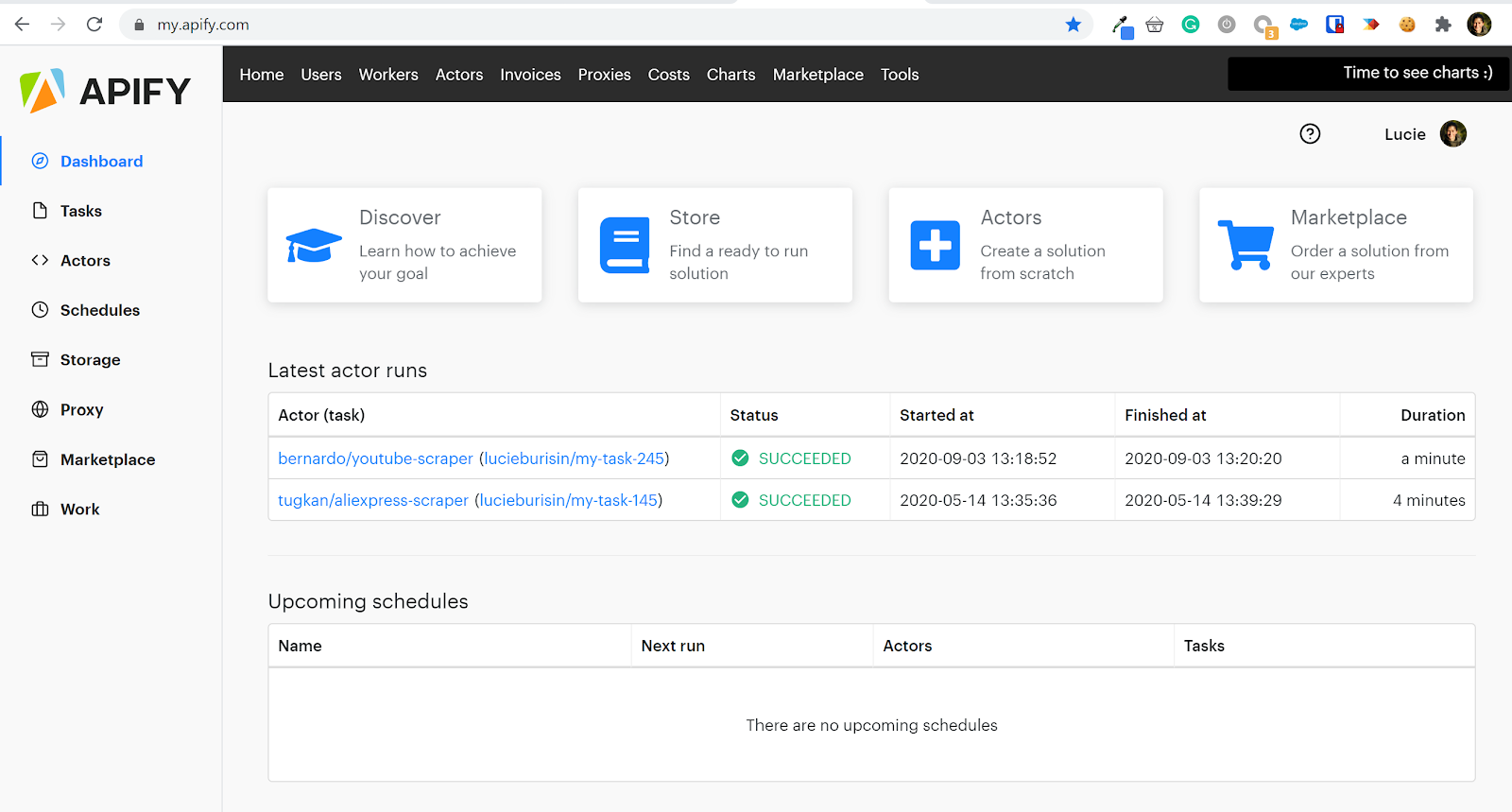 4. Once you're on Apify Store, search for Amazon Scraper.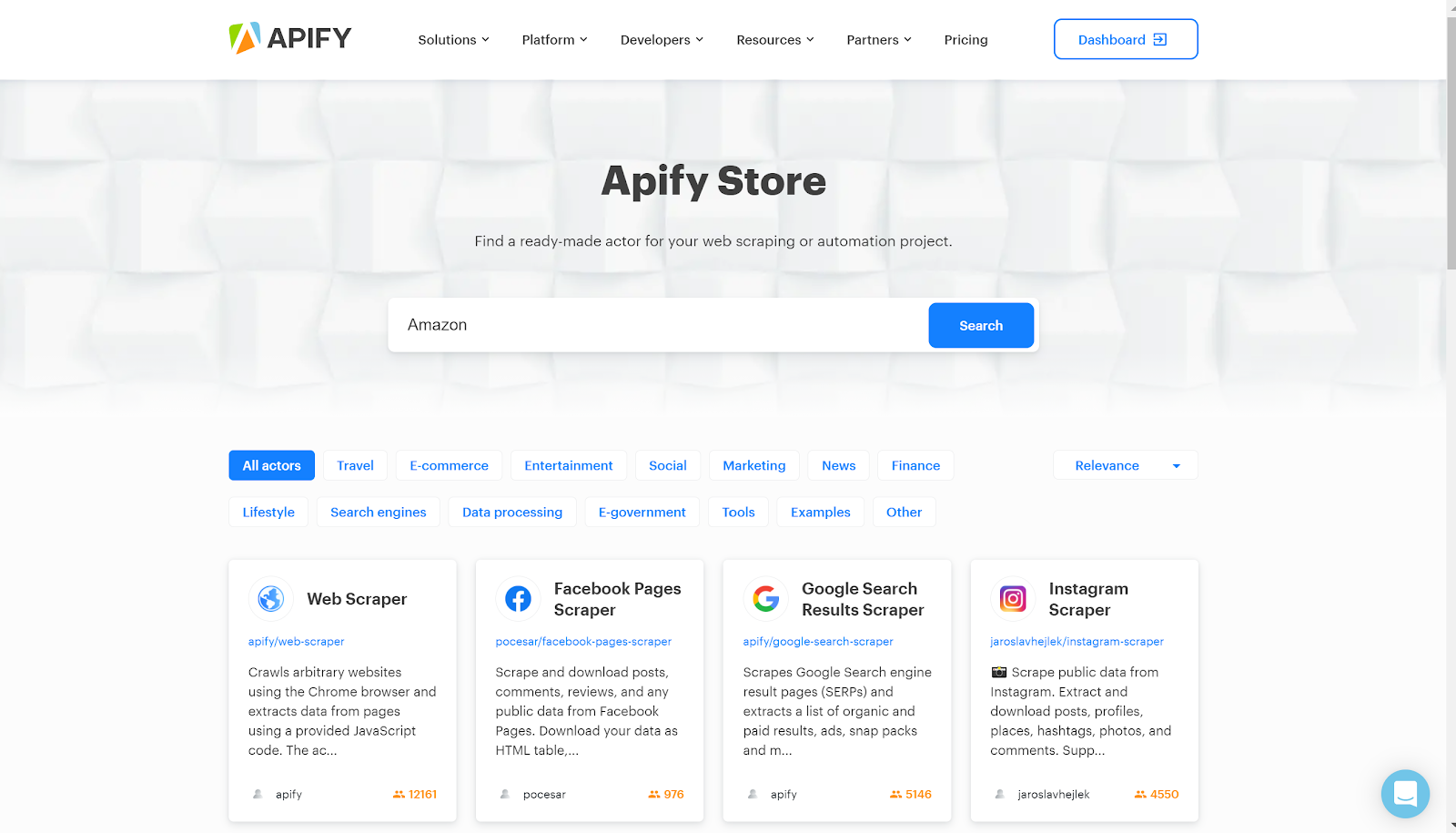 5. When you're on the Amazon Scraper page, just click Try for free. You'll automatically be sent back to your Apify Dashboard, but the Amazon Scraper will be waiting there for you to start setting it up.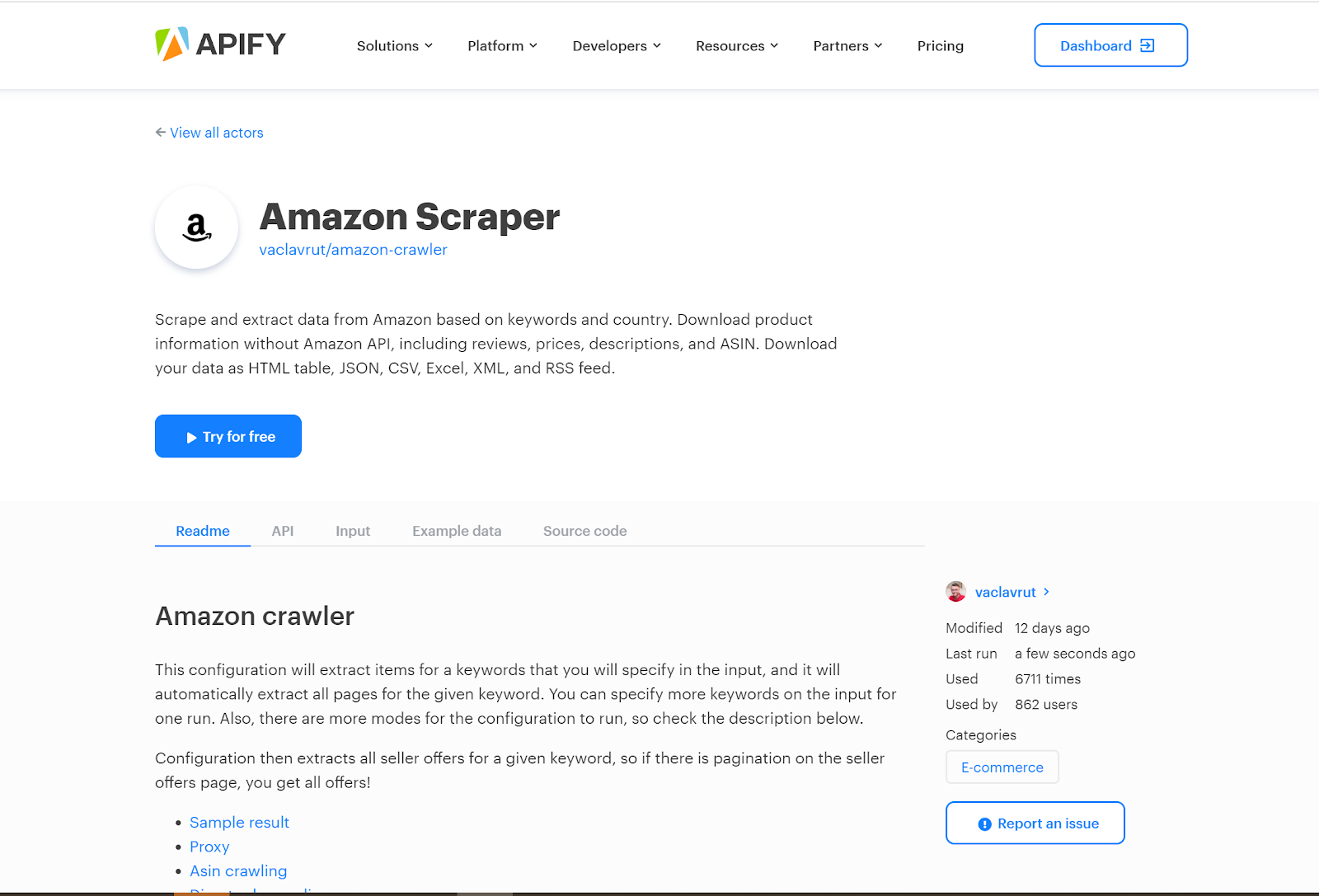 6. Now that you're back on your Dashboard, a Task has been automatically created. This enables you to specify what you want to scrape from Amazon.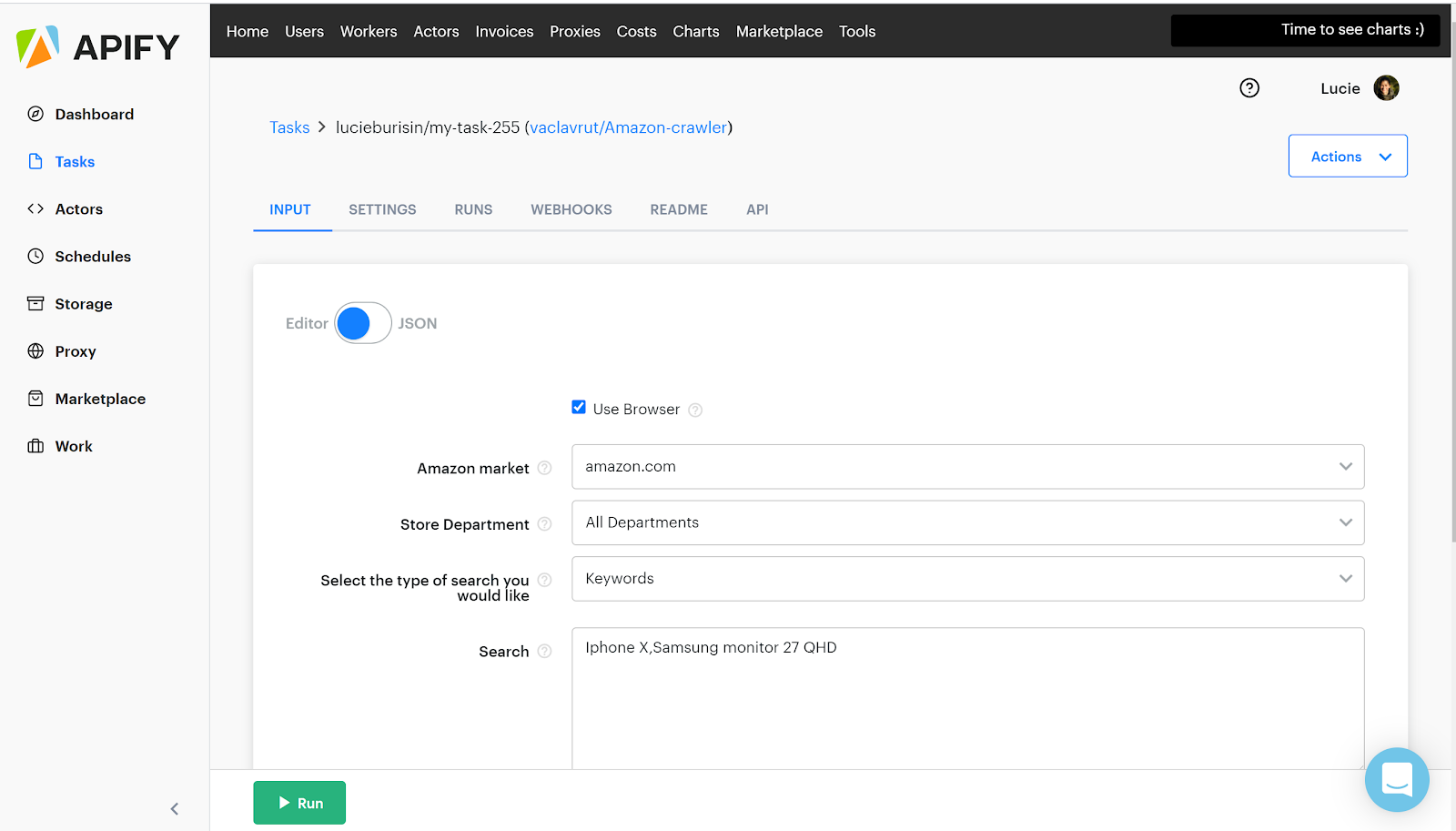 7. Let's use a real-world example from Amazon to see what might be useful. Head over to Amazon and search for whatever interests you. Then copy the URL.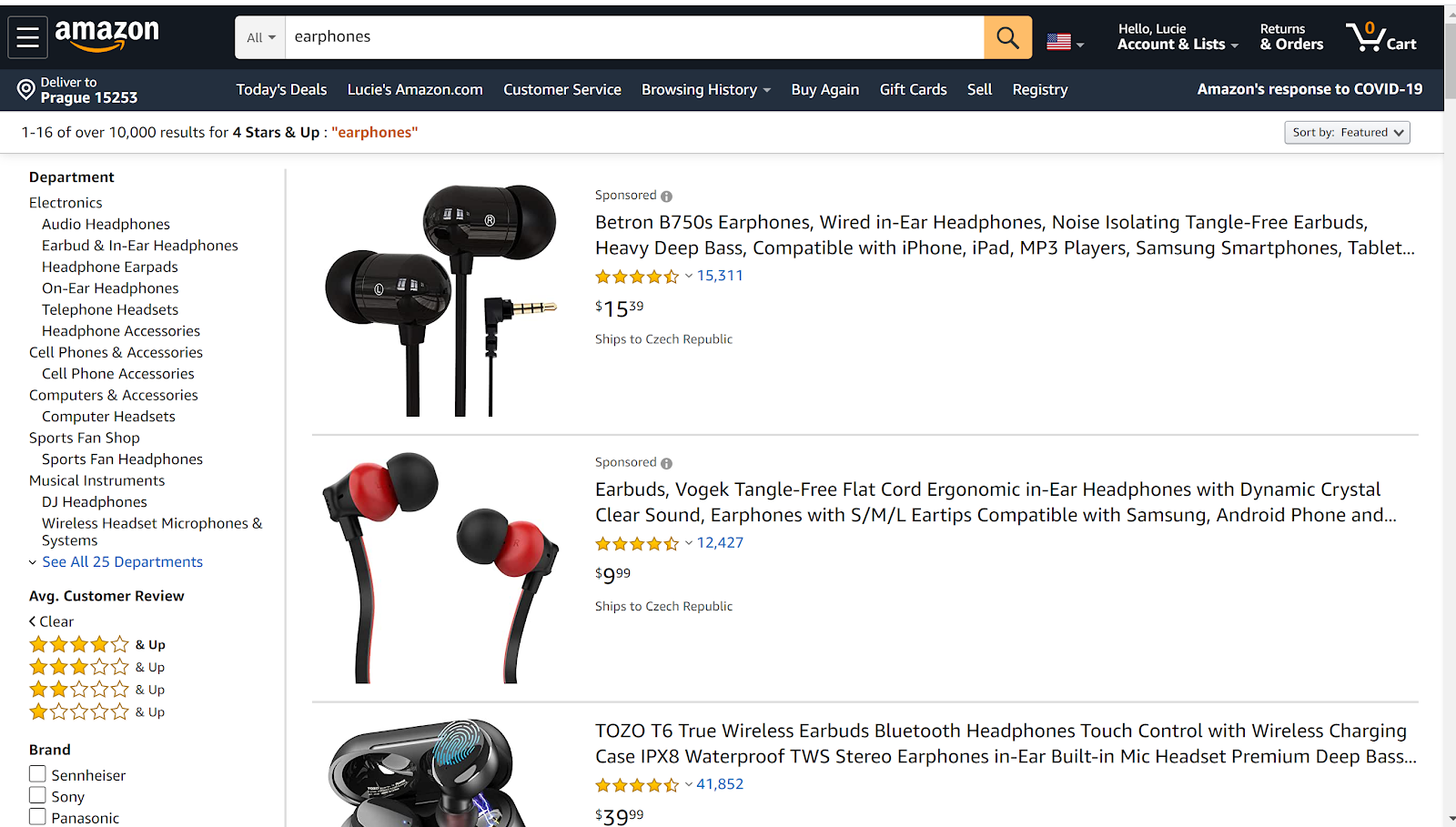 8. Go back to your Apify Dashboard and fill in the following in the actor Task:
Select your Amazon market, e.g. amazon.com for the US
Department (for our example, we're going with Electronics)
Type of Search "Direct URLs" (you could also use Keywords or ASIN)
Paste the Amazon URL that you copied
Set the number of results
For number of results, you can leave it empty to get the whole list, or you can set a smaller amount, e.g. go with 10 if you're just testing the actor. If you scrape too many results, it might take a long time and consume your free Apify Compute Units.
9. Time to scrape Amazon 😎 Click on the Save & Run button and watch the status change to running.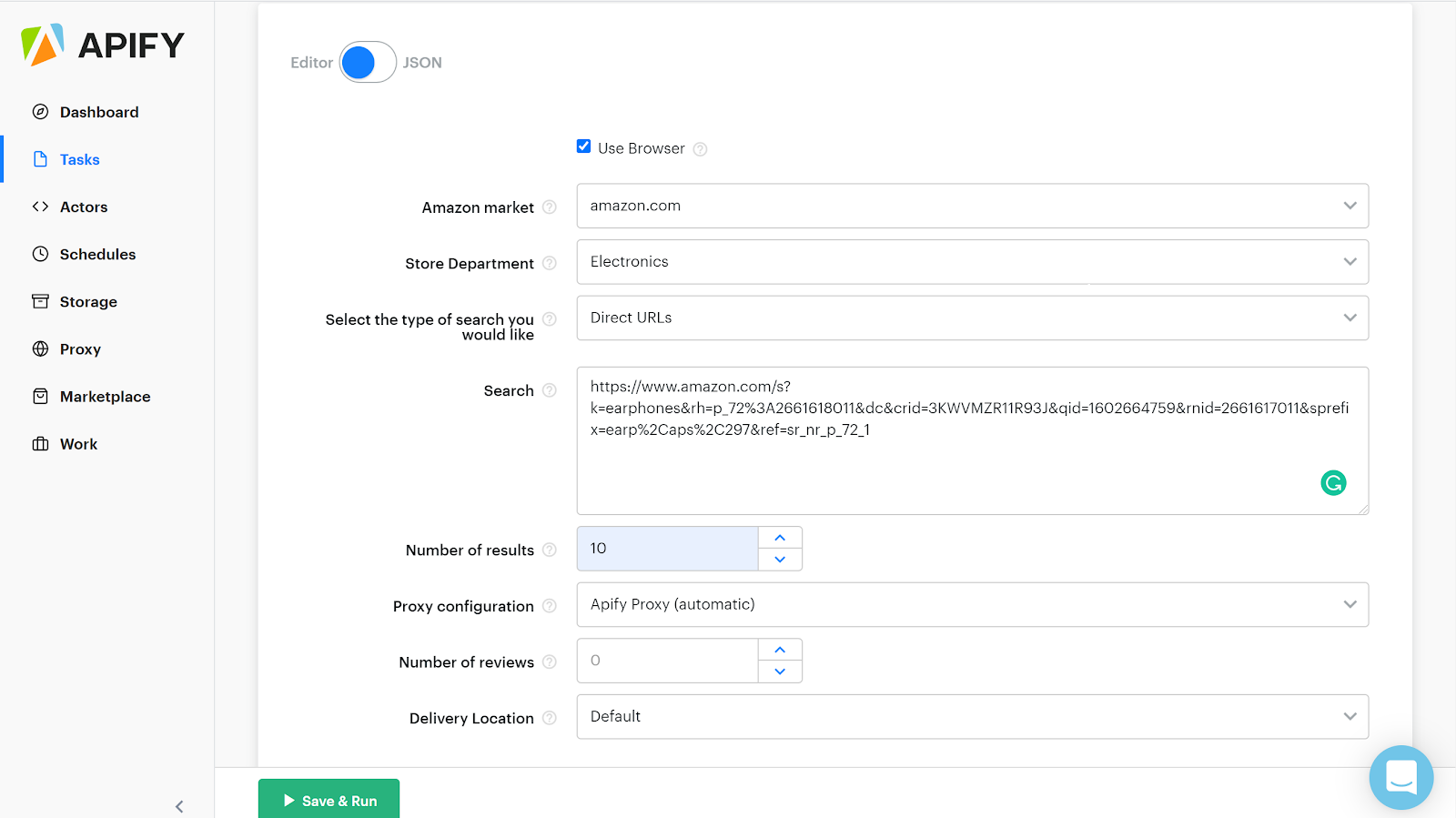 10. When the status changes to succeeded, you can check the results in the dataset tab.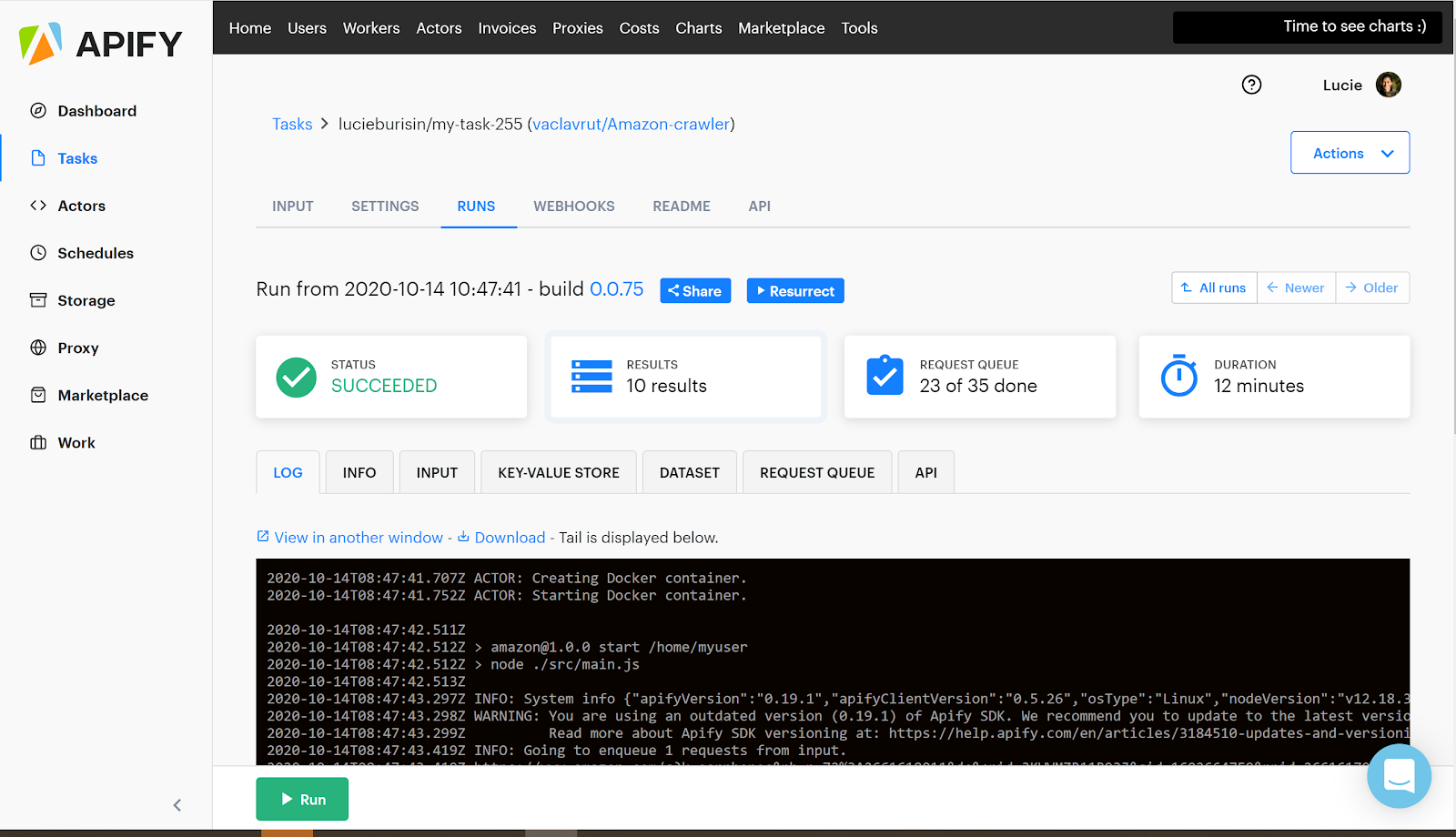 11. The dataset tab contains your data in lots of useful formats, including HTML table, JSON, CSV, Excel, XML, and RSS feed. You can open them by clicking on View or Download. You can then share the data, or upload it anywhere you like. Use it in spreadsheets, other programs or apps, or your own projects.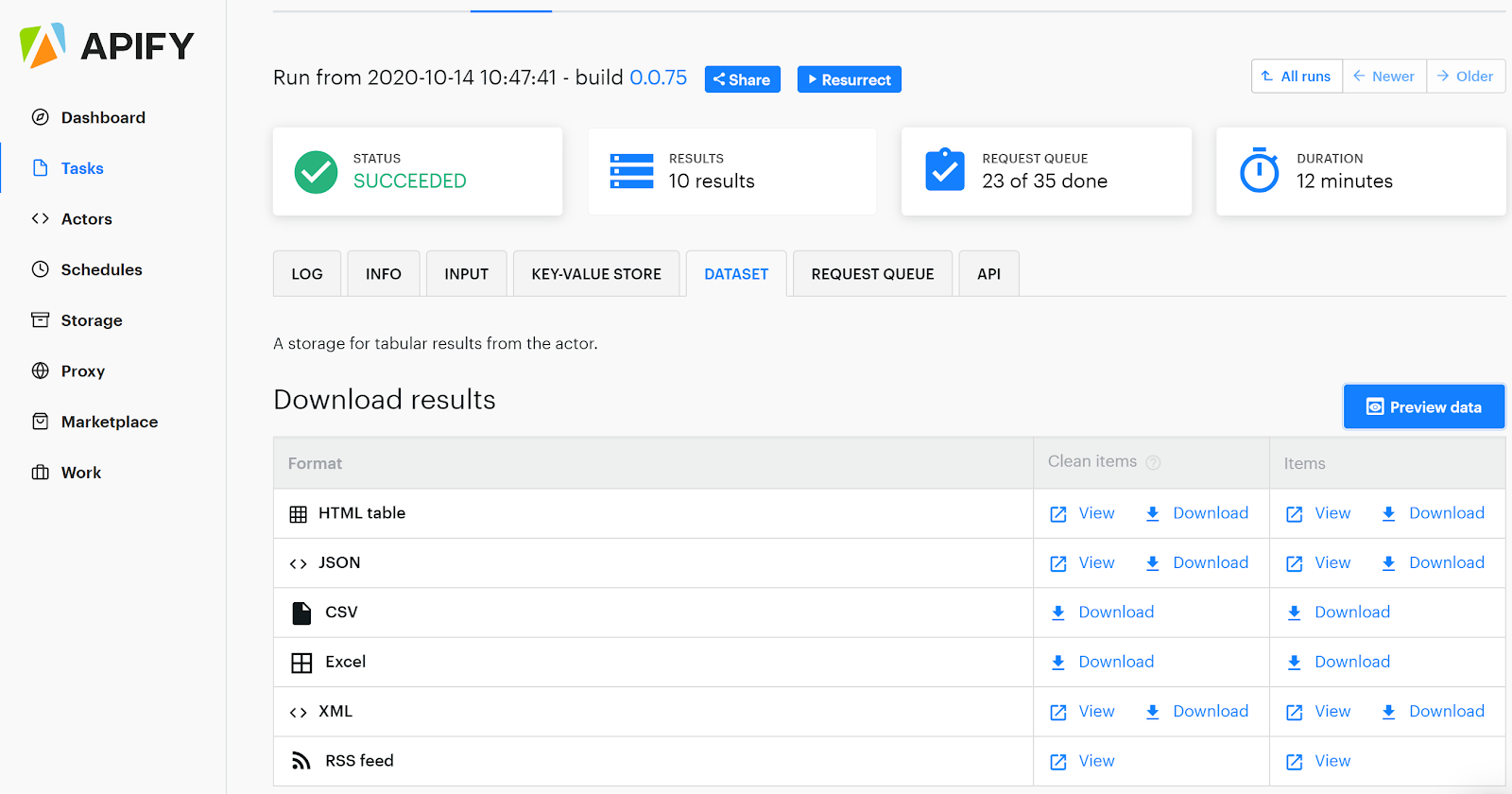 If you want to know more about how you can use this data in your business, check out this blog post about how to price check products your competitors on Amazon or watch this quick video:
---
---