Hey, we're Apify. You can build, deploy, share, and monitor any scrapers on the Apify platform. Check us out.
Sometimes you might notice that the contact details of places on Google Maps seem incomplete. Here's a tutorial on how to complete your database with phone numbers, emails, addresses, ZIP codes, and social media details from places registered on Google Maps.
🗺 Does Google Maps include all business contact details?
No. Google Maps is an ever-expanding database of free business data: marketers can find place names, addresses, phone numbers, and official websites. However, Google Maps does not provide information on business email addresses or social media accounts to reach out through.
Luckily, most businesses do list their contact details in one place — their websites — which are often mentioned on their Google Maps detail cards. For instance, this New York place does not indicate their email or socials on Google Maps, but they do list their official website.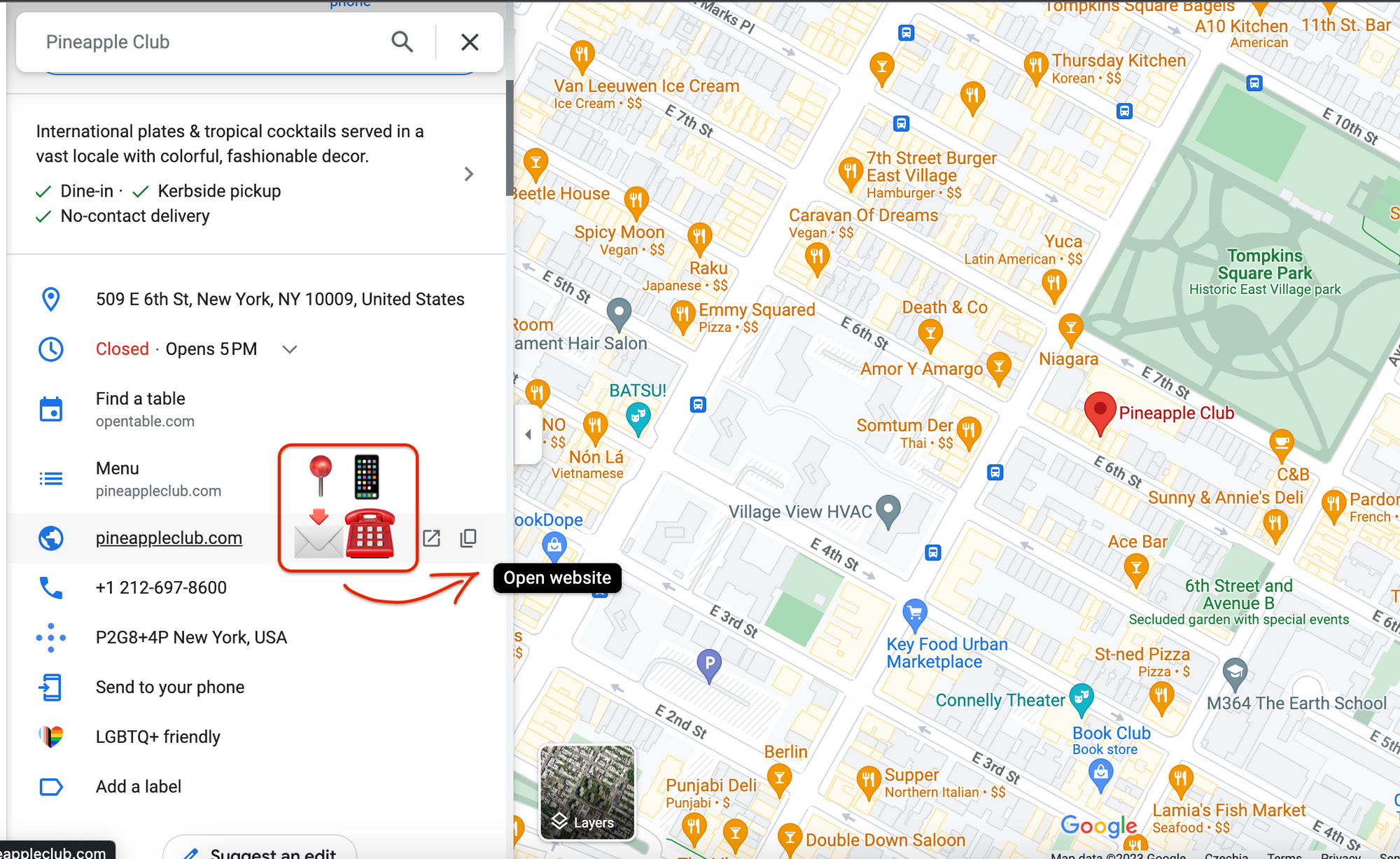 When we head over to their website, and its Contact section, we can often find all the missing contact details. So are we going to go with this flow for every place we are interested in?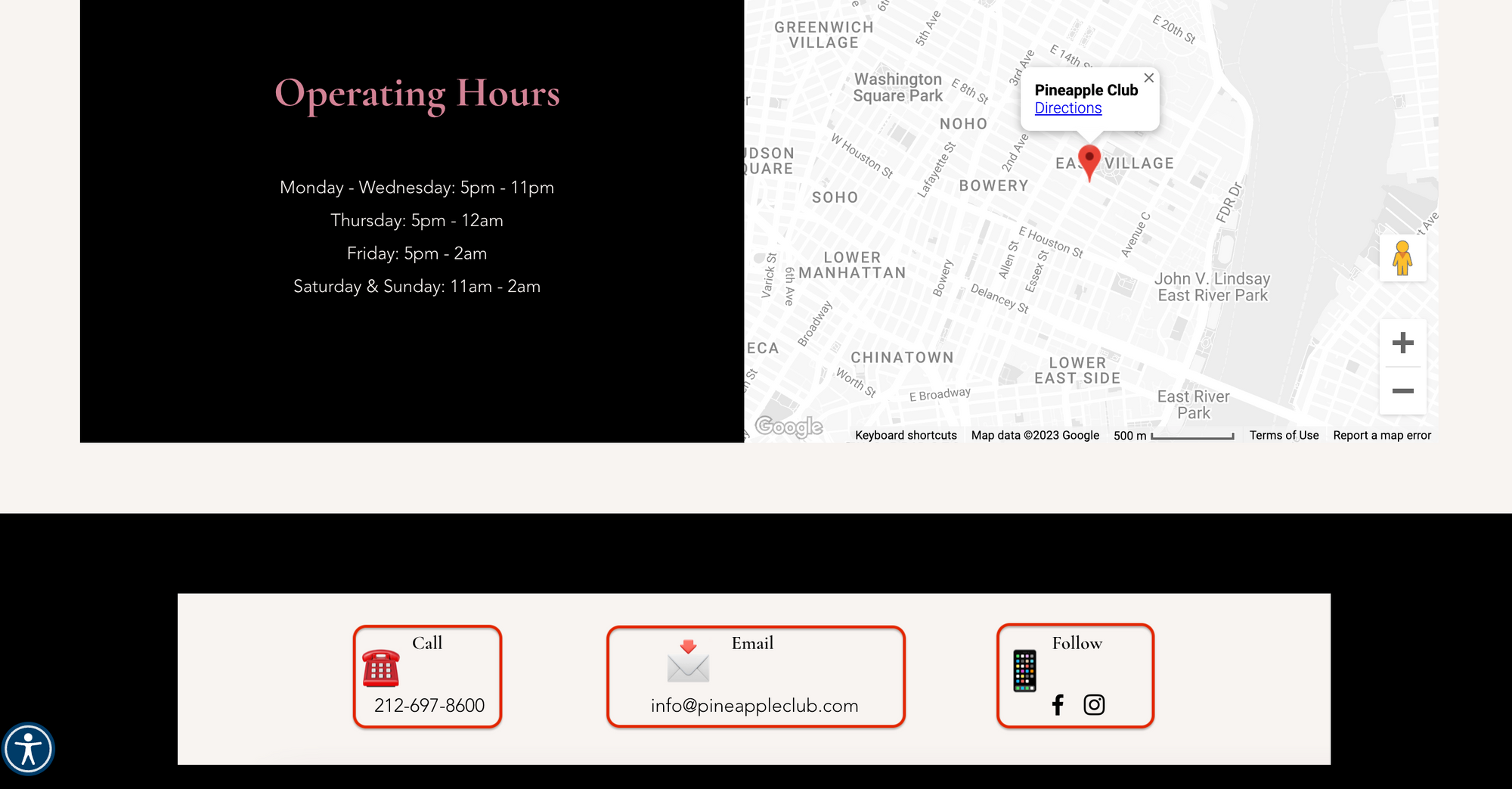 No, let's save time and use a tool able to extract and combine the basic contact information from Google Maps with extra contact info found on places' websites. By using Google Maps Email Extractor 🔗, you can extract business contacts data from Google Maps on a large scale. The tool allows you not only to retrieve comprehensive contact information including business address, all listed phone numbers, emails, social account names, but also any other listed details from companies registered on the platform.
🤨 How does the Google Maps Email Extractor work?
Google Maps Contact Details Scraper combines the capabilities of three tools: Google Maps Scraper 🔗, Contact Details Scraper 🔗, and the Merge, Dedup & Transform Datasets Actor 🔗. Here's how the process works:
Google Maps Scraper extracts available business data from Google Maps 📍
Contact Details Scraper visits the businesses' websites and supplements contact details with missing info.
Merge Datasets Actor cleans up the dataset, removes duplicates (phone number, for instance), and keeps only the most important Google Maps contact data.
☎️ What contact details from Google Maps can I get with this tool?
Here's the contact data you can get using Google Maps Email Extractor 🔗
| | |
| --- | --- |
| 📍 | addresses (city, country, ZIP code) |
| ☎️ | phone numbers |
| 📩 | emails |
| 🌐 | indicated website |
| 📱 | social media links: Instagram, YouTube, Facebook, LinkedIn, and Twitter handles |
| ⭐️ | all the other information available on Google Maps: place name, description and URL, reviews, geolocation, delivery options, popular visiting times, etc. |
🥾 How to export business contacts and emails from Google Maps
Step 1. Use Google Maps Scraper to extract place data
We can use Google Maps Scraper 🔗 to crawl Google Maps and extract information. Google Maps Scraper is a powerful web scraping tool that allows you to extract contact details from Google Maps on a large scale. This tool will scrape all places data from the chosen area on Google Maps.
Here's how you can use this tool to extract contact details: You can provide the URL of the place you want to scrape as input to the scraper. Or fill in the scraper input yourself.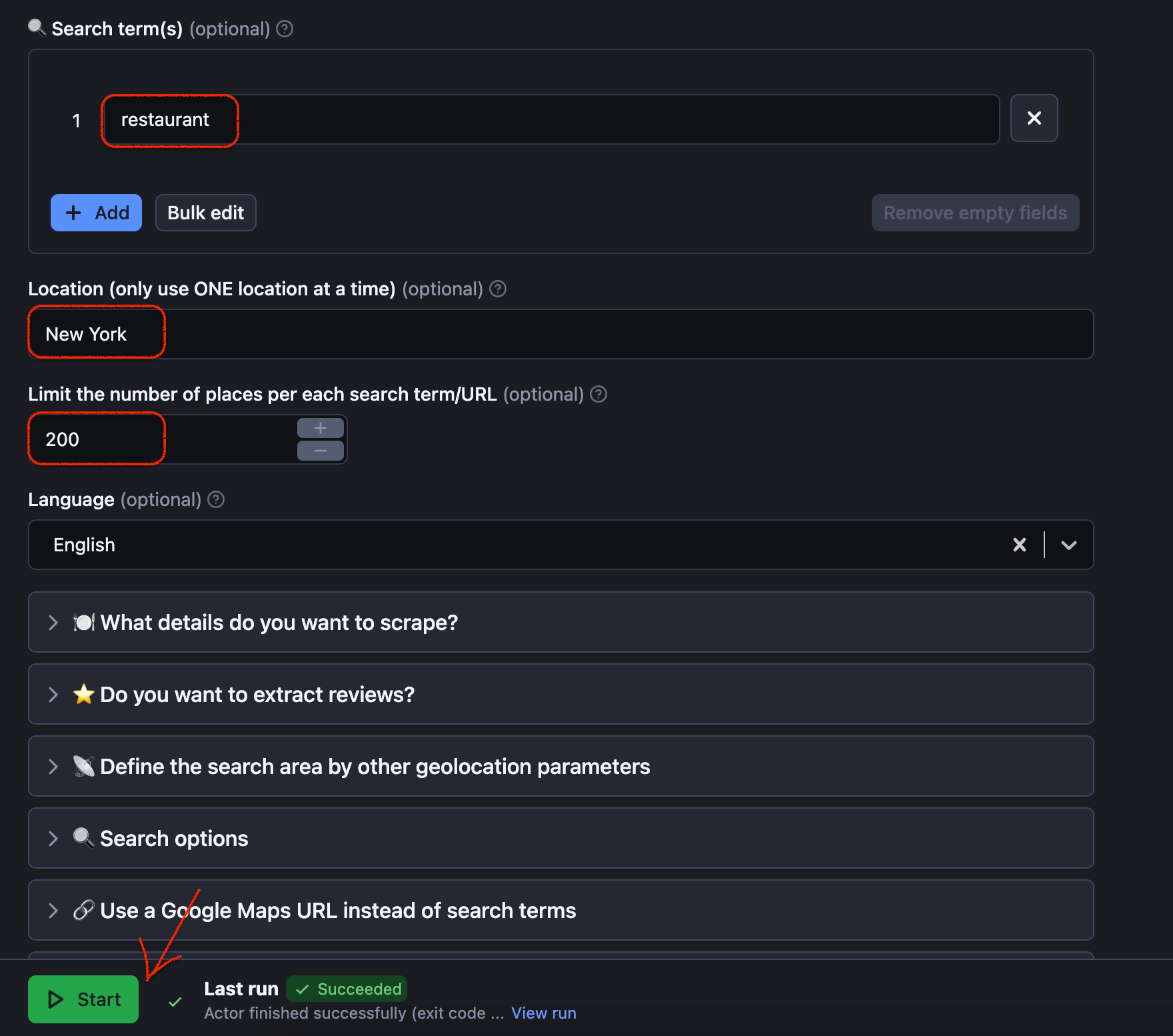 The dataset you get will already contain some contact information with the data available on Google Maps cards: address, phone, and website. Now let's add the emails and socials to complete the set.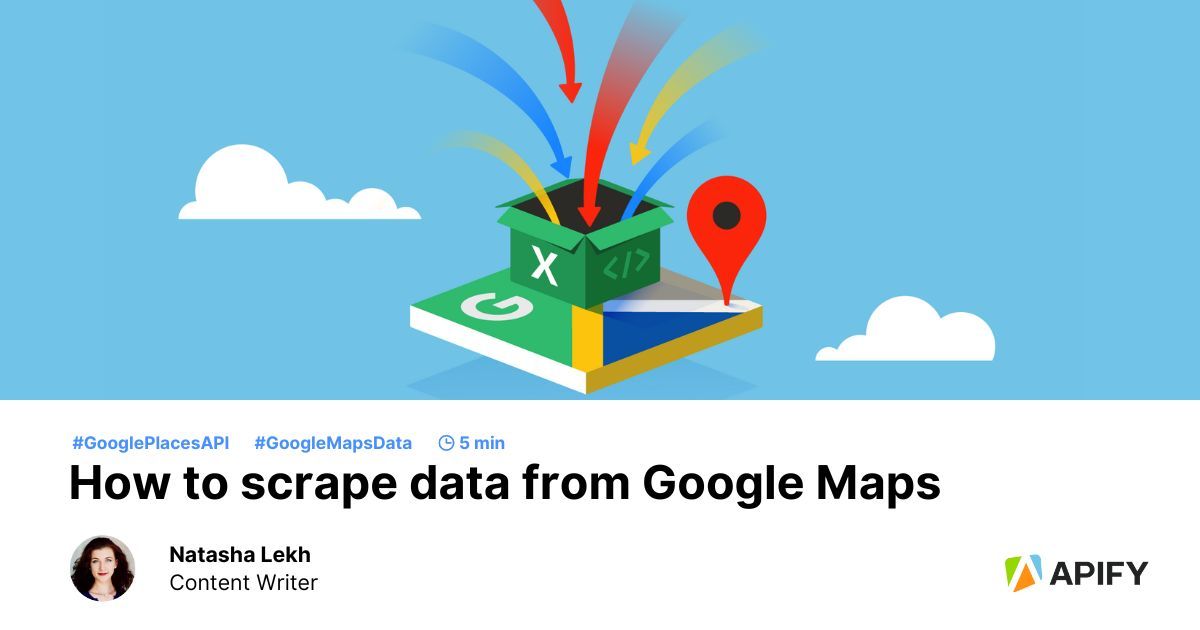 Step 2. Copy the Google Maps dataset ID
Copy the task, run, or dataset ID with the extracted information from the Google Maps Scraper.

Step 3. Open Google Maps Email Extractor tool
In Apify Console, head over to the Store tab and navigate to Google Maps Email Extractor. You can find it in Lead generation section or by searching.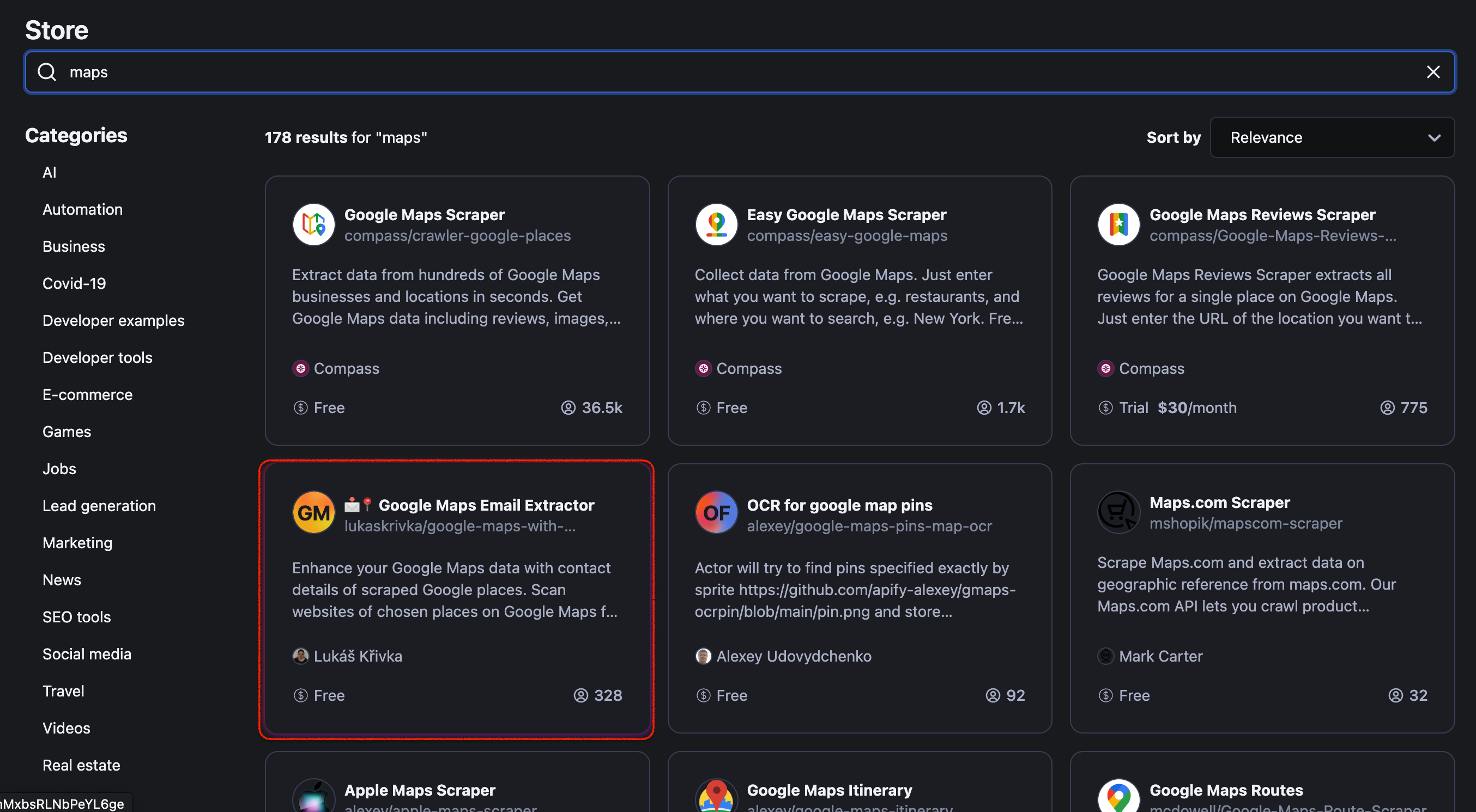 Step 4. Paste the ID into Google Maps Email Extractor input
Then, paste the ID into the designated field of Google Maps Email Extractor 🔗 and click on Start.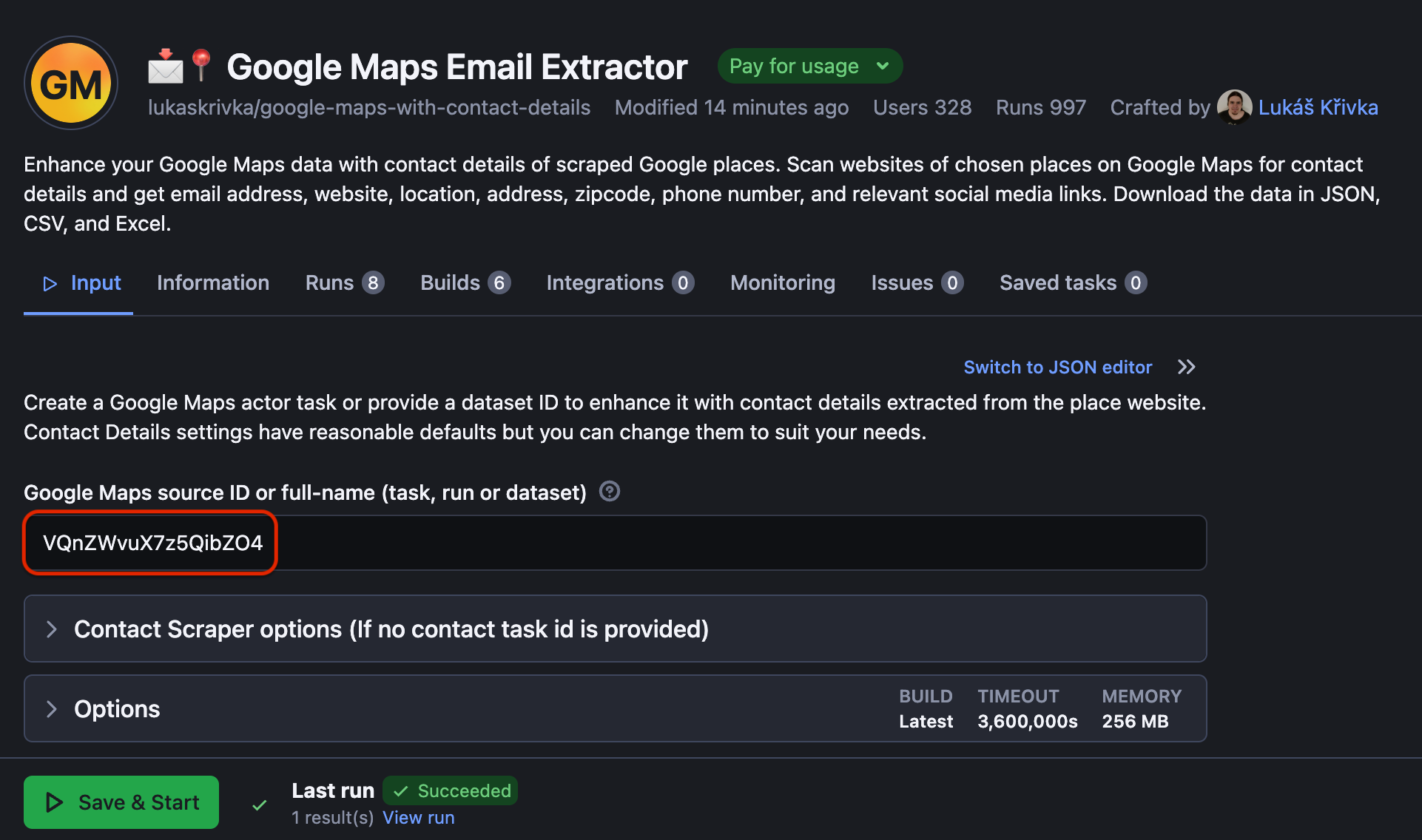 It might take some time for the scraper to finish its job, depending on the length of your dataset.
Step 5. Get the emails, addresses, and social media details
Once the scraping process is complete, you can preview and download the dataset containing the extracted contact details.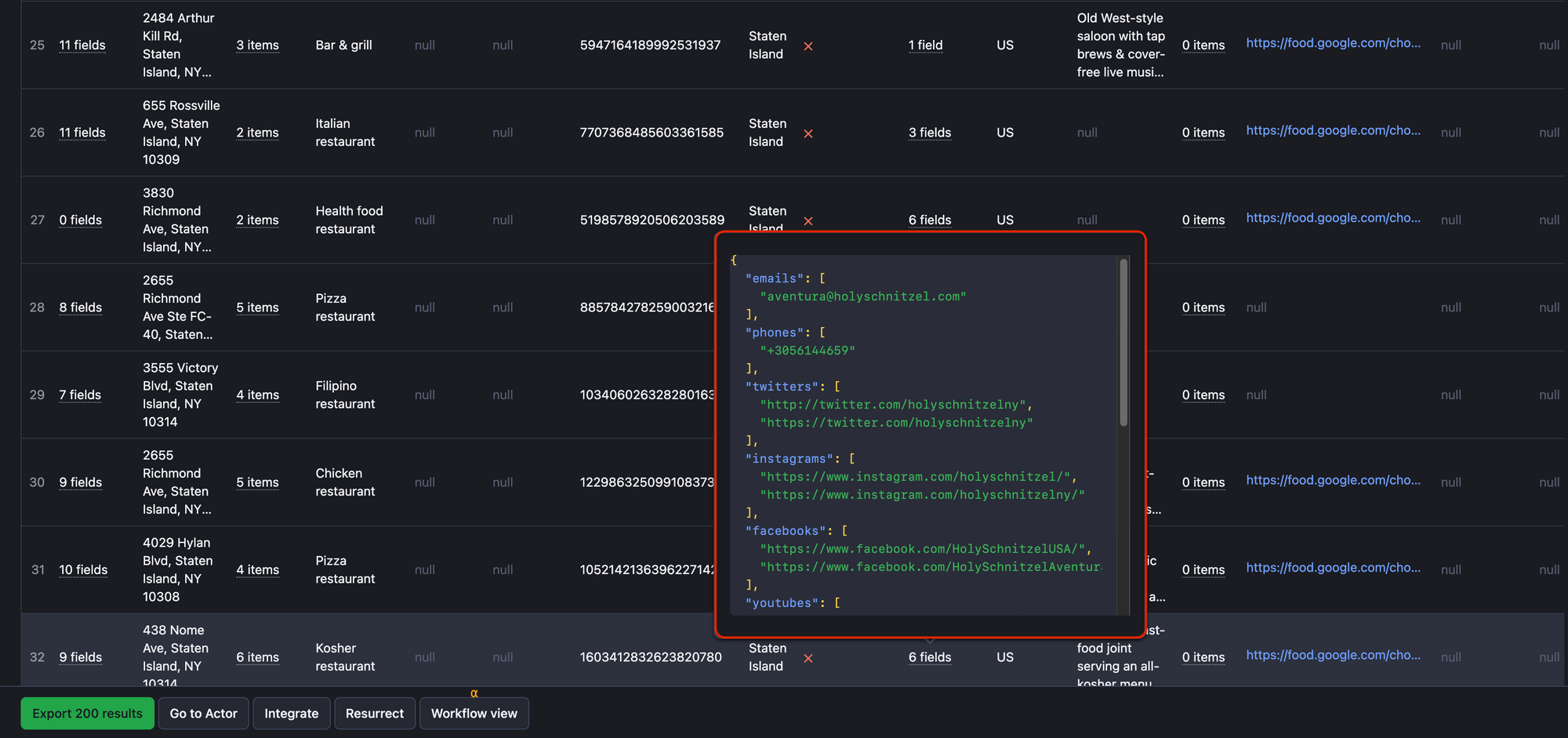 Step 6. Download the contact details dataset
You can also clean up your dataset before exporting it. Since the dataset can contain a lot of fields from Google Maps, it might be convenient to preselect the fields that you want to keep in your final dataset. You can download your data in any of the given formats: Excel, XML, JSON, CSV, HTML.
🖇 How to use the extracted contact details from Google Maps
Extracting contact details from Google Maps can be incredibly useful in various scenarios, including:
Extracting business contacts and emails at scale.
Building a database with up-to-date contact information.
Updating an old database of contact information.
Finding sales, partnership, and sponsorship prospects.
Mining for local sales leads.
👮‍♂️ Is it legal to scrape emails and addresses from Google Maps?
Our Google Maps scrapers are ethical and do not extract any private user data. They only extract what businesses have chosen to share publicly on the web.
However, you should be aware that some results such as reviews could contain personal data. You should not scrape personal data unless you have a legitimate reason to do so. For legitimate details in more details, read our blog post on the legality of web scraping and ethical scraping.
❓FAQ
⬇️ Do I need to install an extension to scrape contacts from Google Maps?
No. Google Maps Email Extractor runs in the cloud, you don't need to install anything. All you need to do to start using the tool is to create a free Apify account using your email.
🌆 Can I scrape an entire city for contact details?
Yes. But this type of Google Maps scraping will take some time and resources. You can choose to extract all places in that area or a specific type of place (restaurants, museums, cafes, universities, hospitals, grocery shops, pharmacies, etc.) Moreover, you can scrape an entire country for contact details too. Just don't forget to use Google Maps Email Extractor 🔗 to get all the contact details missing from Google Maps.
🌆
For detailed instruction on how to scrape data from an entire city or restaurant chains across the country, follow this manual ➜
🧑‍🍳 Can I scrape restaurant chains and their contact details?
Yes. You can scrape, for instance, all Starbucks or all McDonald's in the area by using the Search options parameter in Google Maps Scraper 🔗. Then proceed to enhance your dataset with all the contact details with Google Maps Email Extractor 🔗 as we did in this tutorial.

🛰 Can I extract longitude and latitude from Google Maps?
Yes, every place on Google has longitude and latitude assigned to them. You can easily scrape those using Google Maps Scraper 🔗.
📡 Can I scrape entire areas of Google Maps for contact details?
Yes. If your area has a name (City, State, or Country), you can scrape Google Maps places by simply inputting the name. But you can also extract data by geolocation (multiple points of longitude and latitude). you can create various irregular shapes for specific areas on the map such as circles, squares, and polygons. We recommend using Geojson.io for an easy coordinates definition and following our guide to see how to apply those coordinates in Google Maps Scraper 🔗. You might also find this small video guide useful: