Over the duration of its existence, which rounds up to roughly 15 years, Google Maps has transformed from a simple navigation tool to an app with a whole different level of promotion and opportunities for both individual users and big and small fish in business. The marketing influence of a simple map on the web has evolved to the point where every type of business, from e-commerce to pharmaceuticals, wants to have their name featured and ranked as high as possible in the Google Maps ratings.
We're going to show you how to use the Apify platform and a ready-made tool called Google Maps Scraper to extract data from Google Maps. Apify's scraper, or crawler, will enable you to extract Google Maps data directly from the website, including reviews, photos, and popular times.
To learn how to achieve this, you can follow a step-by-step guide here or head over to our short YouTube tutorial 📹🔴▶️
Google Maps usage statistics
We don't have to tell you how popular and ubiquitous using Google Maps is. Let's just take a quick look at some statistics to get a clear picture of what we're about to scrape.
For regular users‌‌
For businesses
How to use data extracted from Google Maps
Since it is an unprecedented case of merging the results of local search and listings of local businesses, it wouldn't be an overstatement to say that without a presence on Google Maps, a local business can count itself as pretty much non-existent. The most obvious way to use Google Maps results on a bigger scale would be to use it for automating the extraction of contact data such as phone numbers, emails, addresses, and website names of companies in the general vicinity. How can this gathered contact data be used? Here's just a couple of examples:
Here, your imagination is the limit of how you can use that data. However, in order to create a whole catalog of things you may need a great amount of data from Google Maps. And that is not as easy with the official Google Maps API (more on that further). To achieve that completeness of data you can either combine the official Google Maps scraper results with some other organization's catalogs, or use a completely different Google Maps data extraction tool that can provide a full range of results, such as our Google Maps Scraper.
What about the official Google Maps API?
Some massively popular websites such as Facebook, Instagram, Twitter, Amazon do provide APIs for their users to access part of their data, etc. Google Maps is among these sites, it provides Place API for its users. However, to use the Google Places API, you need to set up an account first and create your API key, and their method charges you with a pay-as-you-go pricing model. This wasn't always the case, but ever since Google Maps API put considerable limitations on scraping their data back in 2010, it has prompted businesses and developers around the world to find other, easier ways to scrape the website.
That being said, the official Google Maps Places API can be an adequate option for many cases, but crawlers such as Google Maps Scraper can provide the results from all of the following input parameters as a part of free trial:
Unlimited results (Google Places API enforces rate limits and IP quotas).
Popular place times histogram (not available in the official API).
All place reviews (Google Places API enforces rate limits and IP quotas).
All place photos (Google Places API enforces rate limits and IP quotas).
You can really see the horizon of data extraction opportunities widen with the limitations thrown out of the window. Now let's walk you through every step of the process of scraping Google Maps with our Google Maps Scraper.
Step-by-step guide to scraping Google Maps
Go over to apify.com website. Find the Solutions tab on the top and choose Apify Store button.


Head over to click on the Store button in one of the tabs on top. Apify Store is packed with free, ready-to-use web scraping and automation tools called actors. Search for Google Maps Scraper.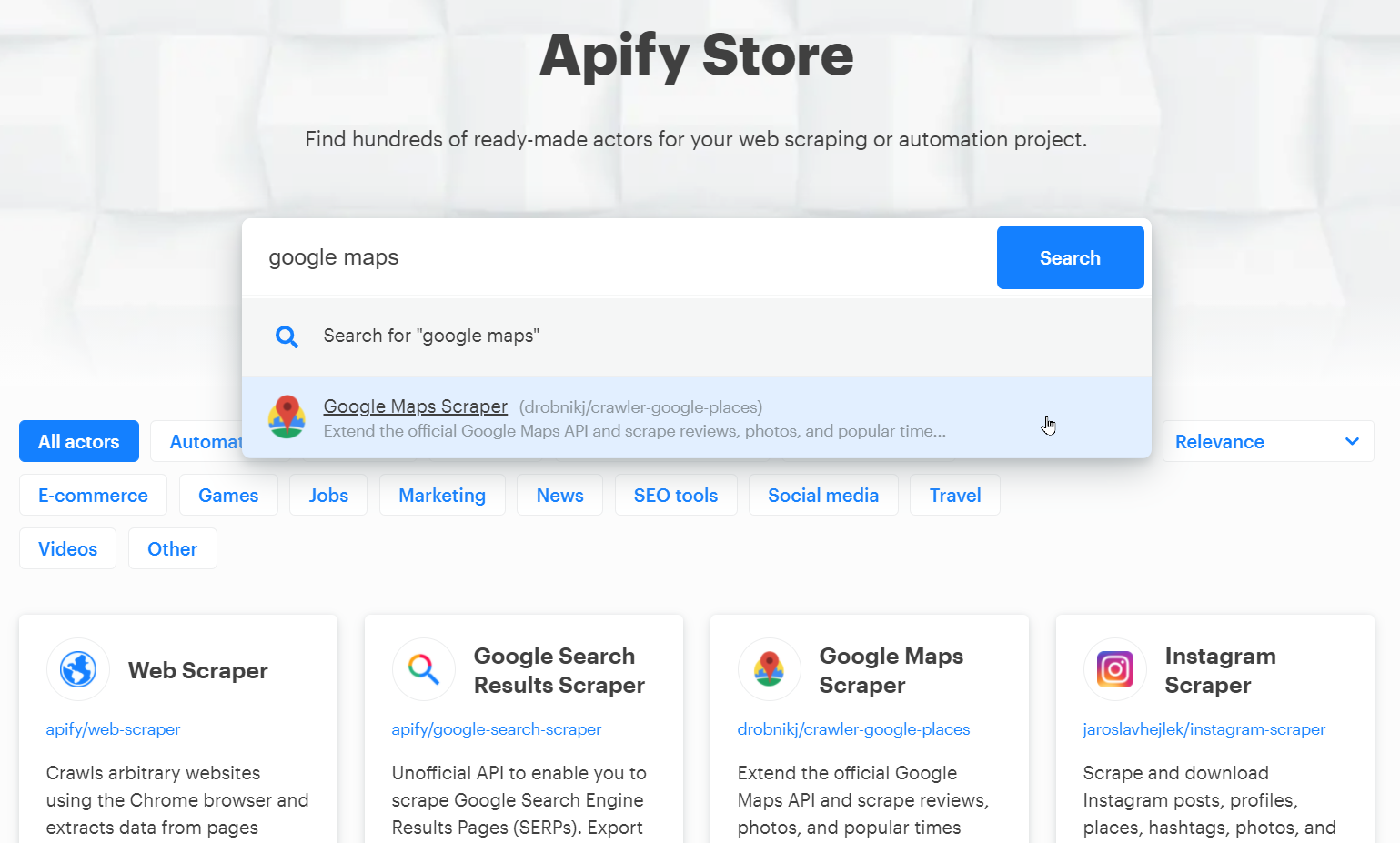 By clicking on the Google Maps Scraper card, you'll be redirected to the scraper's own page, where you can see the actor's description and main features in its readme, customizable parameters, and even source code. When you're ready, click the blue Try me button. You'll be redirected to your Console.

Log in or sign up for free using your email, gmail or Github.


Once you do that, you'll be redirected to your Apify Console. You can consider it the workspace for your Google Maps scraper and other actors.


You can see a new Task has been automatically created for your Google Maps actor. But the task hasn't started running yet until you specify the parameters of how you want to scrape Google Maps.


Let's open Google Maps in a new tab and see what kind of data you can scrape and download. Maybe you're hungry and you want some takeout, so search for that. Once Google Maps has come back with a map filled with tasty takeout places, just copy the URL.

8. Return to the Apify tab and paste the URL into the first line of the input field in the Apify platform (in the field next to Start URLs). You can specify your takeout scraping search by narrowing it down to be more specific as well as control the number of results you want to receive, as well as their language.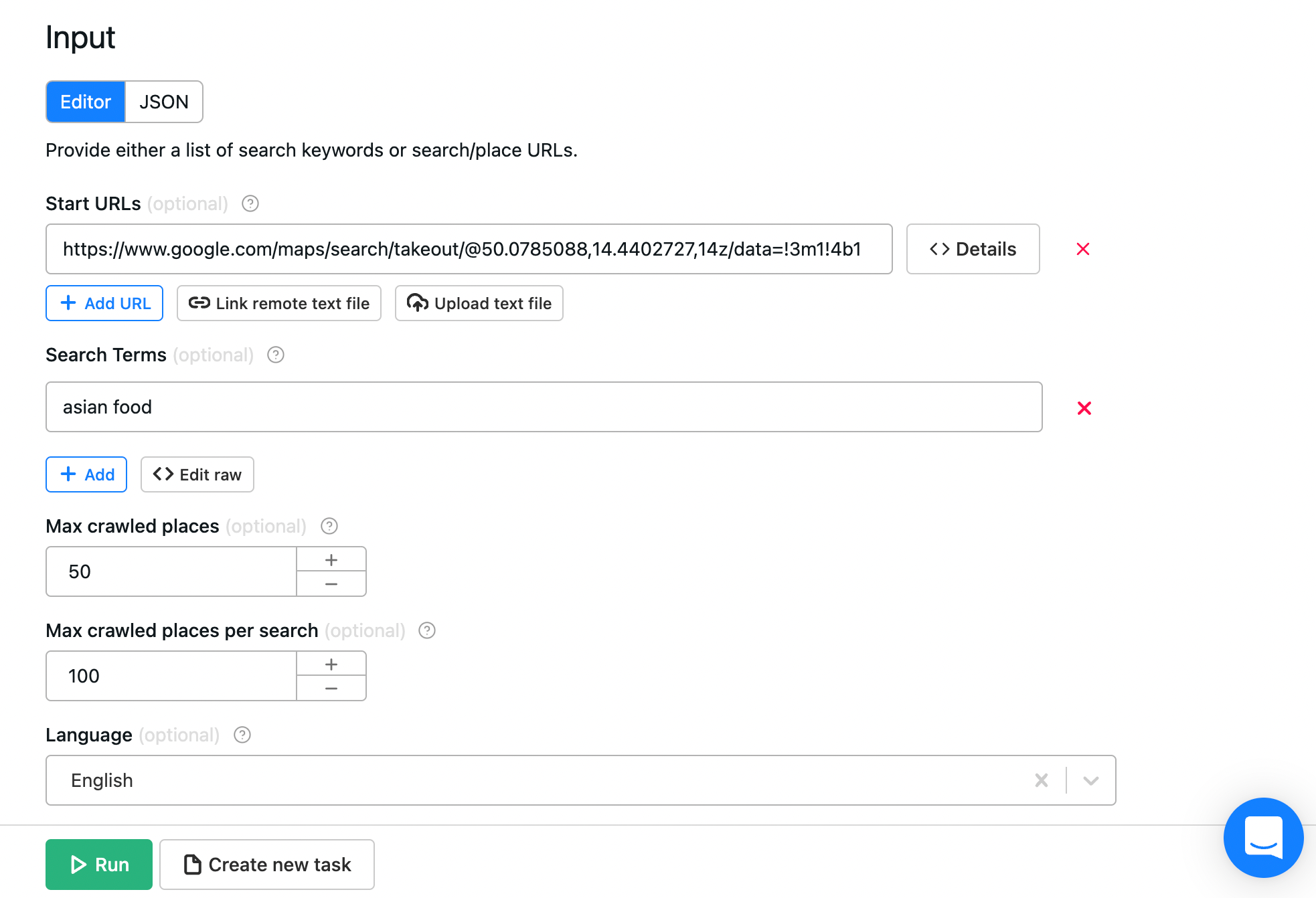 9. Click on the green ▶ Run button and wait for the scraping run to finish.


10. Your task will change status to show that it is Running. Now you can just sit back and wait for the data to start rolling in. It might take a while if there are a lot of takeout places near you, but this run took us only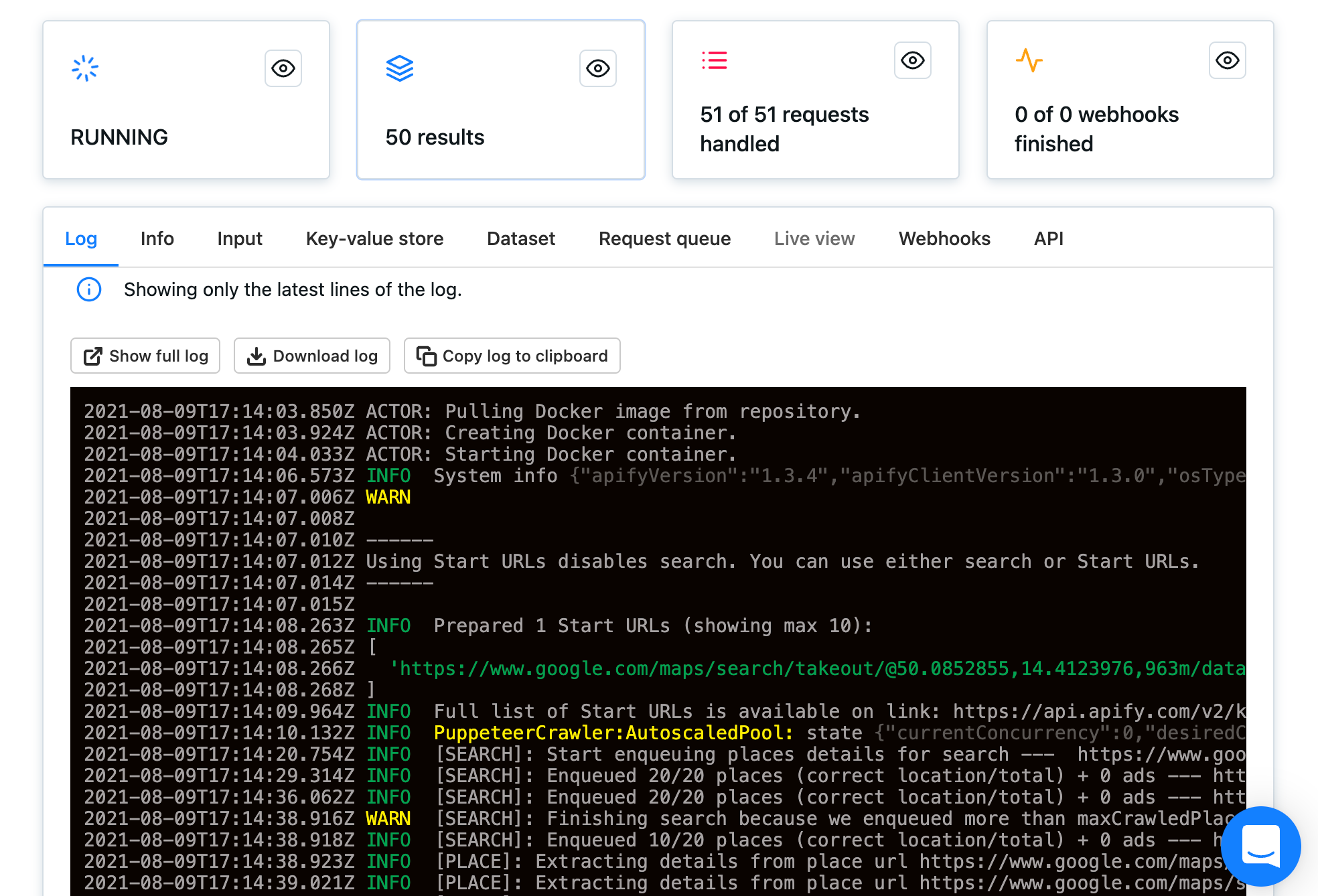 11. As soon as you see that the status has changed to Succeeded, click on the _Dataset_tab to check your scraped search results.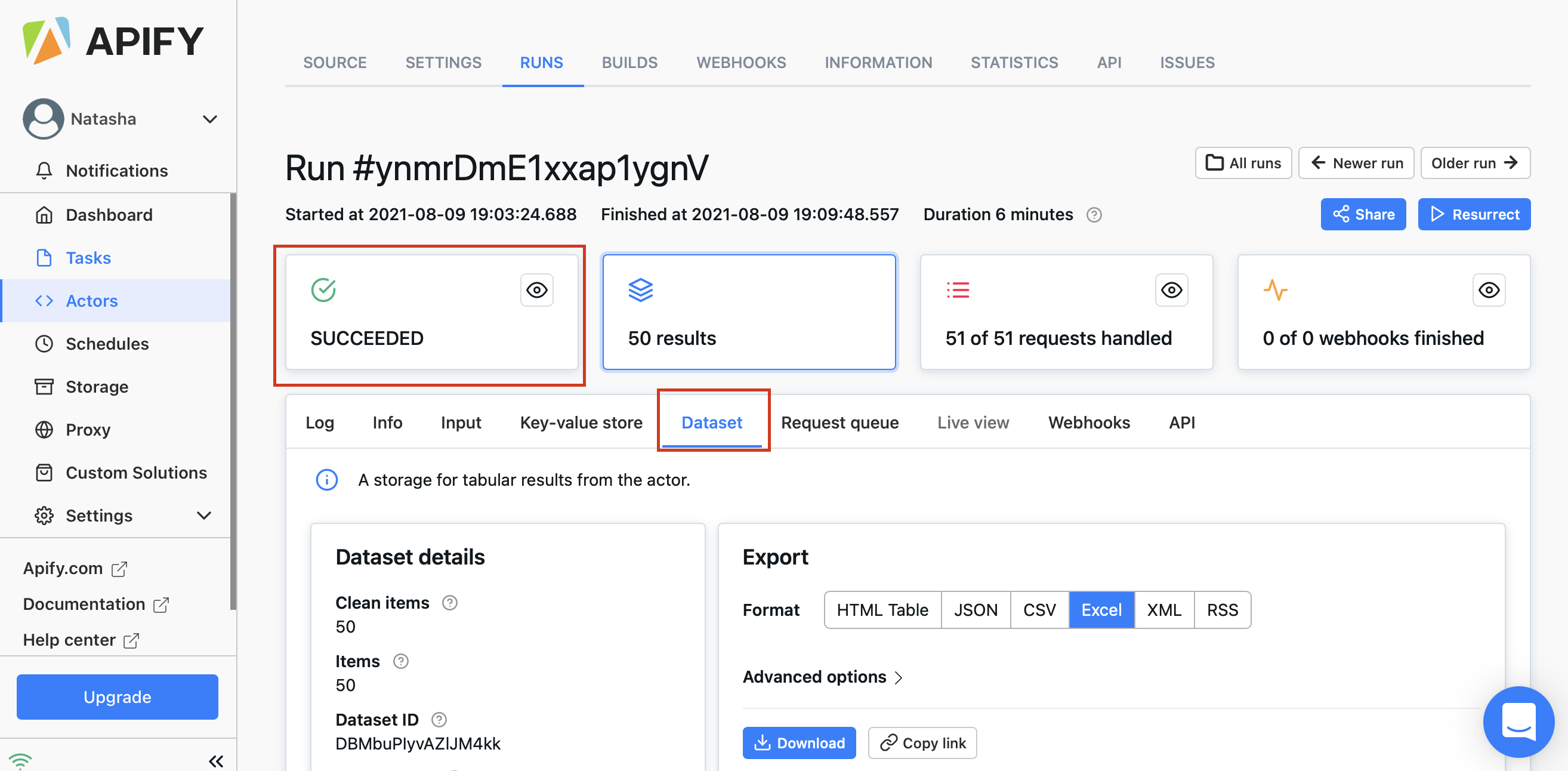 12. The Dataset tab contains your data in lots of versatile formats, including HTML table, JSON, CSV, Excel, XML, and RSS feed. You can open them by clicking on View in another tab, Preview or Download. You can then share the data, or upload it anywhere you like. Use it in spreadsheets, other programs or apps, or your own projects.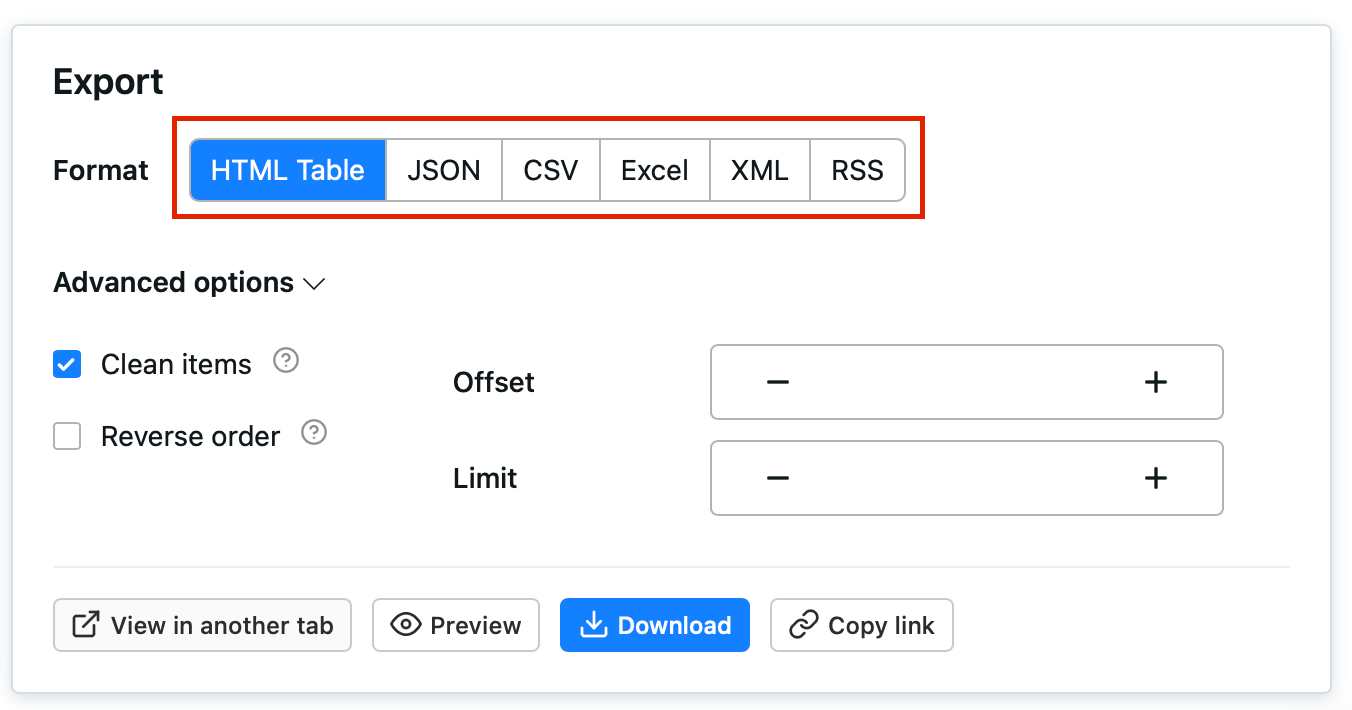 13. Take a look at the preview of your extracted data in various formats before you decide to download it - just click Preview in the Dataset tab.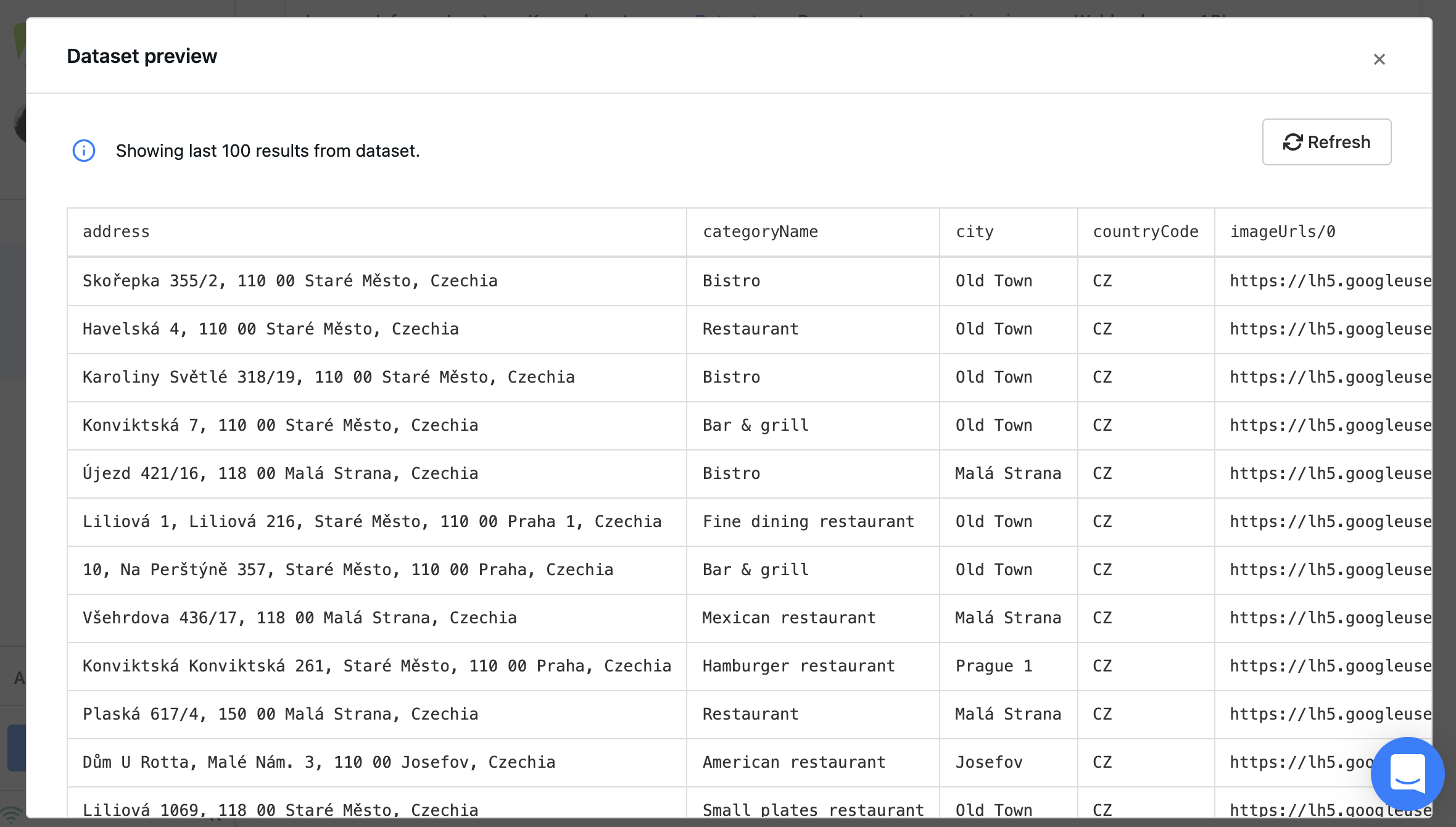 14. Ready to scrape more Google Maps data? Get reviews, popular times, photos and see what else you can come up with. Unlike the official Google Maps API, we don't limit the number of results, reviews, or photos you can scrape.
One slight caveat is that it's preferable to scrape such a huge website as Google Maps by using proxies, that way it's faster and more efficient. Because of this, if you get serious about scraping Maps, it will eventually start costing you at least a little cash, but in the meantime, you get one month of Apify Proxy free as soon as you sign up at Apify.
So hurry up and start your first month with our free Google Maps Scraper on Apify Store. Don't forget to send us a tweet if you do something interesting with all that data!
---
---