The days of traditional business are gone and reserved for the movie screens; the digital age has fundamentally altered how companies operate. Recognizing that data can be gathered and used to create blazing fast apps, organizations are now more than ever relying on insights gathered from this data to create new products, offer new services, and improve company processes.
By looking at data as the single most valuable raw material at their disposal, these companies ensure they are at the forefront of innovation. Web scraping allows businesses to get the data they need to not only move their companies forward but to excel over their competitors. We'll show you quite a few automation tools and use cases of how you can use automation and web scraping to sharpen various aspects of your business.
What is web scraping used for?
Simply put, web scraping is the process of data extraction from websites. It's fast and efficient and allows you to extract the data you need from any website and present it in a more useful and universal format. In its new format, the scraped data can be easily plugged into programs and apps, and conveniently used for your purposes, be it business, research, or personal interest.

Why Python is used for web scraping?
Python is fairly easy to learn for anyone who's never had to deal with large datasets before. This explains Python's popularity among non-programmers. It also offers many libraries and frameworks which is why Python is often considered the token language of data processing, analysis, and visualization.

What type of data can be scraped?
Everything you see on the webpage in a browser can be scraped. Whether it's an image, a text, a date, a link, a video, or a comment, it can be transferred to your computer in a neat dataset in HTML or CSV table, JSON doc, or other convenient formats.
Is it legal to scrape web pages?
Yes, it is legal. All the data on the web that is publicly available is okay to scrape. What defines the legal or illegal side of things is your intent for scraping data. We here at Apify are proponents of ethical web scraping, which takes into consideration the ways in which you gather and use the data.
1. Scrape competitor prices for competitive intelligence 💶
It's essential to monitor your competitor's pricing strategies to forecast accurately how to price your own goods. Manually keeping track of prices is not an option due to the vast quantities of data and the fact that prices are always changing. But with web scraping, you can easily keep track of your competitor's prices and automatically react to changes to optimize your revenue.
Automated price monitoring for Amazon, for instance, can help you track hundreds of products simultaneously thus providing advantage in pricing and positioning your products.

2. Generate smart leads and acquire new customers 🆕
Take advantage of web scraping to build a data-backed sales and marketing database. Data acquisition is essential to initiate consumer interest in products or services. You can later feed the newly structured data into your marketing automation or CRM system and start reaching out to potential customers.
Similar to that, web scraping can help you use its full potential to find the information you need and generate leads more reliably at a much quicker pace. You can see how it works here:

3. Use web scraping to create new products ✨
It's not enough to just create a new product anymore. You need to get it to market faster than your competition. Web scraping data can save some precious time by collecting relevant info from the web to inspire making innovative products. This data can empower you to build a custom product catalog, create an SEO auditing tool, and much more.
For instance, you can see how 5 simple scraping tools can support your SEO research here:

4. Take your content marketing to the next level 💪
Collate data from social media platforms such as Twitter, Instagram, Facebook, and more to find out what your audience is interested in and step up your content game. Monitor keywords around your industry over time to ensure you're creating engaging content that converts your audience.
Check out media and marketing-related use cases or this particular use case of how web scraping was used for scaling an AI-powered content agency: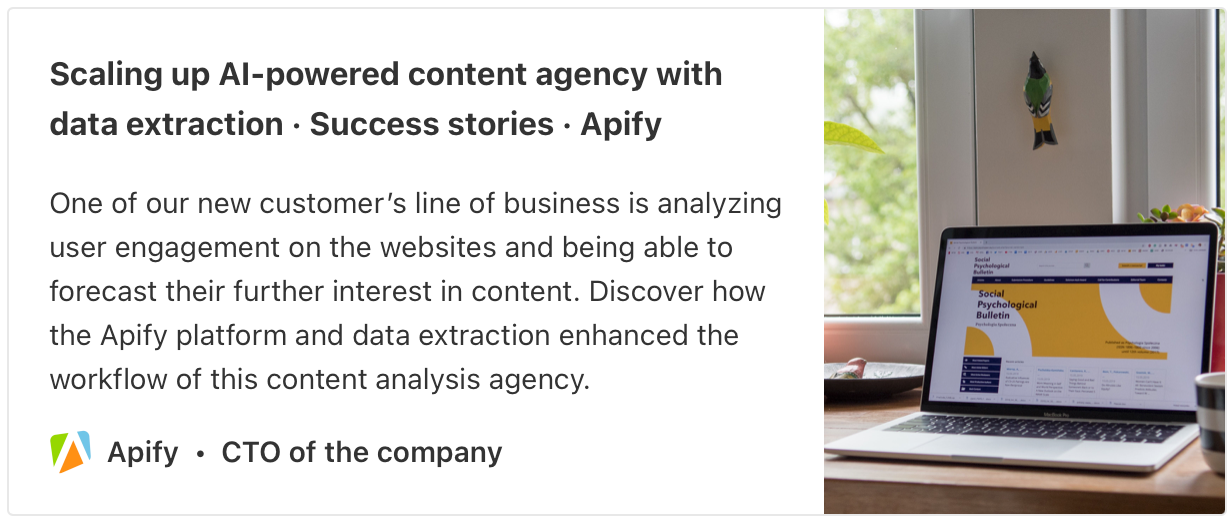 5. Generate market insights from data on the web 🧠
Accurate and relevant information is the foundation of any successful business venture. It's also a crucial part of maintaining a competitive business. Use the vast amount of data on the web to gather information about existing and prospective customers, the competition, and your industry at large. Want to open a new brick-and-mortar business and you're looking for the right location? Collect data about competitors or business listings to analyze and decide where your new business, store, or warehouse should be located to maximize potential revenue.
Discover how web scraping can fuel retail data analytics:

How can Apify help you with scraping?
We've been in the scraping business for 6+ years now. We can help you navigate the web scraping world in at least 4 different directions: