Gone are the days of traditional business, the digital age has fundamentally altered how companies operate. Recognizing that data can be gathered and used to produce cutting-edge business applications, organizations are now more than ever relying on insights gathered from this data to create new products, offer new services, and improve company processes. By looking at data as the single most valuable raw material at their disposal, these companies ensure they are at the forefront of innovation. Web scraping allows businesses to get the data they need to not only move their companies forward, but to excel over their competitors. Use it to improve your business in several ways.
What is web scraping?
Before we get started, you might be wondering what web scraping actually is. Simply put, web scraping is the extraction of data from websites into a more useful format. It's fast and efficient and allows you to extract the data you need from any website, no matter how large the data is. In its new format, it can be easily analyzed and used for your purposes. Now let's look at the ways web scraping can be used to improve your business.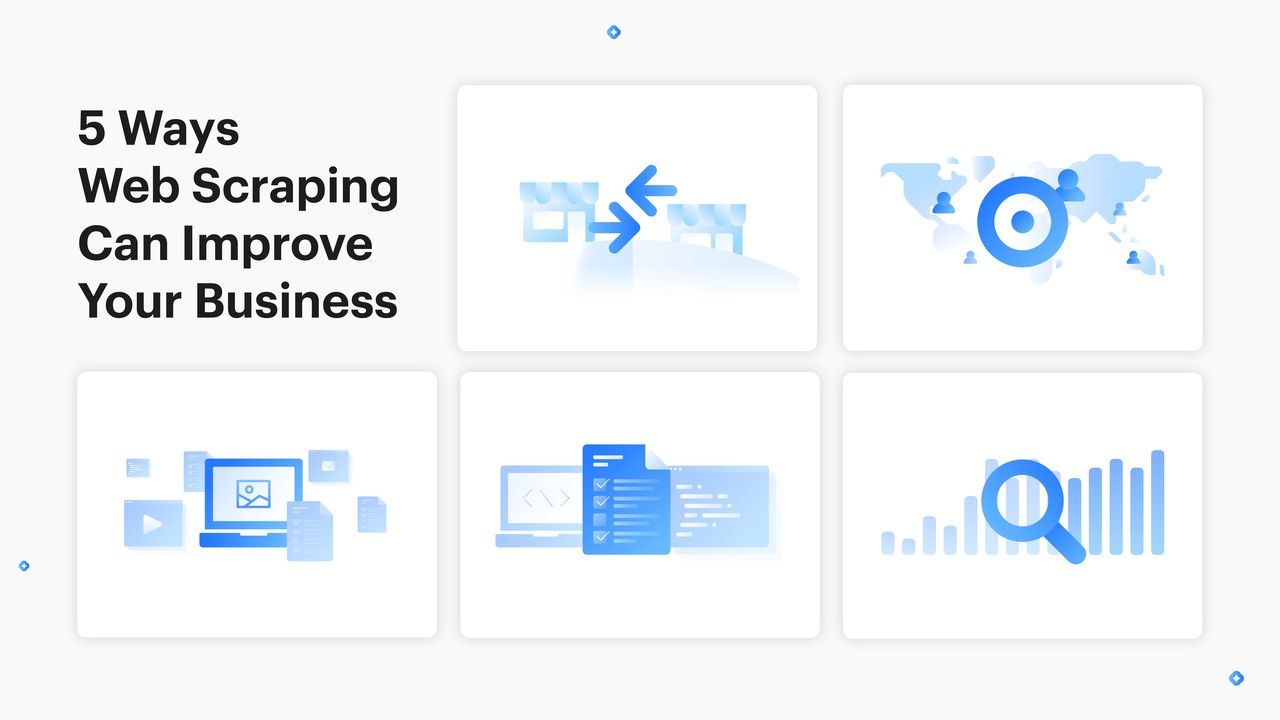 Gain a competitive edge over your competitors with price comparison
It's important to monitor your competitor's pricing strategies in order to know how to price your own goods and gain a competitive edge. Manually keeping track of prices is not an option due to the vast quantities of data and the fact that prices are always changing. But with web scraping, you can easily keep track of your competitor's prices and automatically react to changes to optimize your revenue.
Generate smart leads and acquire new customers
Take advantage of web scraping to build a sales and marketing database. Data acquisition is essential to initiate consumer interest in products or services. Use the full potential of web scraping technology to find the information you need to generate leads more reliably at a much quicker pace. Feed the newly structured data into your marketing automation or CRM system and start reaching out to potential customers.
Utilize web scraping to create novel products
It's not enough to just create a new product anymore. You need to get it to market faster than your competition. Save time by collecting data from the internet to make innovative products. For example, you could build a custom product catalog, create an SEO auditing tool, and much more.
Take your content marketing to the next level
Collate data from sites such as Twitter, Instagram, Facebook, and more to find out what your audience is interested in and to step up your content game. Monitor keywords around your industry over time to ensure your creating engaging content that converts your audience.
Generate market insights from data on the web
Accurate and relevant information is the foundation of any successful business venture. It's a crucial part in maintaining a competitive business. Use the vast amount of data on the web to gather information about existing and prospective customers, the competition, and your industry at large. Want to open a new brick and mortar business and you're looking for the right location? Collect data about competitors or business listings to decide where your new business, store, or warehouse should be located to maximize potential revenue.
Conclusion
Regardless of industry, web scraping is a valuable tool that can help you improve your business. What are you waiting for? Get started today.
Interested in a custom tool for your web scraping project? Get a fast, affordable solution from certified developers on Apify Marketplace. Have a bigger project in mind? Reach out to Apify's enterprise services team to discuss your needs and requirements.
---
---