Get started scraping Instagram posts with this step-by-step tutorial that shows you how to use a tool designed for extracting Instagram post data.
How to scrape posts on Instagram for free
If you want to extract data from Instagram posts, Instagram Post Scraper is a streamlined data extraction tool designed specifically for the task. That means it's perfectly configured to get your data quickly and easily. With a free Apify plan, it doesn't cost anything to try it. So follow the tutorial below to test it out.
Is it legal to scrape Instagram posts?
Before we start: Scraping Instagram is legal, but make sure that you don't breach copyright or data protection laws. That means you mustn't scrape intellectual property or private information. You can only scrape publicly available data, such as images, comments, and the number of likes and followers, but not personal information, such as contact details.
How to extract data from Instagram posts
Now that we've got that out of the way, it's time to show you how to extract your data with just a few clicks ⬇️

Step 1. Go to Instagram Post Scraper on Apify Store and click Try for free
All of our scrapers can be found in Apify Store. There you can type 'Instagram' in the search field to see our range of Instagram-related scraping tools. Select Instagram Post Scraper, then click Try for free.

If you don't have an Apify account yet, you can sign up with your email account, Google, or GitHub. The free plan gives you $5 of monthly prepaid usage. You don't need to provide your credit card, and there's no time limit on the free plan, but you can upgrade to a paid plan at any point if the monthly prepaid usage on the free plan isn't enough for your needs.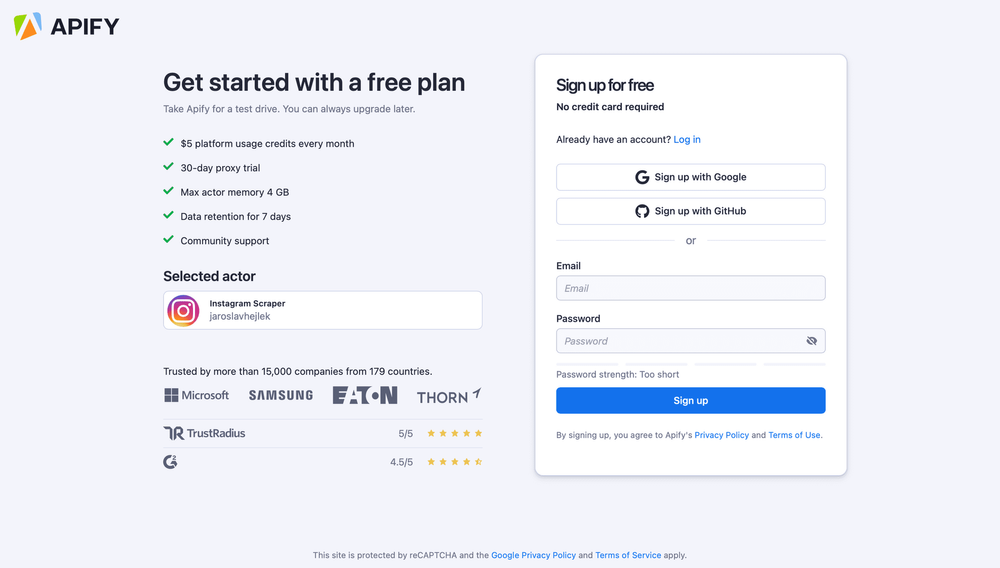 Step 2. Insert the Instagram username or account you want to scrape
Type or paste the username or account you want to scrape. You can add as many as you like by clicking the +Add button.
If this is your first go, you can just use the default settings to test the scraper.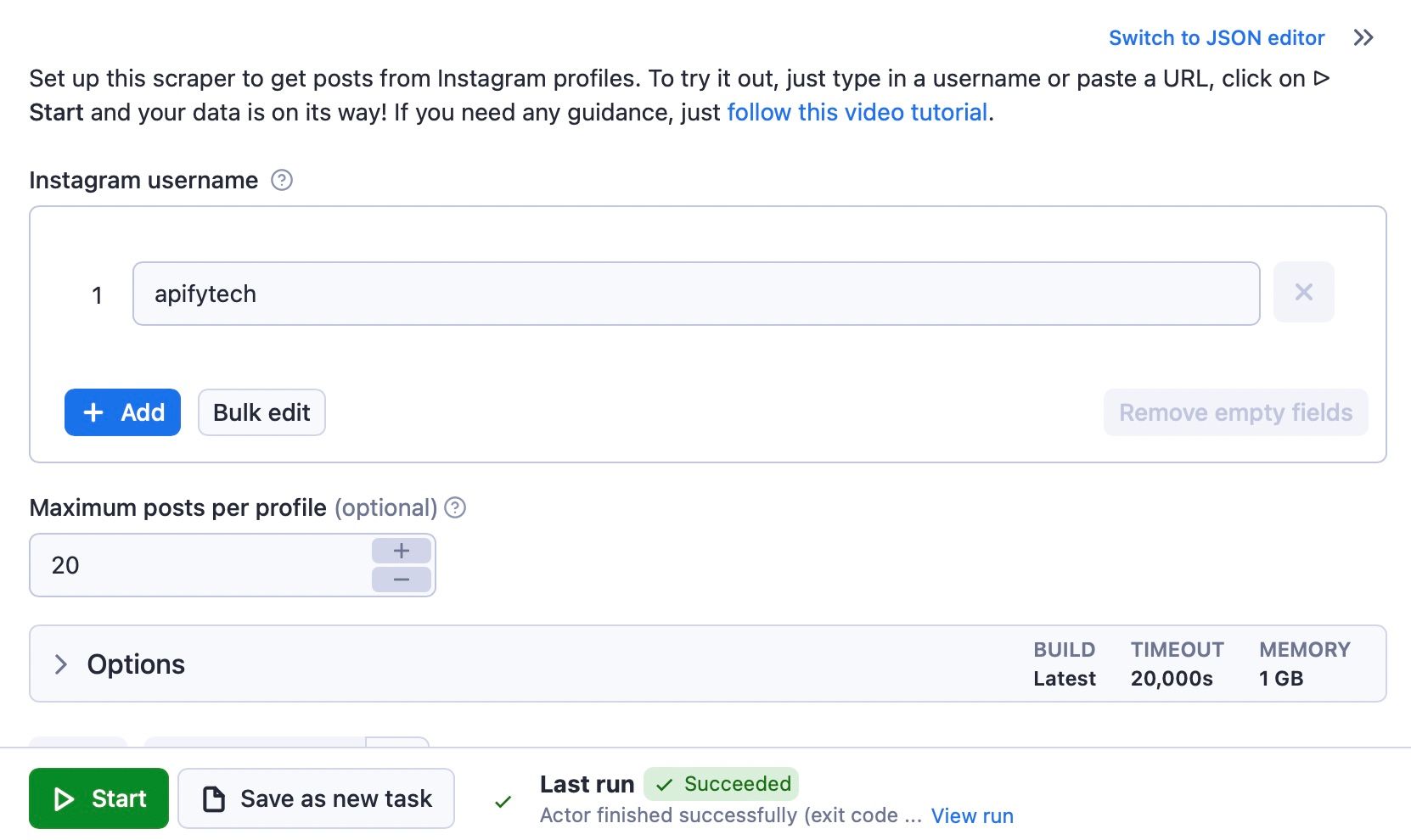 Step 3. Choose the number of posts for extraction
This is the maximum number of posts per username. So, if you've selected 3 usernames by using the +Add button and set the maximum number to 20, then the maximum number of posts you'll get is 60.
Setting a maximum number is wise if you want to extract data very quickly. Let's go with a maximum of 20 for apifytech.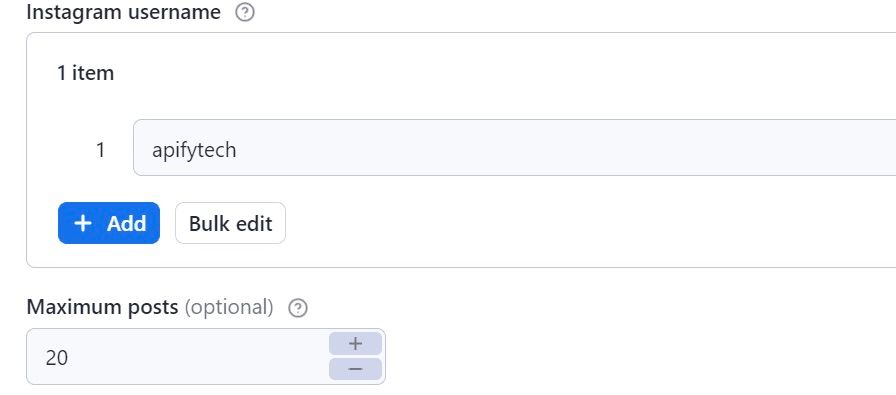 Step 4. Collect your data
Click the Start button to begin running the scraper. While Instagram Post Scraper is running, you'll see the output as the data starts coming in, but it hasn't finished until the status changes to succeeded.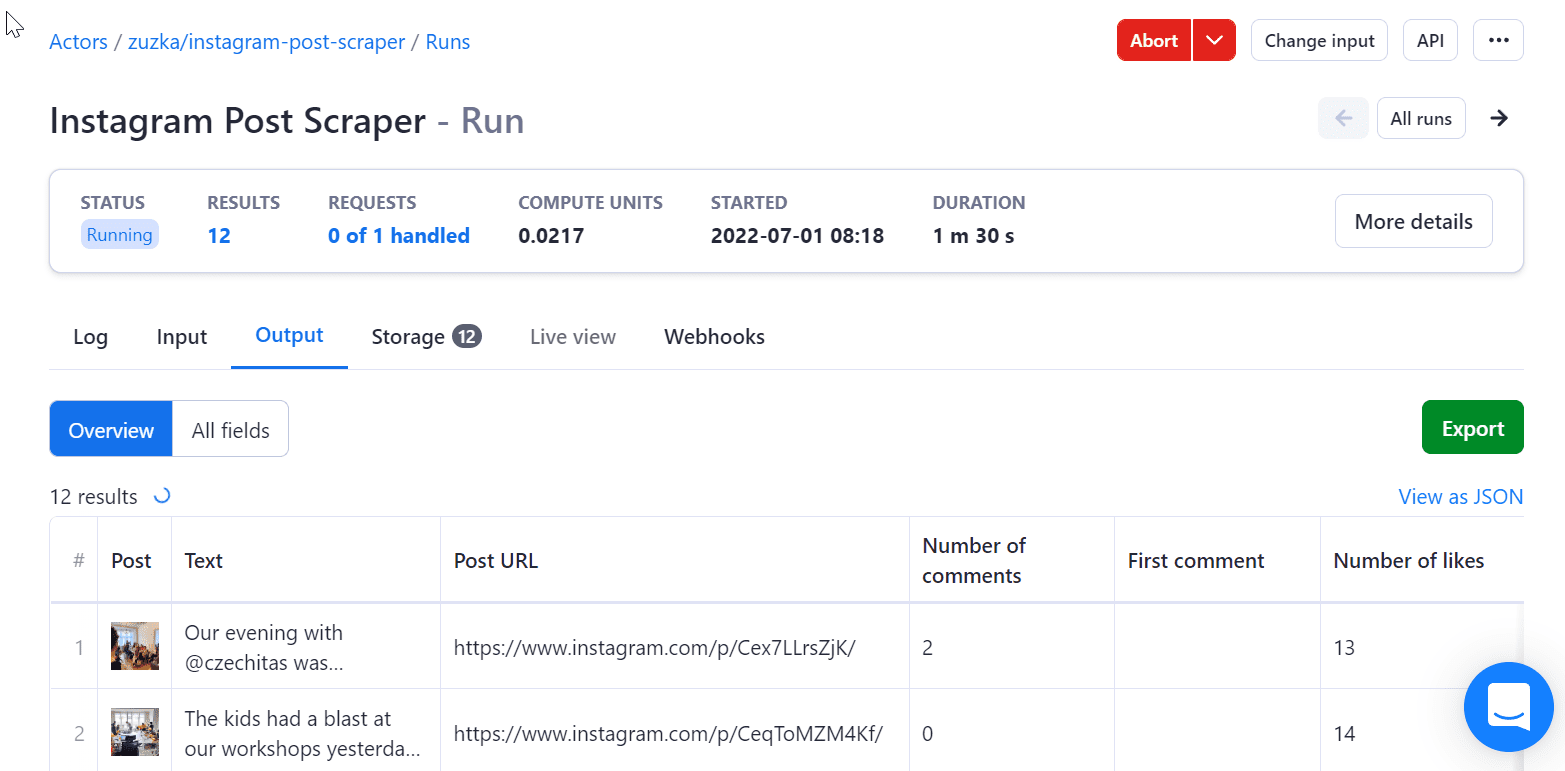 Step 5. View and download your data
Once the scraper has finished its run, click on the Storage tab, and you'll see a range of options for exporting your dataset. You can preview or download your Instagram data in any of the formats provided.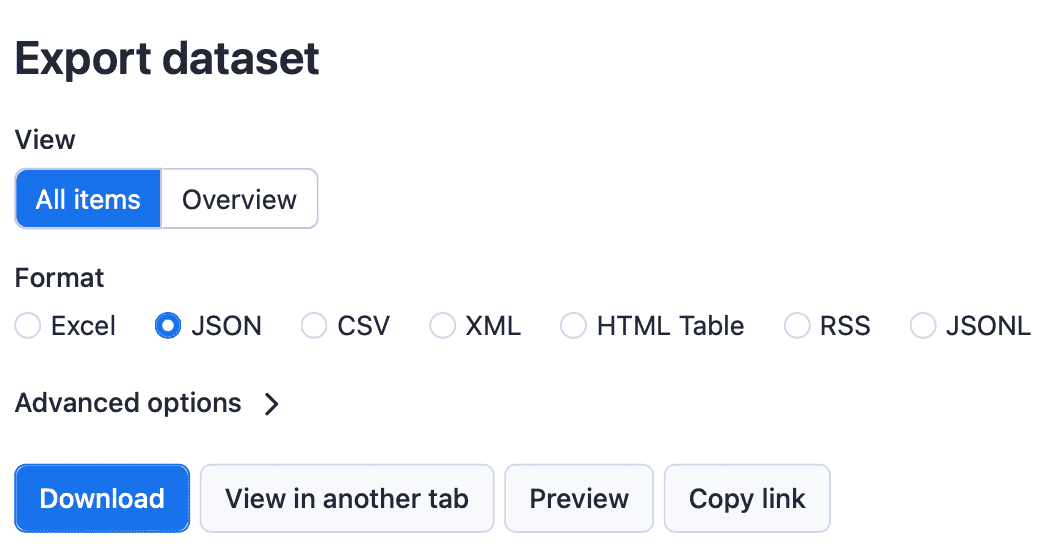 Let's download the data we've collected in Excel, shall we?

Now you're ready to start scraping Instagram posts👇

Just choose some usernames you want to scrape, click Start, and get your data.
If we've left you wanting more and you'd like to see this scraper in action, watch this short video tutorial on how to use Instagram Post Scraper ⬇️
---
---