Data collection in search for an ultimate vegan experience - here's how you can do it, even if you've never extracted Google Maps data before.

Finding the food you love can be tricky. Finding the places that serve it just right can be even trickier, especially if your diet choices are rather on the plant-based side of things. Luckily, we've got Google Maps at our disposal, offering a free database of vegan places to browse. Fine dining, cafes, vegan buffets, even vegan sushi, and pizza - the choices are plant-iful.
So if sardines aren't your cup of tea, how about we explore the crème de la crème of the vegan scene in Lisbon with the help of Google Maps reviews sprinkled with some scraping magic? Alright, we're done with the puns planted all over that paragraph. Let's see what data we can extract for the best-rated vegan restaurants in Lisbon.
Is Lisbon vegan friendly?
If you'd asked that question some 10 years ago, the answer would have been no. As in most parts of the world, making the switch to a plant-based diet requires either a cultural predisposition to it in the first place or how-to and general interest that only come with time. Most European cuisines are predominantly meat and fish-centric since they regard animal products as the easiest source of calories.
Portuguese cuisine was no different up until a few years ago. But the times they are a-changing, and these days Portuguese menus include more and more plant-based options, and this is a trend that is going to stay around for a while. And while Lisbon is not the vegan capital of Europe just yet, the number of purely vegan and vegetarian eateries in Portugal keeps growing steadily every year.  
Where can I find vegan restaurants in Lisbon?
For reviews and impressions, the usual places - TripAdvisor, The Fork, or even your vegan hunch once you're in the city. You can also give yourself a vegan food tour around Lisbon by going to the vegan side of TikTok. But we're not hunting for impressions here; we're going to go with Google Maps to see what kind of public data we can extract on these restaurants.
Since we are looking at Google Maps as not just an app and a website, but rather a free, always relevant database, we can find anything from opening & popular hours to the menu, photos, and number of reviews there. All we have left to do is learn how to collect that data.‌
How to get data on the best vegan restaurants in Lisbon
Data extraction for vegan trip planning  - here's how you make it happen in 5 steps or 7 minutes, even if you've never tried collecting data before ⬇️
Step 1. Find a Google Maps scraper
We start off with Apify Store. It's a collection of simple web data extraction tools, able to copy and paste data from any Wikipedia page, Twitter profile, Amazon product, and any other web page you can think of. Try finding your most used website or app - there's a pretty good chance we already have a scraper for it 😉‌
After you're done looking through the Store, let's turn to the search bar and find our Google Maps scraper. Now, the search will return quite a few of those, but we are going to go with the original one. Pick the Google Maps Scraper and click Try for free

To try out any of our simple automation tools, you'll need an Apify account first. If you don't have one yet, no worries. You can sign up for free using an email or GitHub account. After you're done with the sign-up part, you'll transfer from Store to Console. But before we get to that, we'll need to get a URL from Google Maps.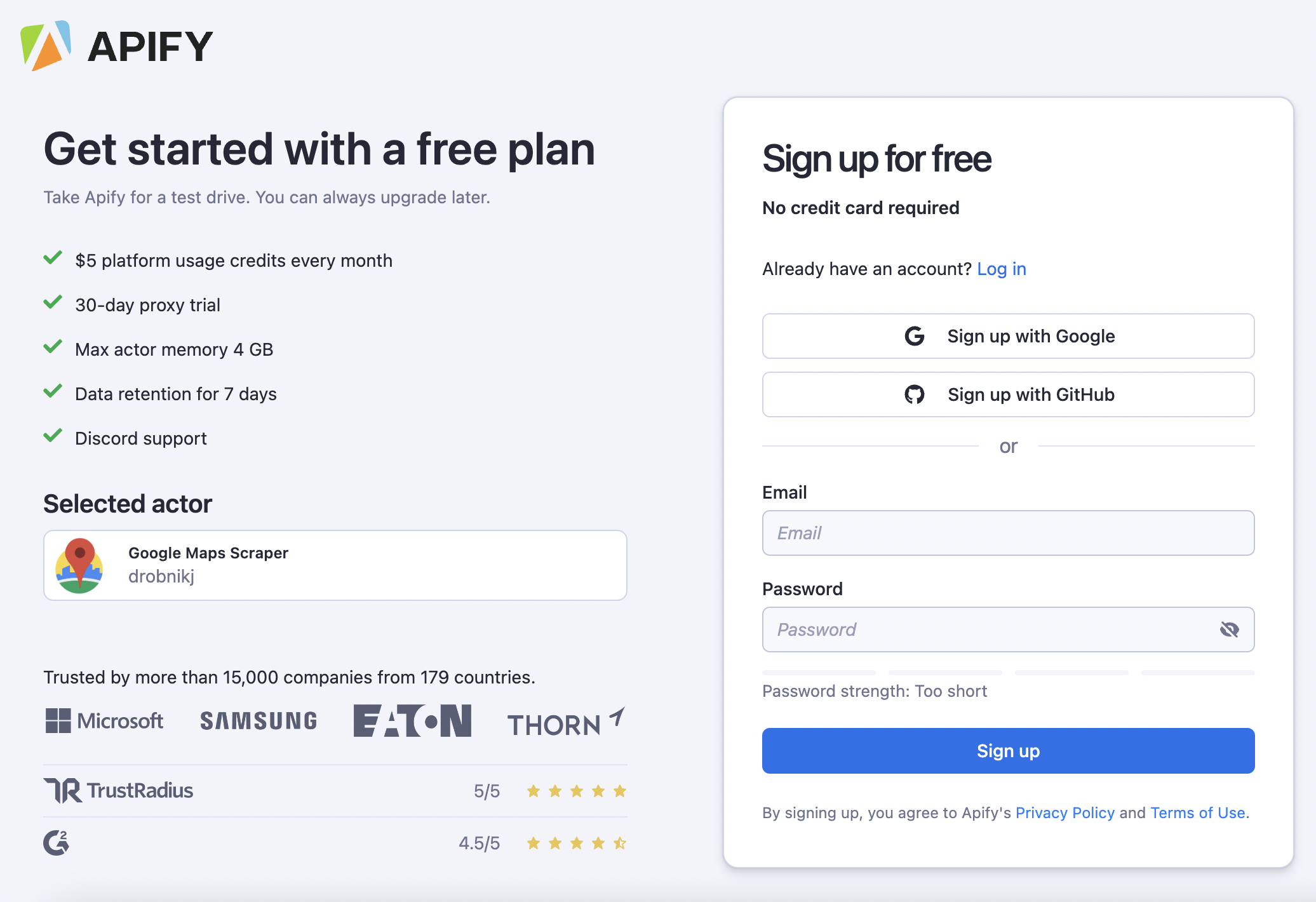 Step 2. Search and filter Google Maps
Open a new tab with Google Maps. Search for Lisbon, Portugal -> Vegan restaurant and then filter your results by best reviewed 4.5+ 🌟. These are the vegan places of our interest, the best of the best. We will be collecting data on each of these vegan spots by simply using the URL provided at the top. After the search part is complete, all we have to do here is just copy that URL.
Step 3. Define the data you are going to scrape
Let's take a closer look at the data that Google Maps provides its users. Looking at any of the vegan restaurant listings, we can clearly see their name, attached images, the number of reviews, pricing category, contact details including website,  rating, if it's better for dinner or rather breakfast time, takeout options, and even if the restaurant is children friendly. Our scraper's job is to collect all of this information at once and put it into a well-organized table. We can do that in 5 minutes!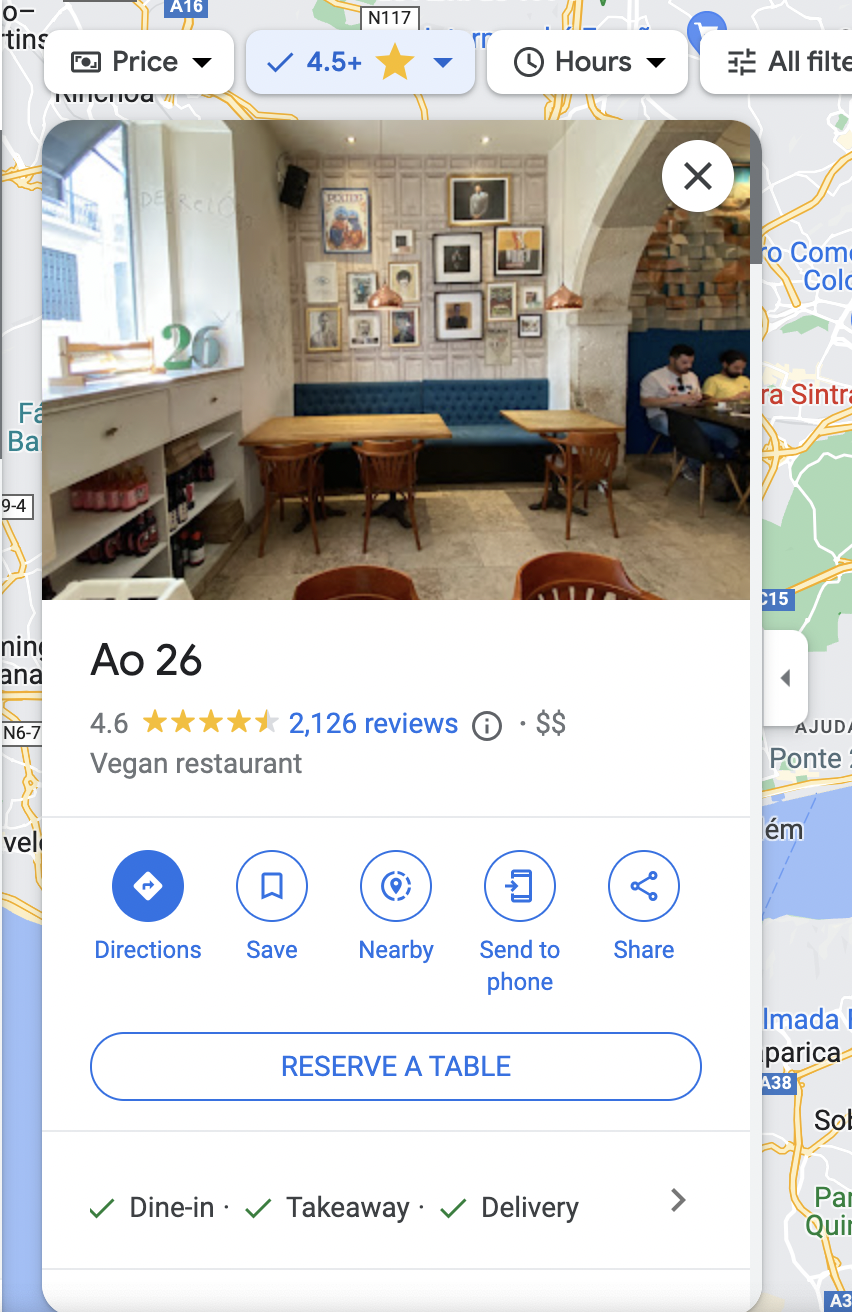 Step 4. Paste the filtered Google Maps search URL
This scraper is a bit more complex than the others; as you can see, there are plenty of ways to scrape Google Maps. But we don't have to use all of its fields for our use case. All you have to do is find the Google Maps URLs field and insert that link from Google Maps. Now hit the Save&Start button at the very bottom and start getting your first results.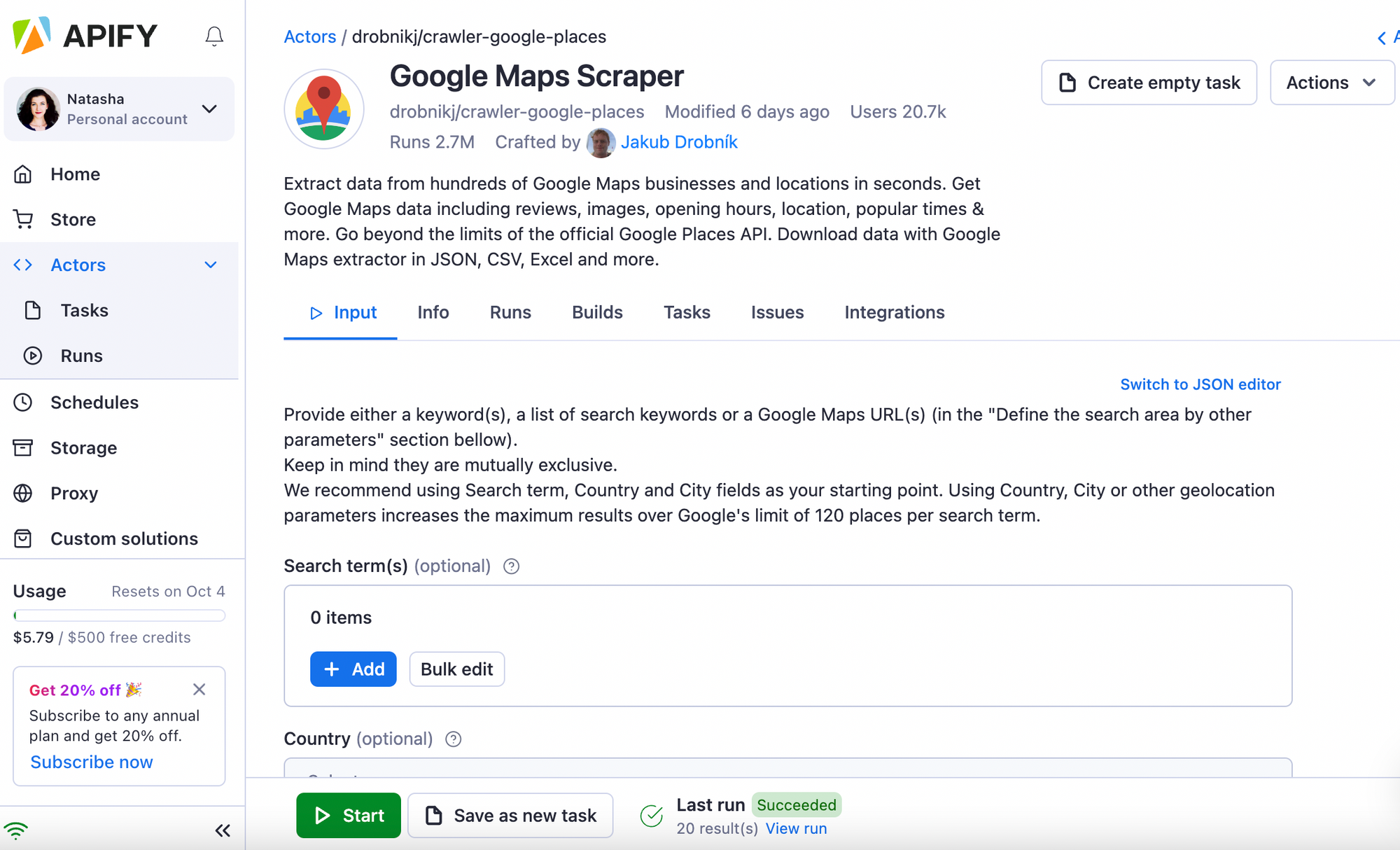 ‌Step 5. Extract and preview data on vegan restaurants
Now it's time for the scraper to do its magic. The table with vegan places is going to fill up in just a few minutes. Once you see the status change to Succeeded, data extraction is done. So this is how you collect all Google Maps data on the top 20 best vegan restaurants in Lisbon. How do we know they are the best? Because of the URL we've chosen to scrape. Since it was already filtered out by the places with the highest rating.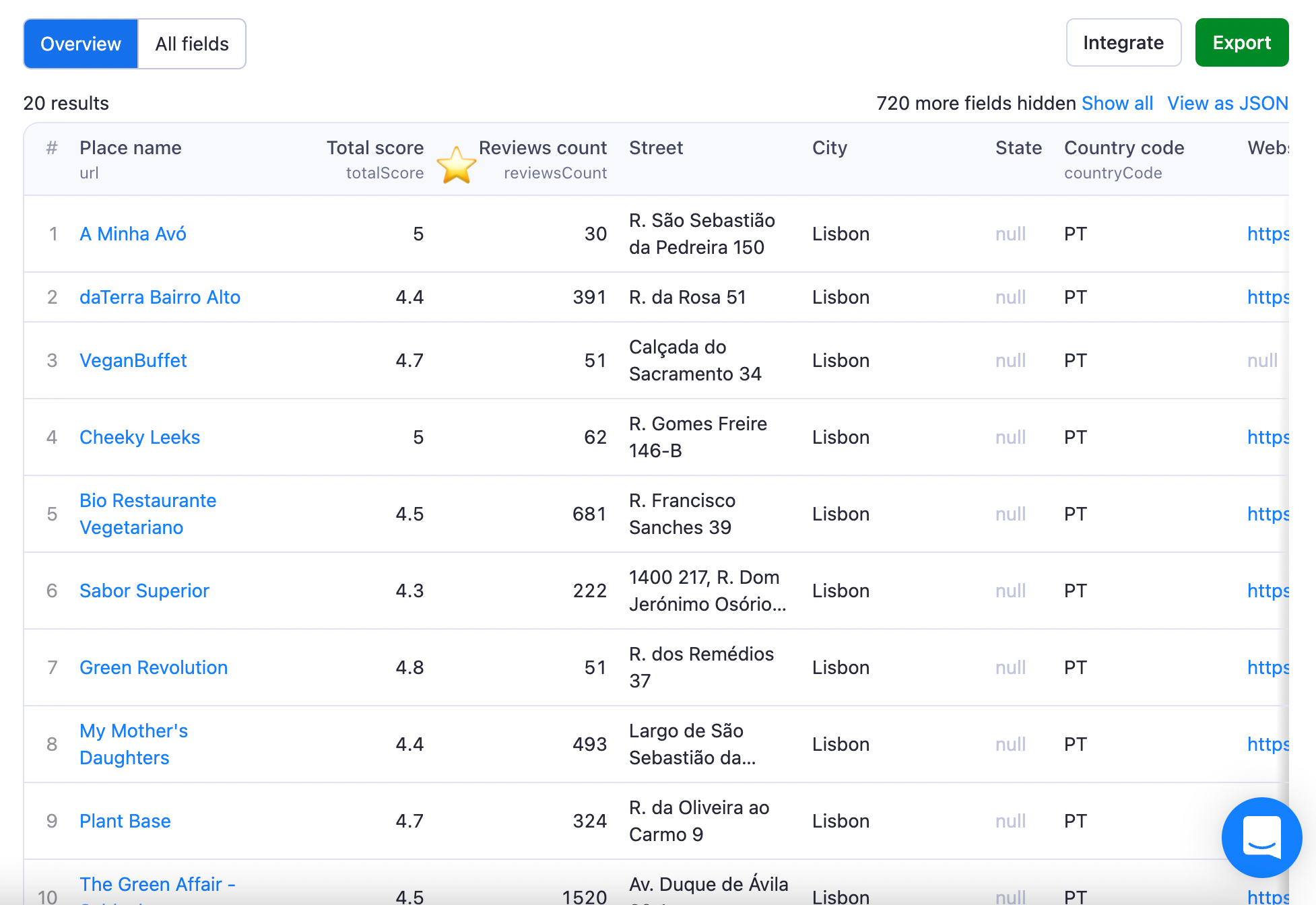 Step 6. View and download collected data
After the data has been extracted, go to the Storage tab > Dataset tab to preview, clean, or download data from the platform onto your computer. While the example you see is only in JSON, you can also get that data in HTML, CSV, and even just an Excel spreadsheet.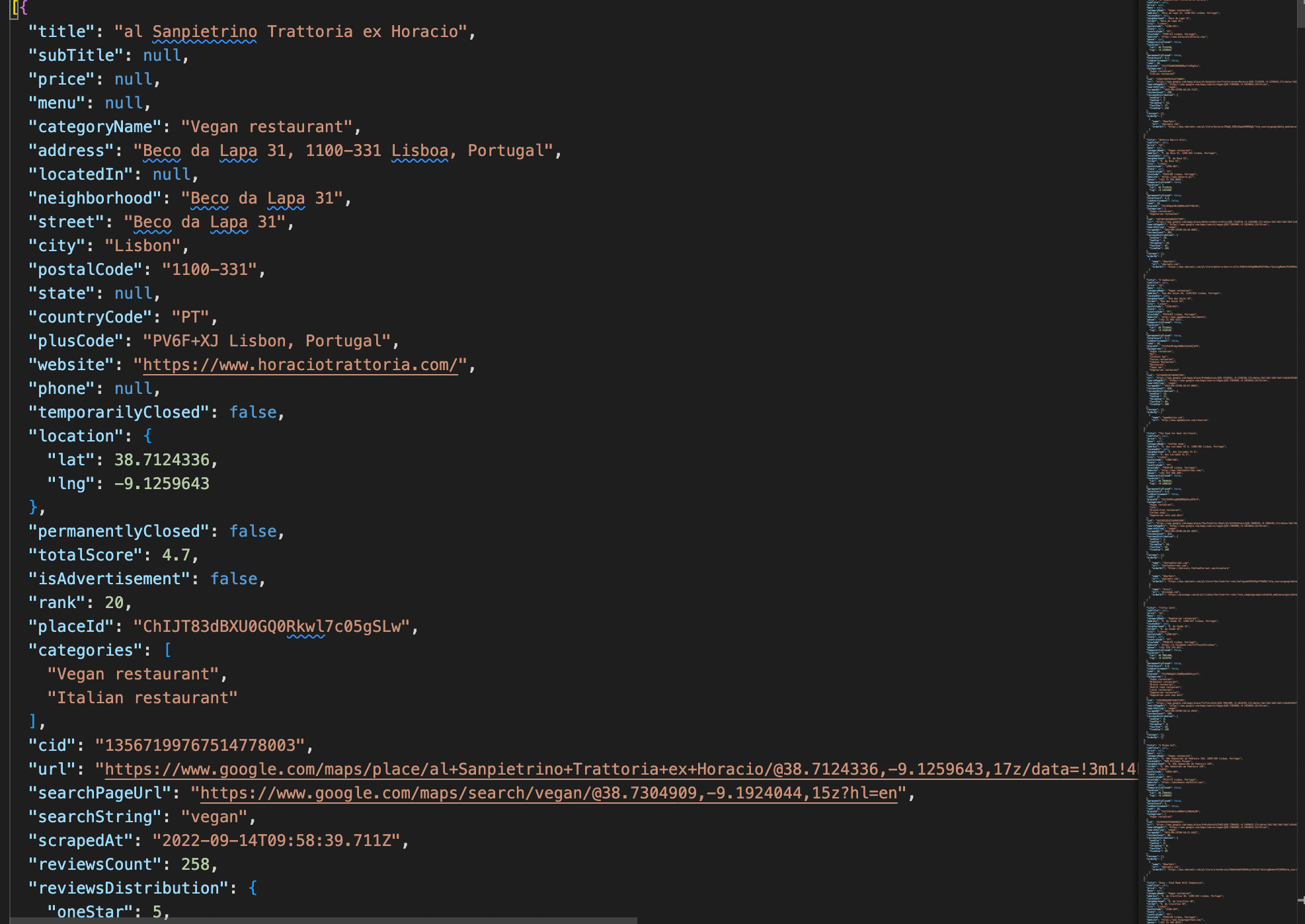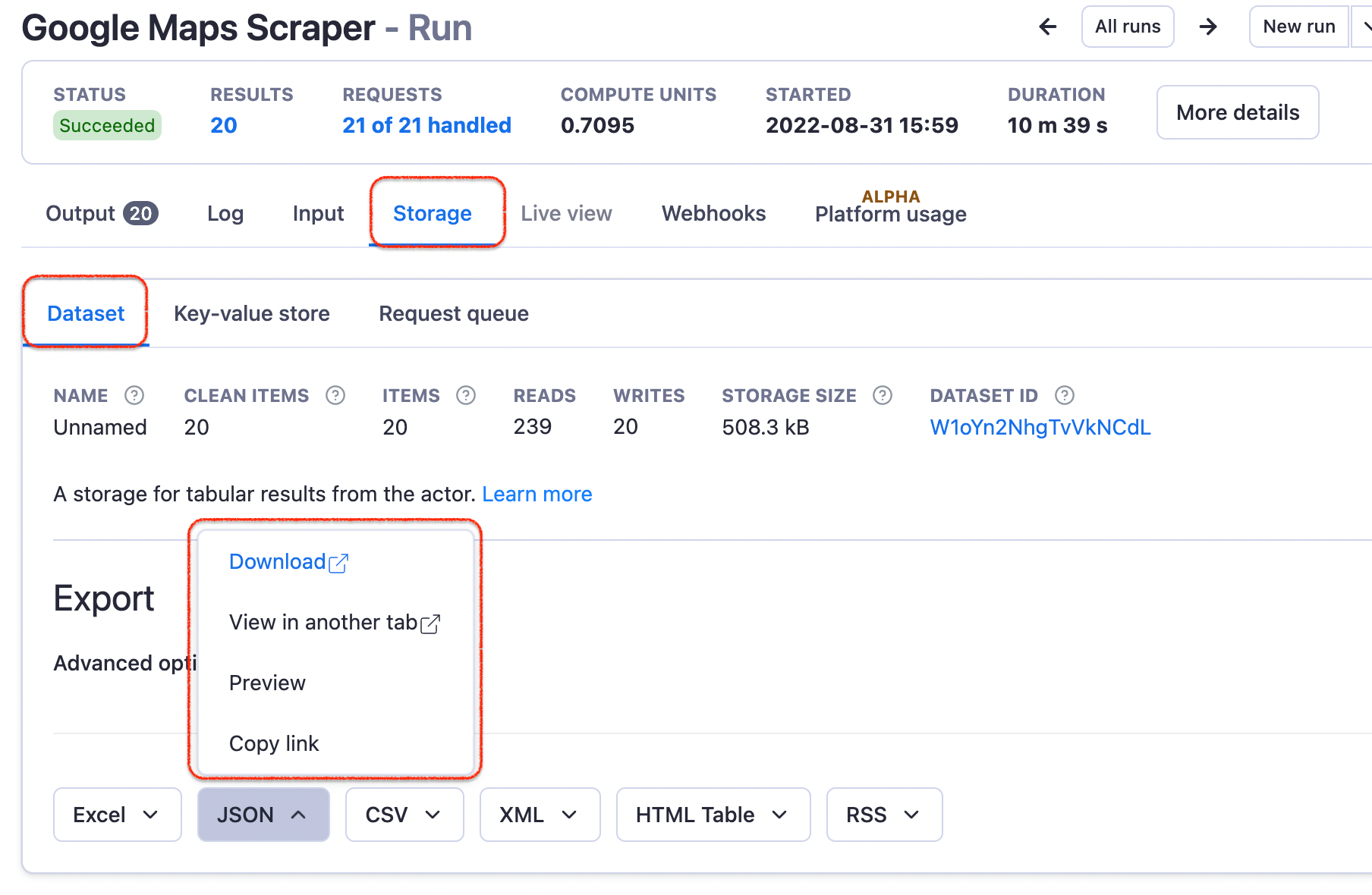 Step 7. (bonus) Integrate your data
The dataset can also be easily integrated with other automation tools and data analysis services such as Keboola, Appmixer, or Make. All the integrations are already laid out; all you have to do is just connect the dataset with your chosen app.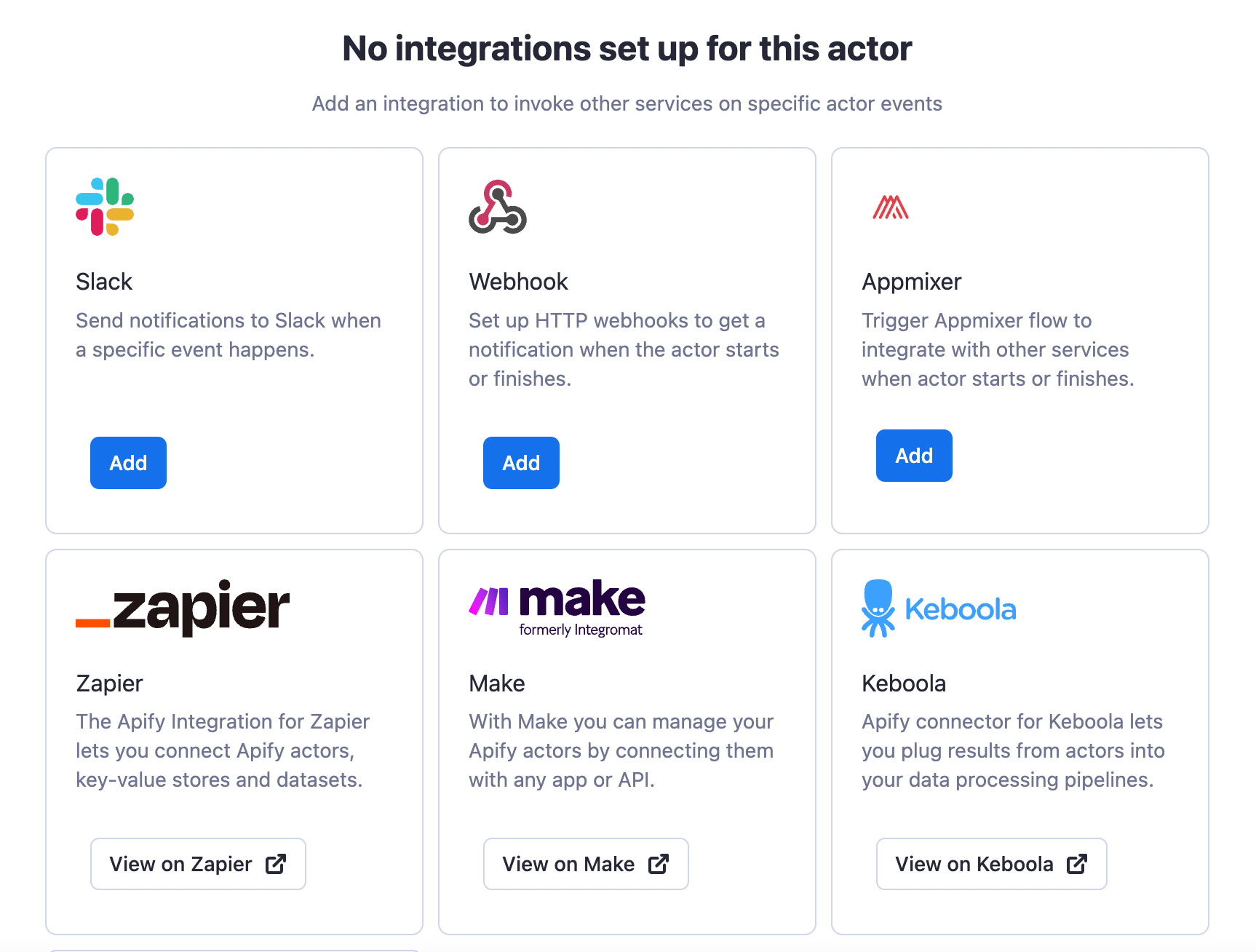 Alternative: use Vegan Places Finder instead
The main thing about googlemaps.com is that it's incredibly versatile. So it only makes sense to have more than one Google Maps scrapers for different scraping use cases: scraping details by the phone number, reviews, gas prices, menus, etc. One of them is Vegan Places Finder which can find all (not only the best) vegan places for a given city and is even easier to use. In this case, no URL is needed, no copy-pasting, just the city, country, and number of results you expect. Try it out and see how it compares with Google Maps Scraper.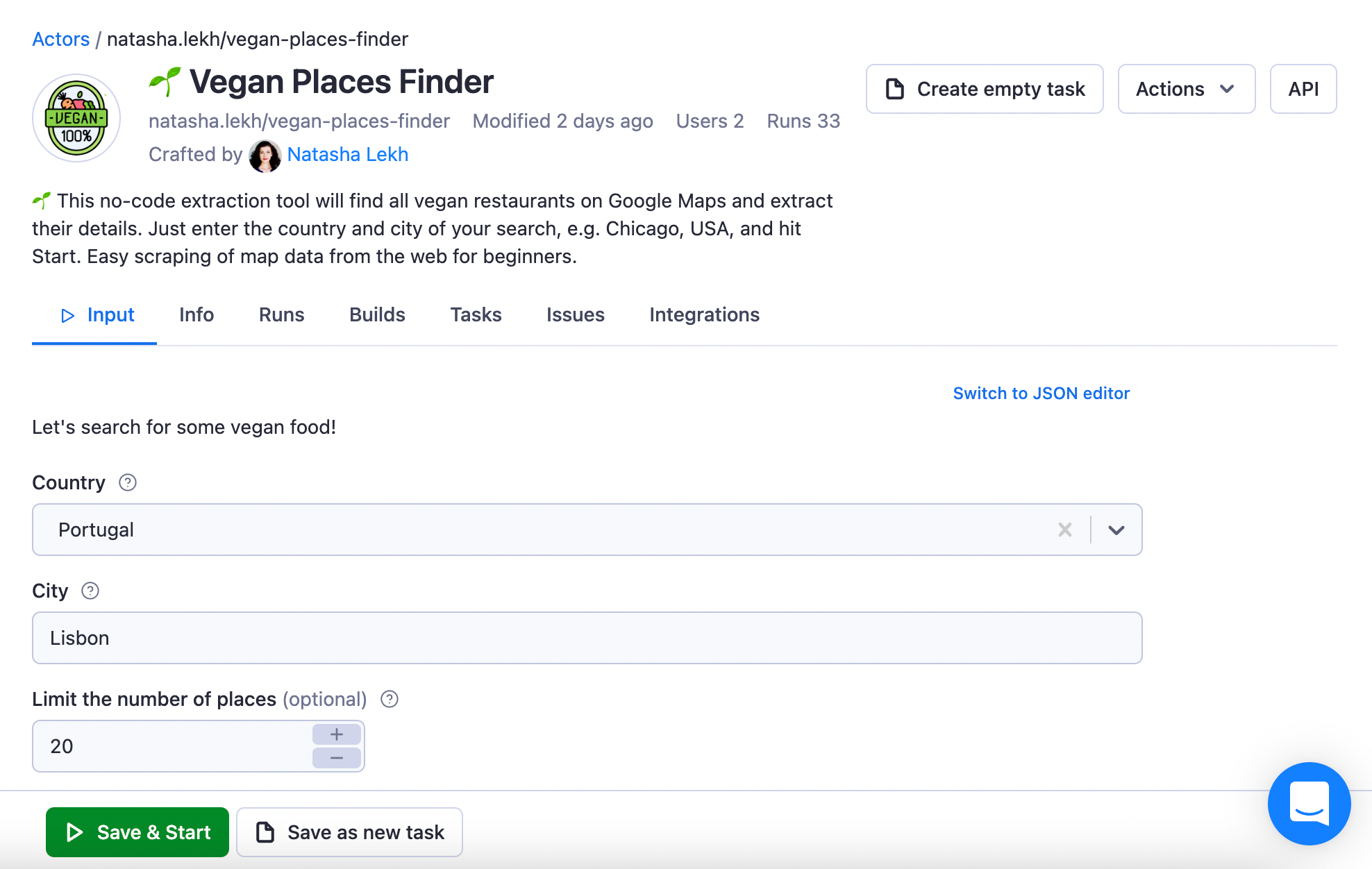 ‌
---
---