Using the right API will help you scrape Tripadvisor at scale. You don't need to be a computer wizard to do it. Our step-by-step guide will show you how to extract data from Tripadvisor with a ready-to-use web scraping tool that anyone can use.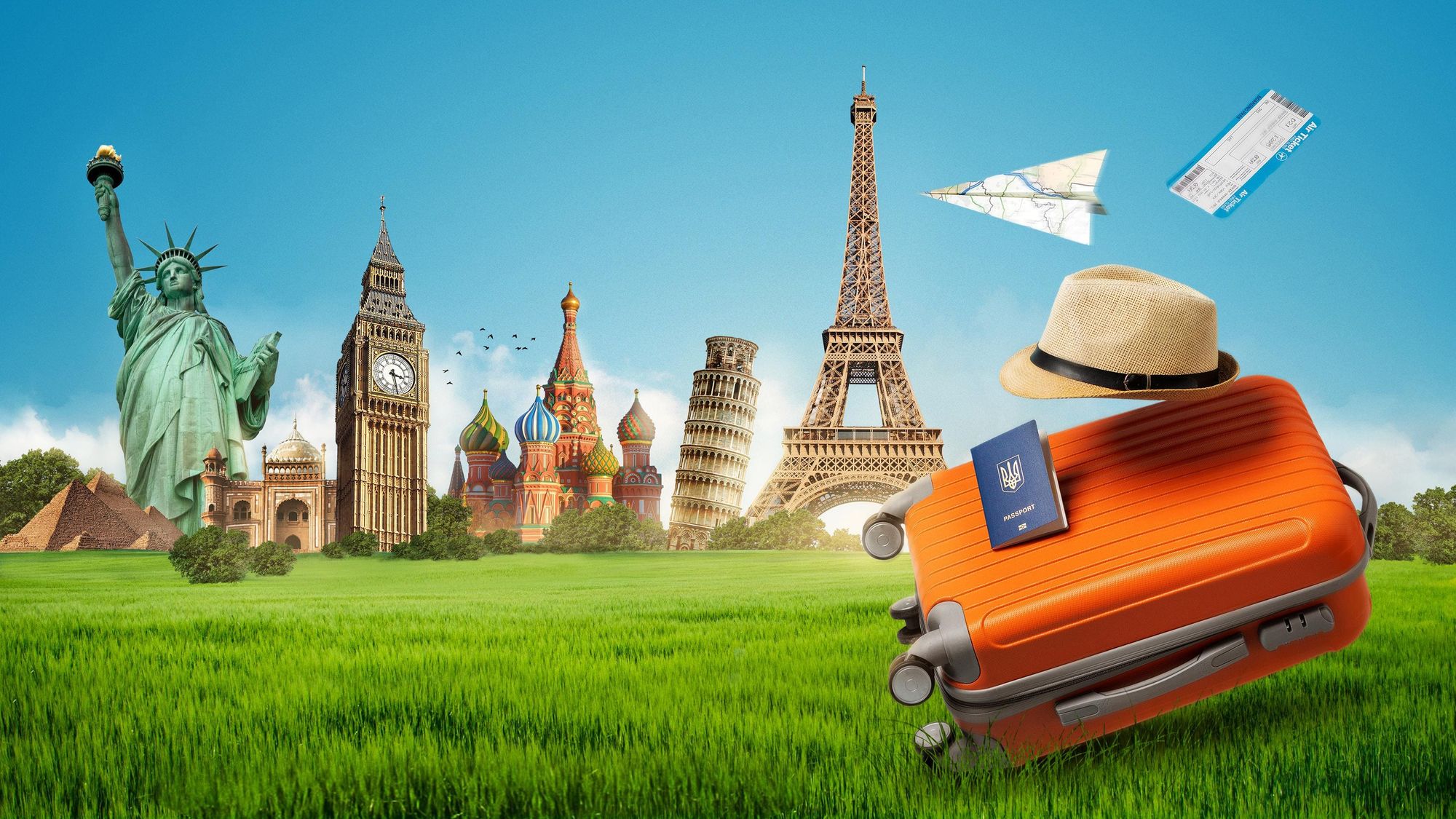 The benefits of scraping Tripadvisor
In 2021, Tripadvisor's total number of user reviews for restaurant, hotel, vacation rental, and attraction listings reached one billion. That's a lot of data just begging to be gathered and used in new and interesting ways. If you're in the tourism and hospitality industry, extracting Tripadvisor data helps you keep track of the competition and makes it easy to collect the information you need for smart business decisions. Web scraping with Tripadvisor Scraper is the easiest and fastest way to get that data.
🏨 Just want to scrape hotels? ➡️ Try
Tripadvisor Hotels Scraper

What about the Tripadvisor API?
You can of course get Tripadvisor data with the Tripadvisor API. You can request access to Tripadvisor APIs here. The Tripadvisor Partner API allows partners to access Tripadvisor content and integrate it into their websites and apps.
Approved users of the Tripadvisor Content API can access accommodation, restaurant, and attraction details, such as:
Reviews links
Ratings and awards
Accommodation categories
Attraction types
Restaurant cuisine
So, why not use the Tripadvisor API?
There are limits to how much data you can scrape
Putting the data in a structured format is difficult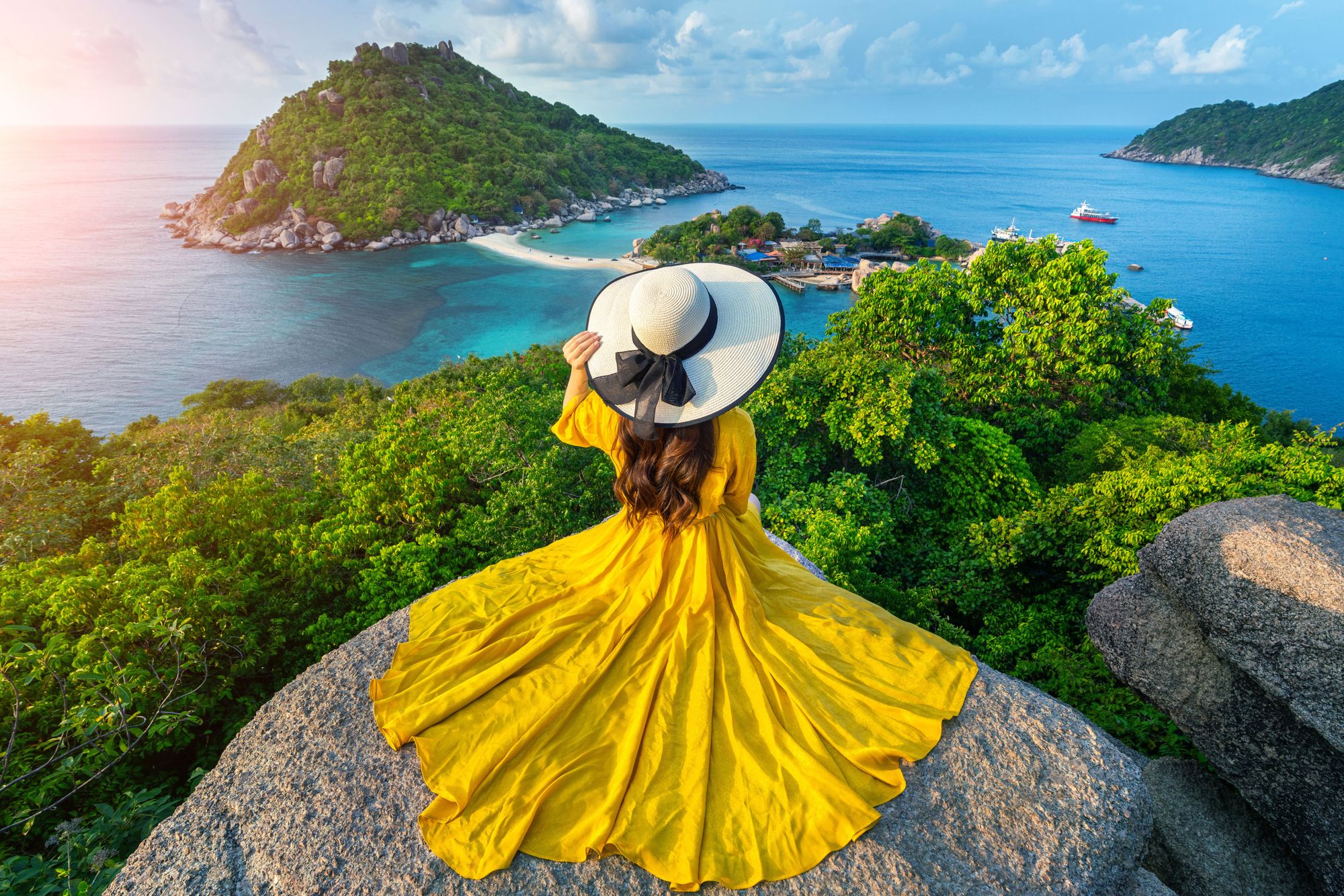 Why use Tripadvisor Scraper?
With Apify's Tripadvisor Scraper, you can extract data at scale and download it in a number of structured formats, such as XML, CSV, JSON, and Excel. You don't even need programming or coding skills to use it. Apify's unofficial Tripadvisor API automates the extraction process, which makes scraping Tripadvisor quick and easy, leaving you free to work out how to use that data to benefit your business.
🍜 Just want to scrape restaurants? ➡️ Try
Tripadvisor Restaurants Scraper

Is scraping Tripadvisor legal?
Scraping publicly available data online is legal. But you still need to comply with regulations such as GDPR or CCPA, which deal with the accumulation of personal data. It's also important not to scrape content that is copyrighted or private. Check out our legality blog post to learn more about how the law sides with web scraping.
How do you scrape data on Tripadvisor?
We're going to show you just how easy it is to scrape data on Tripadvisor with our 5 step guide to using Apify's Tripadvisor Scraper. We also have more targeted Tripadvisor scrapers for hotels, restaurants, and things to do in Apify Store. So, if you want to focus on a narrower data scraping task, try Tripadvisor Hotels Scraper, Tripadvisor Restaurants Scraper, or Tripadvisor Things To Do Scraper.
🏛️ Just want to scrape things to do? ➡️ Try
Tripadvisor Things To Do Scraper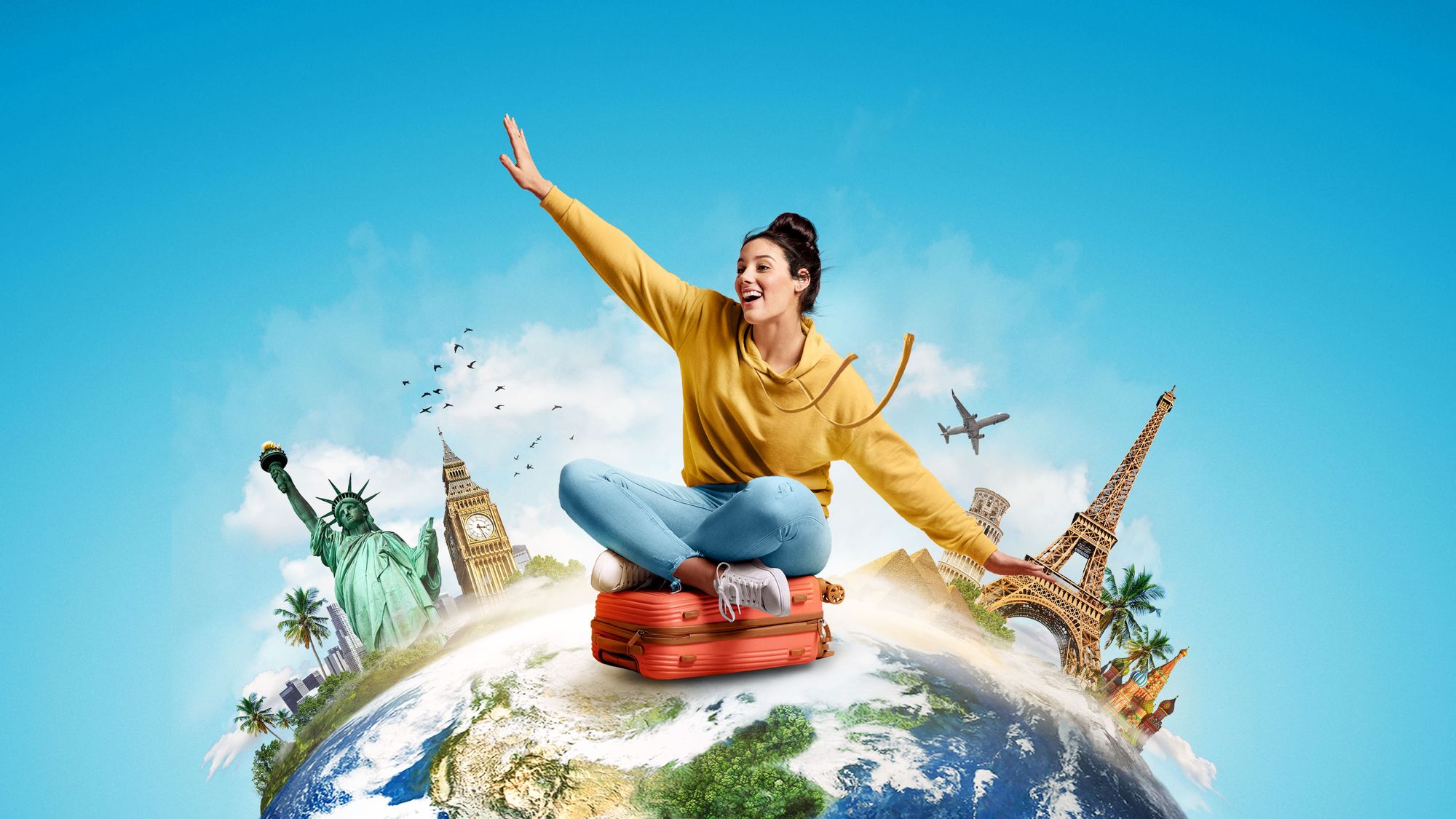 Step 1. Go to the Tripadvisor Scraper page on Apify Store
Click on Try for free. If you already have an Apify account, you'll be taken straight to Apify Console, so you can go to step 3.
Step 2. Sign up if you don't have an Apify account
If you don't have an Apify account, you can sign up for free using your email address, Google, or GitHub.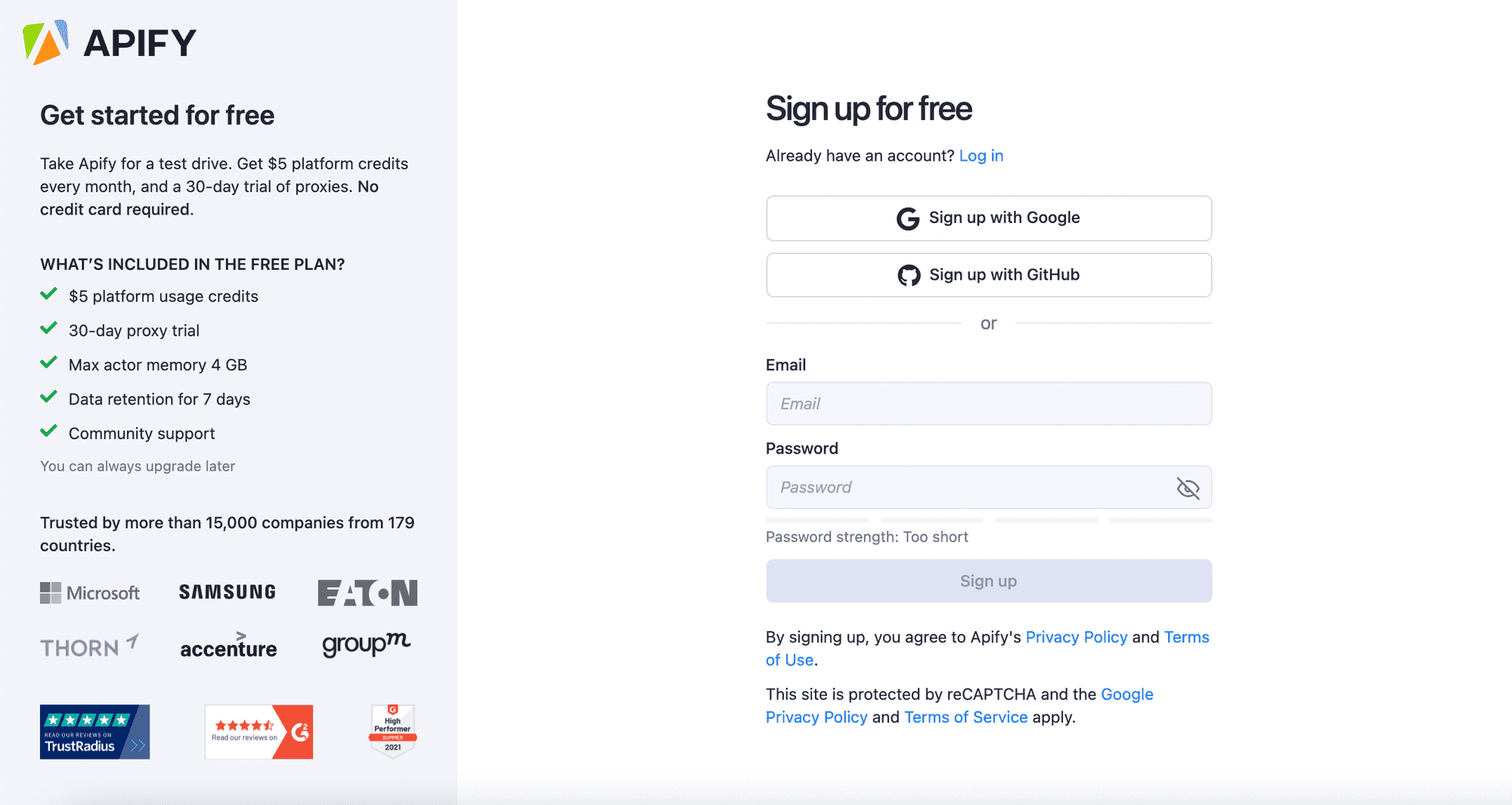 Step 3. Search for the venue or location you want to scrape
Once you are in Apify Console, insert or paste the search term you want in the input field and the maximum number of results you want to scrape. You can search for data from locations, hotels, or restaurants. In this example, we are using the default setting and searching for Prague with a maximum of 10 results.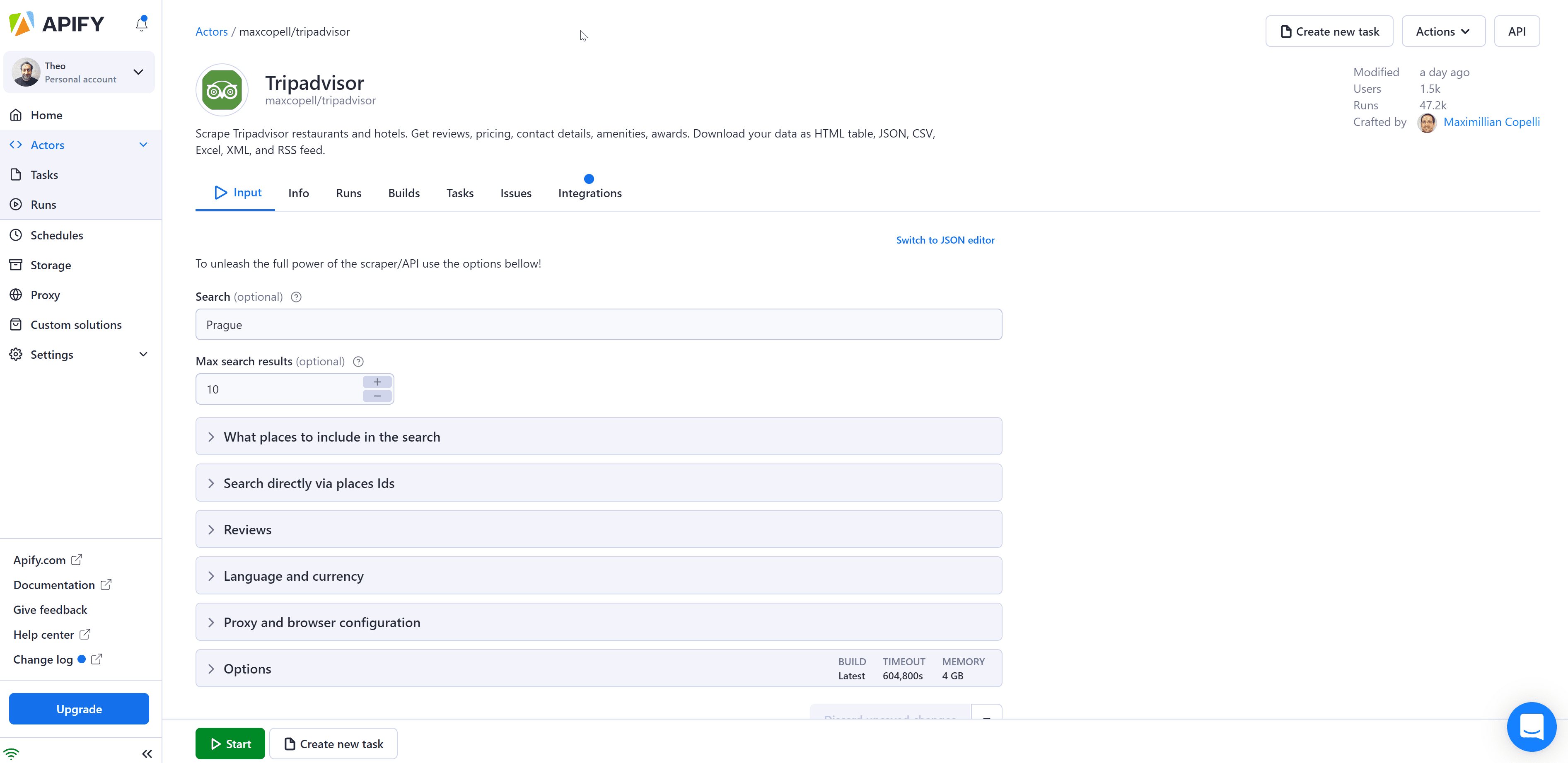 Step 4. Start the actor
Just click Start, and wait for your results to come in. Your task will change from Running to Succeeded when it has finished.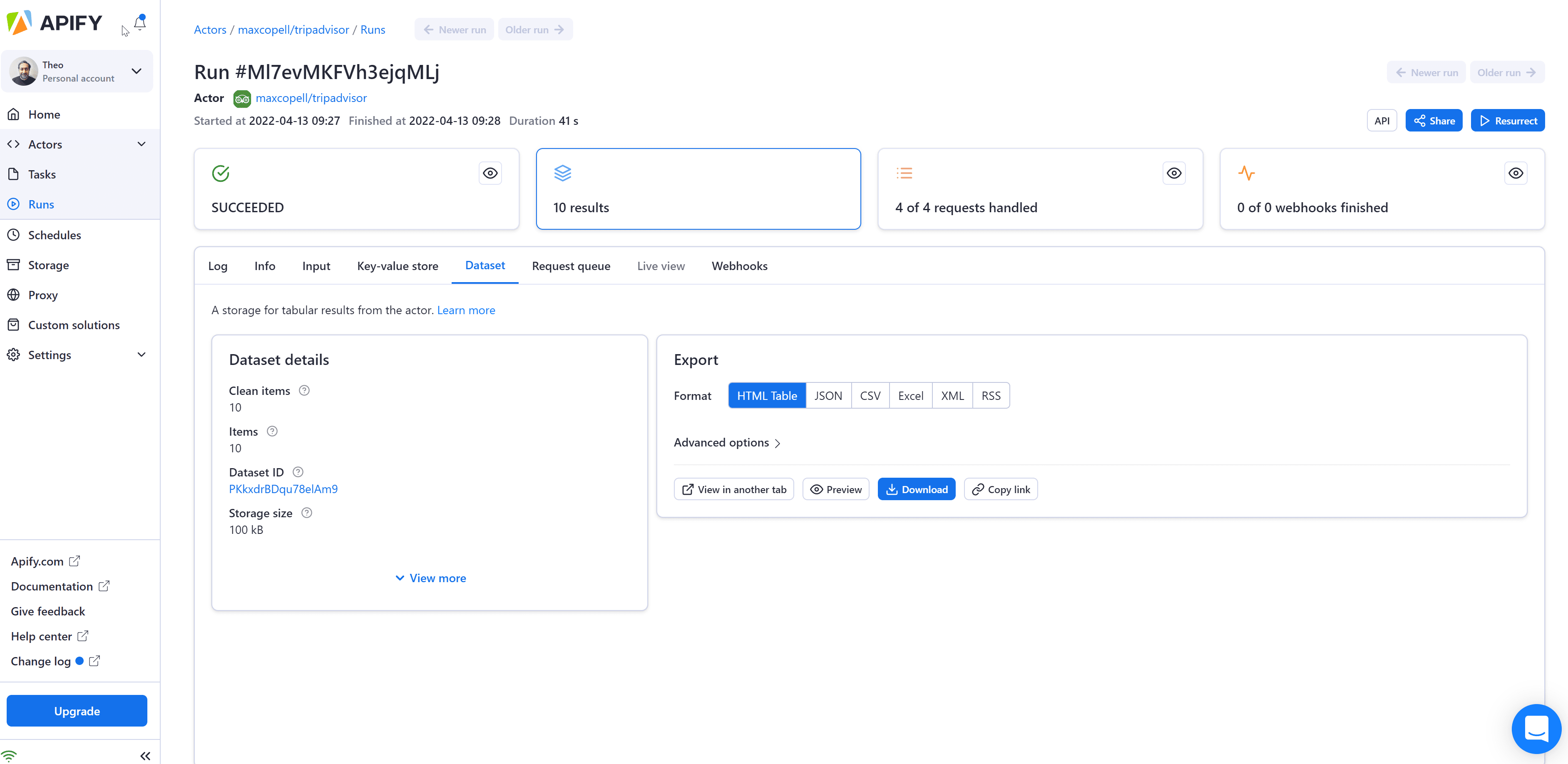 Step 5. Get your data
Go to the Dataset tab to see your results. You can preview and download them in several formats: HTML table, JSON, CSV, Excel, XML, and RSS feed.
Here, for example, is a sample preview of the data in the HTML Table:

It really is as simple as that! You can now download the data to use it in spreadsheets, reports, and other apps.
---
---