Our Bulk Image Downloader tool allows you to download all images from any URL simultaneously, in just one click. Google Images, Facebook Pages, your favorite news site, you name it. Follow these easy steps and try the scraper for free now!
How do I download all pictures at once?
Manually downloading every picture from a website would require you to click on each thumbnail image to open it in full size, then right-click and select "Save image as…". This task can be very time-demanding, especially when a website contains a large number of images. But what if we told you that you could download all the pictures from a website with just one click? Read on to learn about Bulk Image Downloader.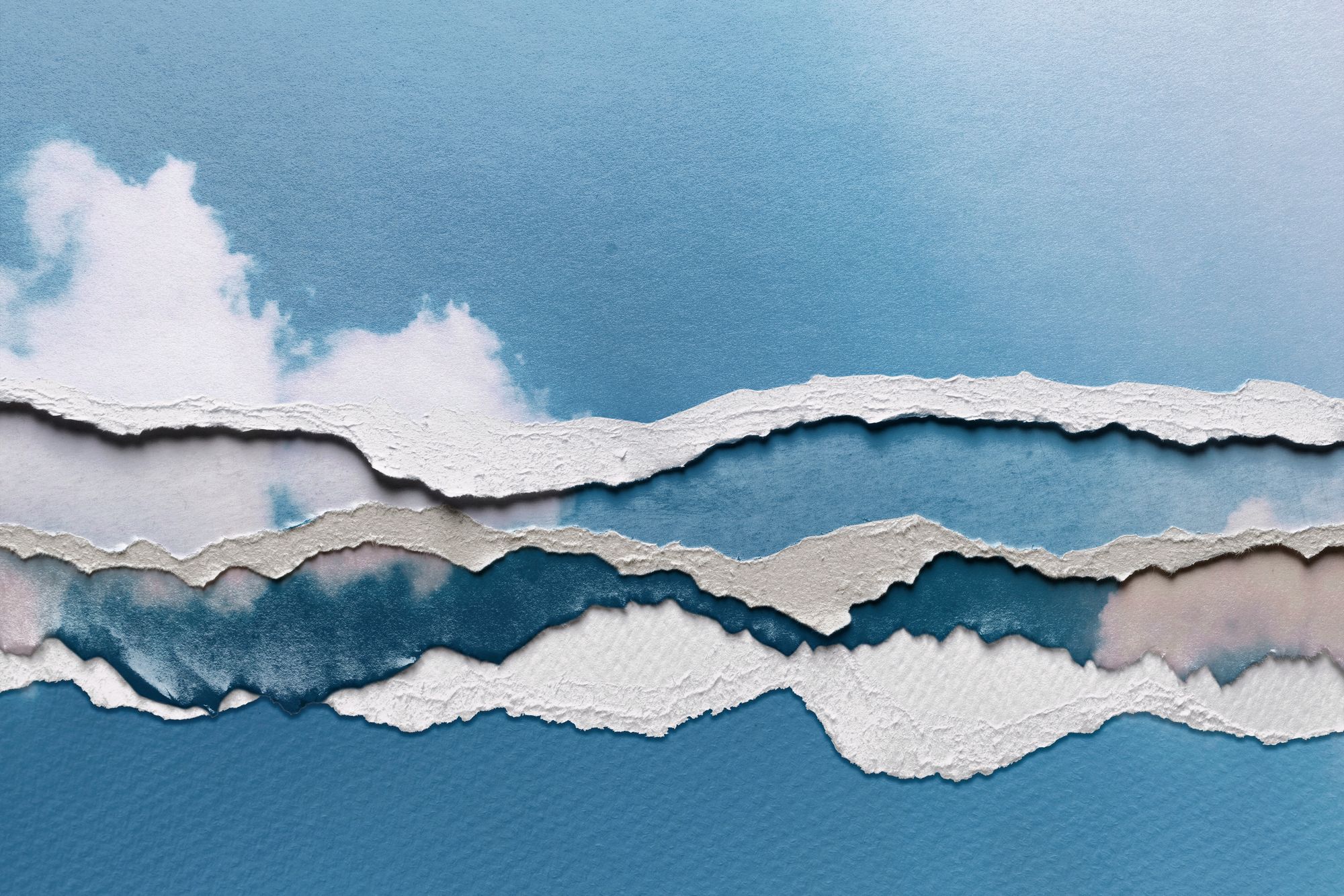 What is a bulk image downloader?
A bulk image downloader is software that allows you to download all images from a website simultaneously – yes, it's that simple. It usually consists of a scraper that crawls a website, finds all the graphics and photos and downloads them through your browser on your device.
You don't need to be a professional developer or be familiar with coding in order to perform this task automatically. Ready-made automation tools exist to make your life easier.
Apify's Bulk Image Downloader is very easy to use. It only requires you to add a URL into its input field, and with just one click on your side, it will provide you with a download link for a zip file containing all the images.
📷
Images are not all you can scrape! Extract image information, comments, likes, and more with our Instagram Scrapers! ➜
How do I bulk download Google Images?
Opening, right-clicking, selecting "Save as…", going back to the previous page, and repeating the operation n number of times is tedious and, admittedly, a waste of time. If you want to download the results of a Google Images search, all you need to do is select the URL in the search bar of your browser and paste it into Bulk Image Downloader's input field.
First, open Google Images in your browser. Type your query into the search bar and click Enter. Select the URL from the top bar of the browser. Now, go back to the Bulk Image Downloader's page, paste the URL into the input field and click the Save & Start button. Don't forget to download your results!
Is it legal to download images from websites?
Scraping content, such as URLs to images is legal. But just like with any other online content, there are regulations concerning copyright and personal data that you need to consider. Therefore, be sure not to accumulate images that are intellectual property or contain sensitive information.
⚖️
To learn about the laws surrounding web scraping, have a read through our legality of web scraping article ➜
Is there any specific image downloader for Facebook?
You don't need any specific software to download images from Facebook pages. Facebook images can be manually saved by right-clicking them and selecting "Save as…". Therefore the actor will have no trouble downloading them.
However, you should keep in mind that you will only be able to download images from public Facebook pages, which you can open without logging into a Facebook account. You won't be able to download images from private pages, such as personal profiles or closed groups.
🐦
Want to scrape images from Twitter, but they are behind a login wall? Try Twitter Image Scraper! ➜
How can you use an all image downloader?
Step 1: Go to Apify Store for Bulk Image Downloader
Find the actor's page on Apify Store and click the Try for free button. You will be redirected to Apify Console, which is your workspace to run tasks for your scrapers. If you don't have an Apify account, you can sign up using your email, Google, or GitHub.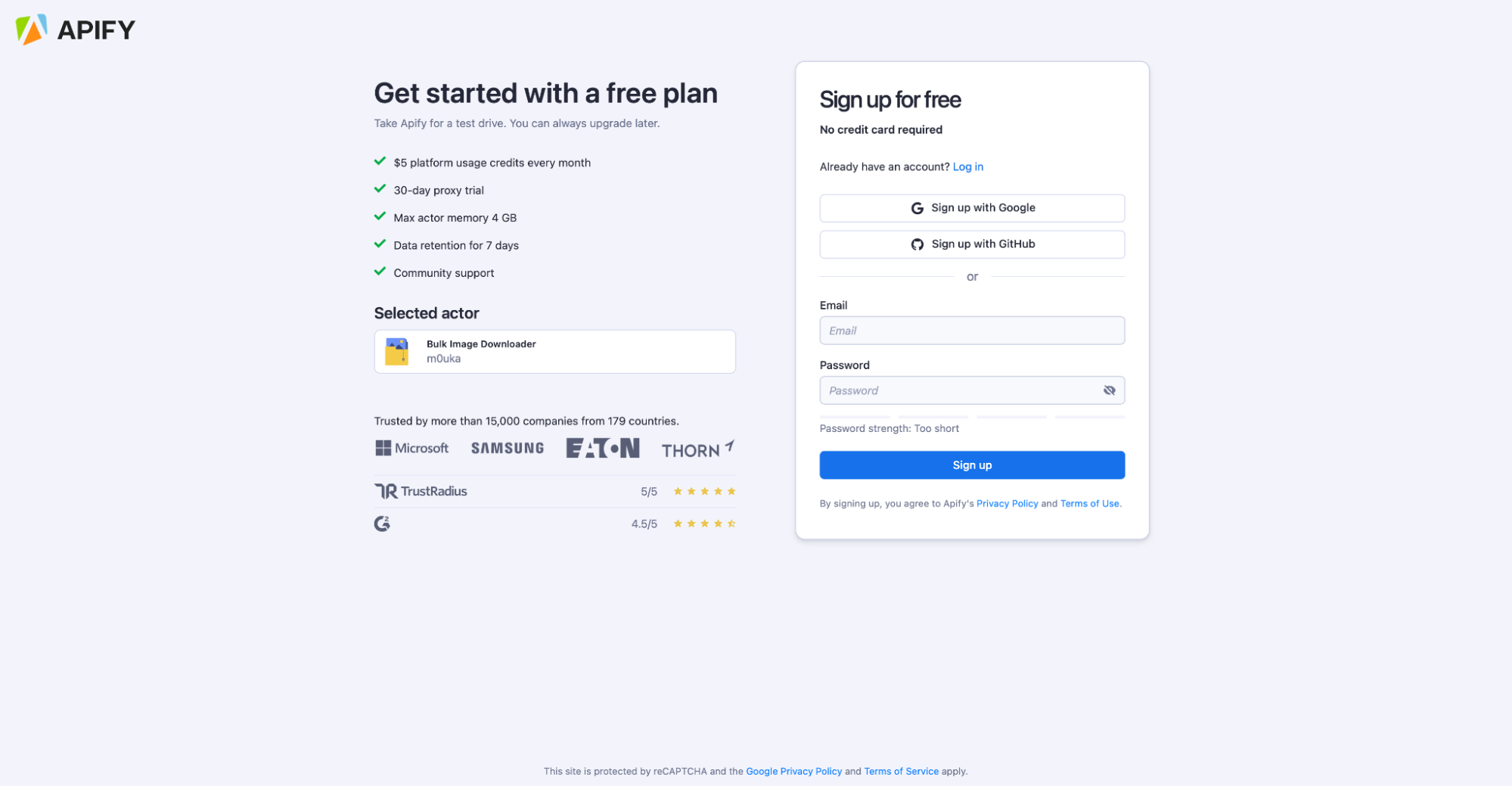 Step 2: Insert a URL into the input field
Fill in the input field with the URL from which you want to download the images. You can scrape multiple URLs at once by clicking the + Add button.
You can also select the type of proxies you want to use.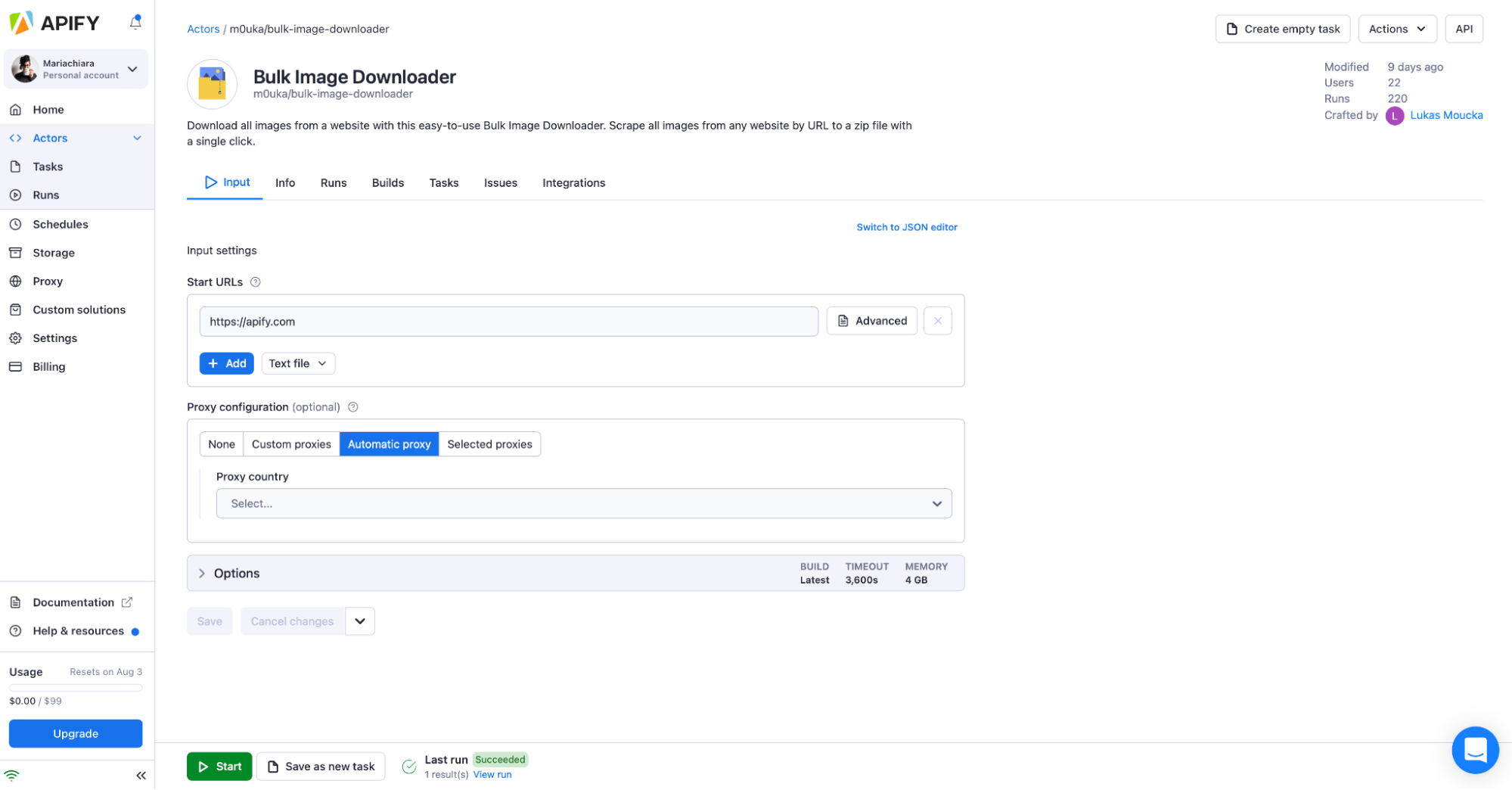 Step 3: Run the image downloader to extract your images
Once you are all set, click the Start button.
Notice that your task will change its status to Running, so wait for the scraper's run to finish. It will be just a minute before you see the status switch to Succeeded.
Step 4: Download your results
Once the actor is done, move to the Output tab. There you will find a link to download the zip file containing all the images from the URL(s) you provided. Alternatively, you can access the link by previewing or downloading your results from the Storage tab.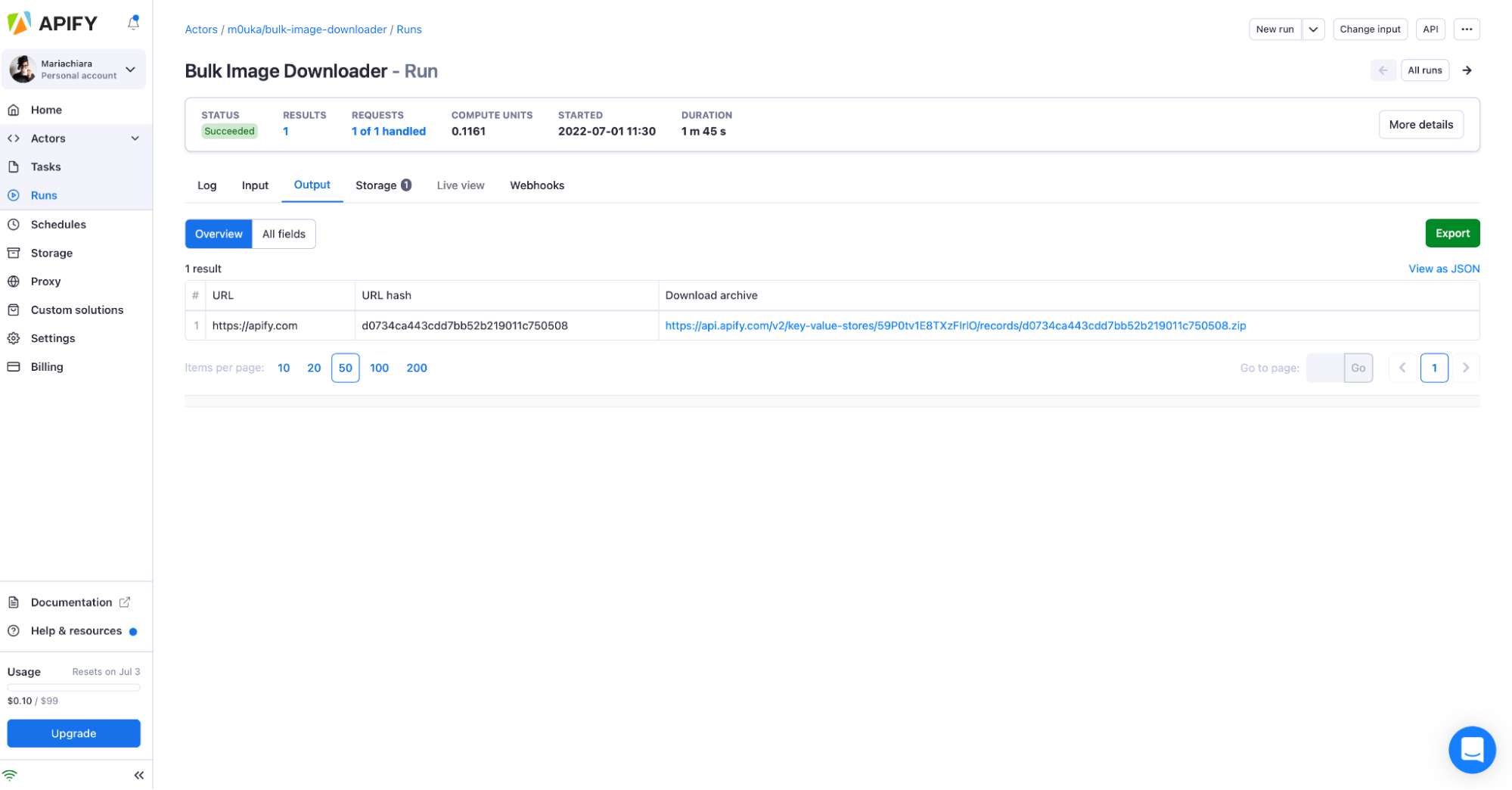 If you need any help or want to share your feedback, you can email support@apify.com. You can also join the community on our Discord server, where the Apify team regularly discuss solutions to tricky scraping problems.
---
---