The TikTok app grew out of a place for teenagers to show off their dance moves and lip sync. Now a major entertainment and infotainment platform, TikTok has far exceeded the expectations first put on this "Chinese app", achieving whole months when it was the most downloaded non-gaming app in both the Google and Apple app stores. Its growing popularity among users is only making it more appealing to both users from similar platforms (Reels, YouTube, Triller), investors, and web enthusiasts alike. In this short tutorial, we'll show you how to use our free TikTok scraper to scrape any TikTok videos and hashtags in 12 simple steps, with no coding required. Here it goes!
Why scrape TikTok?
Taking on the task of TikTok scraping at any scale will largely depend on what you know about why people choose to download this app and spend their free time there. And here's a couple of things you should know about TikTok users:
So you want to scrape TikTok now? Unless you're a developer, you need software that is user-friendly enough for anyone to try, but complicated enough to scrape a website with a structure like TikTok. It's a tall order. While our TikTok Scraper can't download most watched TikTok videos like SnapTik does, it is easy to use and very powerful. It will let you extract data from TikTok videos, hashtags, and user profiles in a structured format that can be downloaded onto your computer and used in your existing workflow, reports, spreadsheets, and applications.

What about the TikTok API?
Considering the sheer amount of content, user flow and levels of engagement, the TikTok app might be one of the best video-sharing platforms out there. There's only one question we have when it comes to TikTok: can you scrape it? Unfortunately, as is the case for most social media platforms, TikTok does not offer an official API to let you extract data at scale. You might want to try the limited alternatives on the market such as Phantombuster's TikTok Profile Videos Extractor but we have something with way more functionality and ease of use in store for you.

Scraping websites, including TikTok, is not as complex as some people assume, if you can use ready-made scrapers. Of course, if you're a coder with decent skills, you can make your own scraper out of thin air. But not everyone can or has to know how to code. Besides, why reinvent the wheel and spin your wheels when there are free, simple solutions available able to cater to every coding level. Cue our TikTok Scraper, which scrapes hashtags, user profiles, and videos. But you already knew that, so let's get to that tutorial!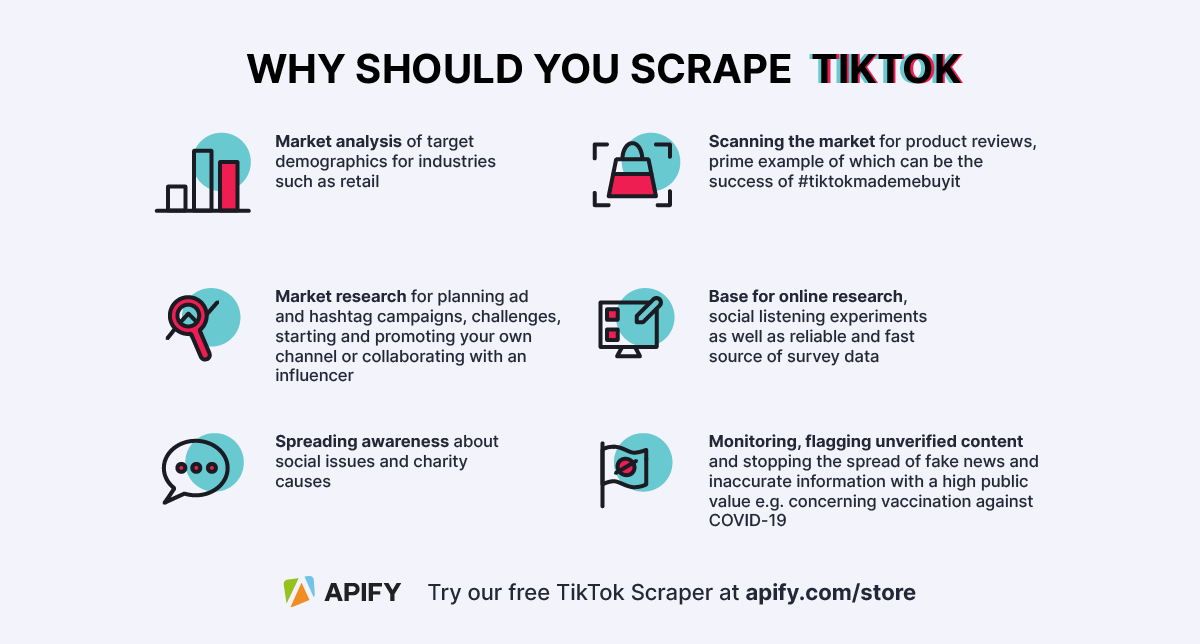 Step-by-step guide to scraping TikTok
1. Go to the apify.com website. Find the Solutions tab on the top and choose the Apify Store button. Apify Store is our library of scrapers for various popular websites; they are ready-made, customizable, and free to try.
2. Type TikTok into the Search bar. The scraper will appear in the drop-down list, so just click on it. It will redirect you from Apify Store to the TikTok Scraper page.
3. Once you're on the TikTok actor page (which will look like this), click the green Try for free button. Once you click on the Try for free button, you'll be redirected from our website to your Apify Console.


4. If you haven't already, log in or sign up for free using your email, gmail or Github.

5. Back to your Console. This is a workspace for TikTok Scraper and other actors. You can always come back and explore them later.
6. Notice that a new Task will be created for TikTok Scraper automatically. It won't start until you fill in some input parameters: basically, what do you want the scraper to search for and how deeply do you want it to scrape?

7. Think of your search query. Let's scrape a hashtag first. For example, you want TikTok Scraper to get the top 36 results for the hashtag #squidgame. Just enter the keyword in the search field. Then enter the number 36 in the Max results per page field
8. Alternatively, you can also scrape not just hashtags, but TikTok videos uploaded by a specific user. Think of a user profile page you want to scrape; let's say you want to scrape Gordon Ramsay's TikToks. There are two ways to do that, both very simple: by filling out the scraper's input field or adding a TikTok URL. For the input field, you just type the username (gordontamsayofficial in our case) into the corresponding field and then hit the Run button.

9. Another way to scrape user videos is to leave Apify Console for a second and go over to TikTok.com. Search for Gordon Ramsay's profile in the Search bar. Now the most important thing here is to copy the URL that your search produced.


10. Now head back to Apify Console with TikTok task open and paste it into the field.

11. Once you're all set with the optional parameters, click on the Run button.

12. In any search case, as your task has changed its status to Running, it's just a matter of a few minutes until the hashtag/URL you chose will be scraped. Once the status moves to Succeeded, you can click on the Dataset tab to see the results of your TikTok scraping.
13. Now you can explore the Dataset tab containing your scraped data in lots of formats, including HTML table, JSON, CSV, Excel and XML. You can choose to upload it onto your computer for further use in spreadsheets, other programs or apps, or your own projects. You can also preview the data before downloading it by clicking the preview button.
14. This scraper is rather new, and has other customizable input parameters. You can expect more of those in the future. Email us at support@apify.com with your questions and suggestions.

Now that you know how to scrape the whole TikTok website length and breadth, you can find out more about how to use the data you collect.
Why scrape TikTok for marketing?
While marketers remain a bit skeptical towards TikTok as a channel for customer engagement, it has been proven surprisingly efficient. TikTok users - young and old alike - are mostly looking for novelty, fun and spontaneity here - making it a perfect place for discovering new trends, ideas and things. This can easily influence their purchasing behavior, as half of its users agree that TikTok inspired them to shop even when they weren't looking to and 67% say they've bought products they had never even thought of before, making it a perfect platform for nurturing brand awareness and testing the reaction to new products.
Armed with this data, marketers can use TikTok marketing strategies in various directions - for instance, TikTok brand takeover and in-feed native ad campaigns. Big-scale marketers can also think of and organize viral hashtag challenges - an easy channel for user engagement and user-generated content. It's been also promised that TikTok creators will soon be able to sell merch within the app, so there's definitely some potential here. But it's vital for a brand to find a way to authentically connect with its audience. The best TikTok marketing campaign pieces are indistinguishable from the regular fun TikTok content, and are liked, shared and engaged with just like any other viral video a user may find on the platform.
In some ways, TikTok might still be better value for money because it's a tabula rasa platform with nearly no competition for ad space, unlike Facebook and Instagram. For this reason, TikTok influencers with more followers will charge less per post compared to Instagram. However, having no competition is a double-edged sword making marketing campaigns also quite risky. Therefore, as a marketer you really have to know what you're doing - there are already a couple of available success stories of TikTok marketing campaigns from retailers with big budgets. Or read about other examples of using web scraping for the retail industry for inspiration.
Non-marketing ways to use TikTok data:
While TikTok marketing campaigns have to be especially intricate, involving the right causes and authentic engagement, TikTok is also a perfect place to collect data on social studies and research: anything from popular TV shows and new appearance-related trends to sustainability and changes in eating behaviour among the teens. Think of all the other ways you could use data extracted from TikTok:
Market analysis of target demographics for industries such as retail
Scanning the market for product reviews, a prime example of which can be the success of #TikTokMadeMeBuyIt
Base for online research, social listening experiments as well as reliable and fast source of survey data
Spreading awareness about social issues and caritative causes
Going viral for your cause
Monitoring, flagging unverified content and stopping the spread of fake news and inaccurate information with high public value e.g. concerning vaccination against COVID-19
Following trends and predicting emerging opportunities and influences
Market research for planning ad and hashtag campaigns, challenges, starting and promoting your own channel or collaborating with an influencer
TikTok is the most dynamic environment to learn about the young generation: what they love, fear, worry about, and what they need. In general, TikTok is very responsive towards the promotional efforts, with 63% of TikTok users admitting they are likely to watch ads. No other social media platform can boast about that much ad appreciation and engagement from their users.
The rule of thumb would be that campaigns there can work as long as they're fun and viral, such as Redbull's videos with a #givesyouwings hashtag that got over 420 million views. And the second best thing about it is that the users are very responsive if a hashtag does go viral - any hashtag - making TikTok a huge platform for user-generated content, authentic engagement, and community-building. All this points to piles of social data you can scrape, learn from and adjust your research and analysis strategies accordingly.
You might also be interested in our other social media actors: Reddit Scraper, Twitter Scraper, Instagram Scraper, or Facebook Scraper and YouTube scraper.
Related web scraping tutorials:
---
---