6 years of Apify: it's been a ride. Time truly flies by if you're busy with things that matter. Is 6 years a lot or a little for a tech startup like ours? You tell us, but we're feeling very optimistic about the future of automation and Apify's role in it, and there's a couple of good reasons why. Here's what we've learned about ourselves and our business over these years.
Open and community-based platform is the way

As with many startups, Apify was created from one simple but ingenious idea. At the Y Combinator Fellowship program, our founders - young and with heads full of great thoughts - prepared and presented their idea of automating simple boring actions in a web browser, and the rest is history. As a globally-minded web automation hub with its engine in Prague, where are we now?
Today you can call us - without question - an open-source web scraping platform that makes millions. With ∼1K of recurring customers, $5M in annual run rate, 129 Terabytes of data transferred weekly, and 65 of talented people on board, the sky seems to be the only limit for our RPA vision.
Ever since the early days, our goal at Apify has been to really have something for everyone:
This horizontal network approach defines Apify on the market, and allowed us to experiment, grow and find new solutions where others don't look. We'd like to keep being a one-stop shop for automation needs for everyone. We hope that we've made great progress in making the original Apify Master Plan happen and we're thrilled about facing future goals and challenges.
It's important to keep growing

Our progress has been noticed locally in Czech Republic in the list of Top-25 best startups to keep an eye on and globally, as we have been nominated for a UiPath award lately. The number of users and contributors to our web scraping platform has been growing, as is the number of big customers, partners and integrations we've been creating lately. But it might be better to allow the numbers to speak for themselves.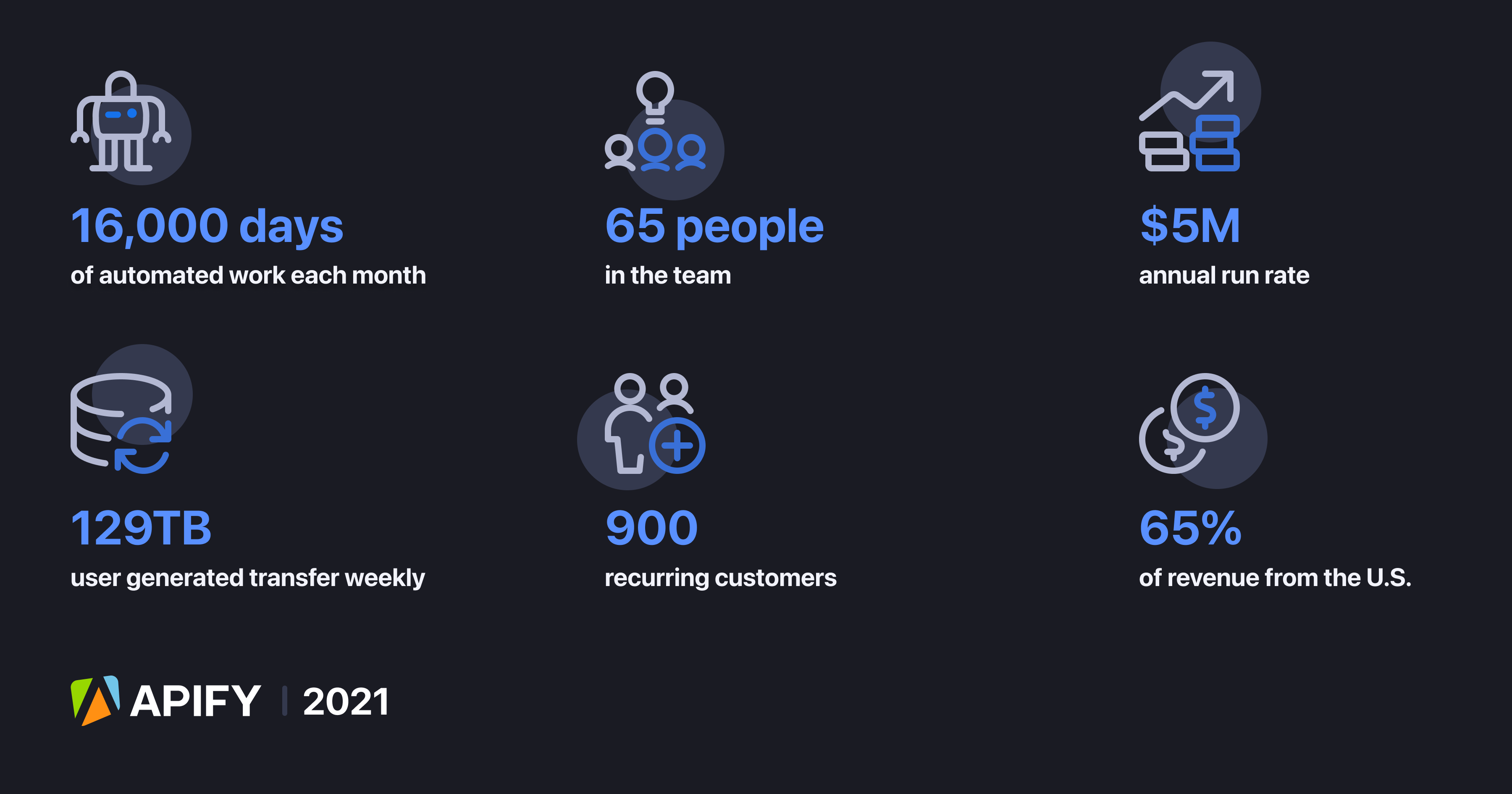 We're also committed to making web scraping more user-friendly and affordable for everyone - that's why our users can try most of our scrapers for free, and they seem very happy with the value they get for this. Don't take our word for it - our users leave reviews on Capterra, G2 and TrustRadius every day. But we'll cut it short for you and say that we're really happy to have an average of 4.8/5 stars and would like to keep it that way.
And we also strongly believe that the future of the web belongs to ethical and considerate web scraping. You can read more on our stance towards it in our recent piece on the legal aspects of web scraping, in addition to a great talk and discussion at WebExpo we gave recently.  
Versatility is at our core

Last but not least: it's never been only about revenue numbers, looking out for the big fish, and conquering various industries for us. There are a number of web scraping projects with non-profit organizations and causes we've been more than happy to support. They range from tackling child trafficking and fighting fake news to restoring forests and finding lost pets. The greatest thing about Apify is the versatility of projects we get to take on and get involved with, and we are looking forward to more of those to come in the future.
Our humanistic approach to the way we should interact with data on the web is also reflected in this and last year's projects when we've all been facing the coronavirus pandemic. It hasn't been easy for anyone, although our team managed to go fully remote without a drop in productivity, expansion and, of course, the support we offer to each other and our users. We set out to create a batch of COVID-19 statistics scrapers at that time as well (unfortunately, we still need them around).
This year we've also managed to launch one of our most unique projects - web scraper monetization - where any developer can write their own, good quality scrapers (or automation tools) and we'll support them with maintenance and making money from their creation. It is really an idea like no other, which reflects our values and the way we see the future of web automation. You can read more on how to make passive income off the web scraping projects from our CEO.
That about wraps it up for now as we can't wait for what's waiting for us out there in the next years to come. Will Apify be the next big household name? Who knows, but we sure hope so. Our users are our biggest inspiration, so we're always ready to take on new ideas. If you have any good ones you'd like to share - like an idea for a website scraper that we don't have yet - feel free to let us know. Or perhaps you want to contribute with building new scrapers or ordering your own solution - go at it. We'll make sure to support you every step of the way because that's the Apify way. Last but not least - if you have anything important, nice or both to tell us - don't hesitate to turn to our social media. Cheers!