We're huge fans of the creator economy here at Apify. From the start, we wanted to build a platform where software developers could seamlessly deploy the web scrapers they build and generate income. Why? Because we believe that web data should be easily accessible to everyone, not just a handful of massive corporations.
Fair income for software developers
We also believe that it should be possible to have a passive income strategy for software development that will generate money. Sure, you could create online courses or niche sites, run your own website, or create video tutorials of programming tips on your YouTube channel, but, while all good passive income projects, those are long shots to create a reliable revenue stream. Apify gives you access to companies all over the world that will give you real cash flow.
So if you're looking for passive income ideas, read on to find out how you can use your software development skills to supplement your day job and maybe gain even more financial freedom than you might expect.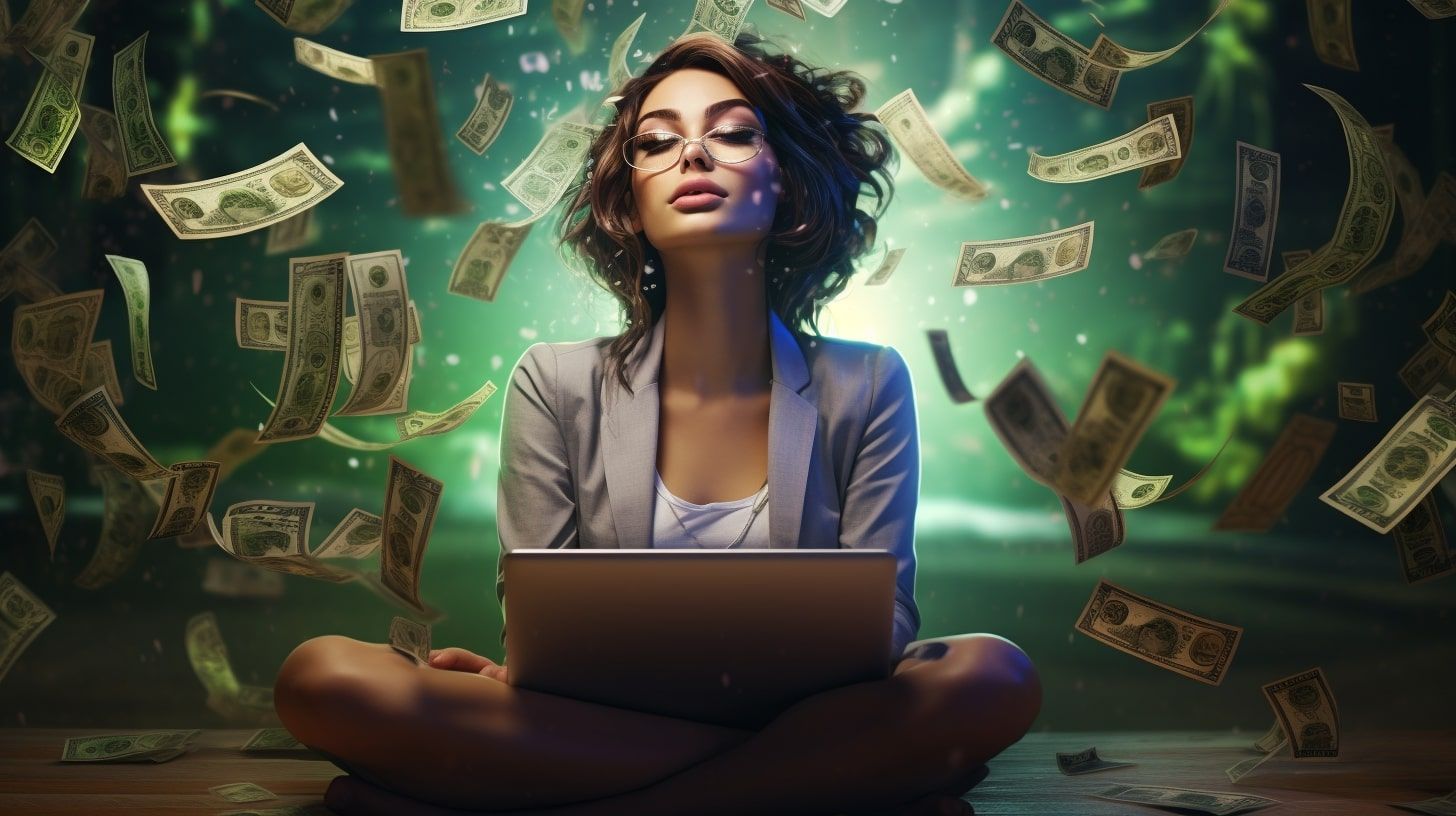 Passive income programming - how Apify Store creates income for software developers
Apify Store gives software developers and web scraping companies a chance to find new leads, customers, and earn passive income from a reliable source of monthly recurring revenue. It's very similar to Apple App Store or Google Play Store. You can publish your web scraper, set a price, and get paid when Apify users use your scraper. This is a huge opportunity for programmers to generate passive income by developing software that will immediately reach a vast market.
Working with Apify has been a blast! They're always quick to help, super flexible, and really get what I'm trying to do. With their support, I've taken a simple concept and turned it into a money-making web scraper. They've got my back when it comes to publishing and answering questions. Being part of Apify feels like having a powerhouse team behind me, helping me turn ideas into real cash and aiding others to pull data they need. Can't recommend them enough!
-- Jonathon Larsen, software developer making extra money from Apify Store
How to publish your web scrapers and generate passive income
If you're a software developer who wants to publish your scrapers on Apify Store, you first need to turn them into Actors (that's what we call our apps on Apify). You can do that with our Python or JavaScript SDKs and in most situations, it requires changes in only a few lines of your scraper's code. The SDKs enable easy use of Apify platform features like proxies, storages, webhooks, integrations, and more.
Once your scrapers are published, users can run them via Apify API, download results in multiple formats, schedule them or integrate them using our pre-made integrations and webhooks. You don't need to worry about any of this, because it's automatically handled by the Apify platform.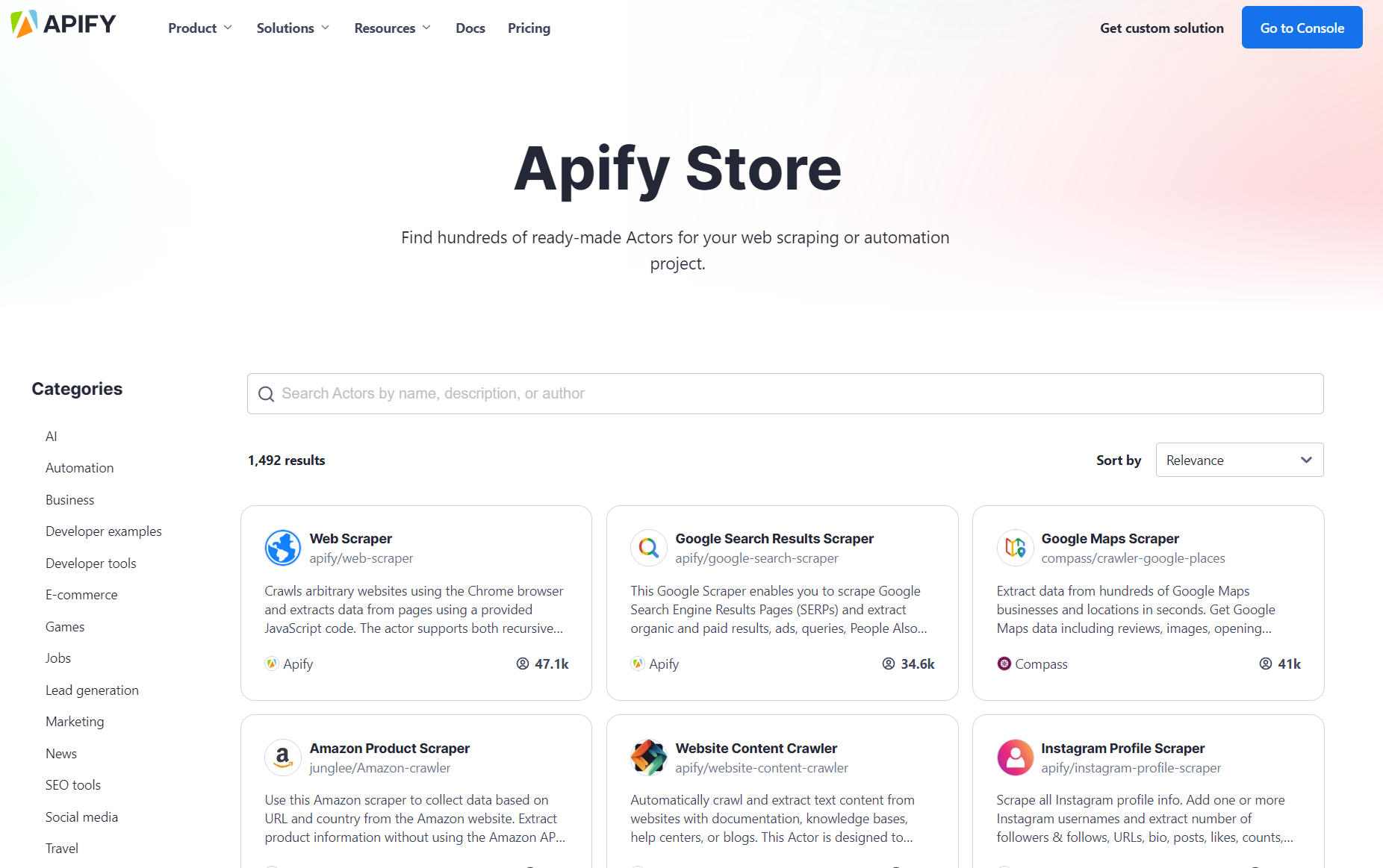 Okay, you want to publish a scraper. But how do you earn passive income?
You can choose either a monthly subscription (typically recurring fees of $20-50) or payment for successfully scraped results (e.g. $5 for 1,000). You will see all your earnings in your personal dashboard and we will pay you the proceeds every month. In many cases, our users stick around for a long time, so you can count on predictable annual revenue.
Generate a regular passive income stream from multiple Actors
You're also not limited to creating passive income from a single Actor. Some of our most successful devs have created and still maintain several Actors, while keeping their eye out for new opportunities all the time.
Scaling your passive income with just a little maintenance
At this point, you might think to yourself that Actors aren't completely passive income streams. Websites change, scrapers break, and there are always some issues to fix. But the software developers who create and run Actors are already ahead of the game thanks to the robust Apify platform, which makes it easy to keep on top of problems. You'll benefit from integrated proxies, storage, and a host of other features designed from scratch for web scraping.
In fact, Lukas, Apify's Head of Web Automation Engineering, estimates that most developers spend just "5-10 hours every 3 months" keeping their web scrapers running smoothly. Now that's real passive income for minimal effort.
This is especially the case when you consider that each Actor can be used by an unlimited number of users, so your income can scale infinitely if you hit on a particularly popular tool. Some of our oldest and most popular Actors have tens of thousands of users.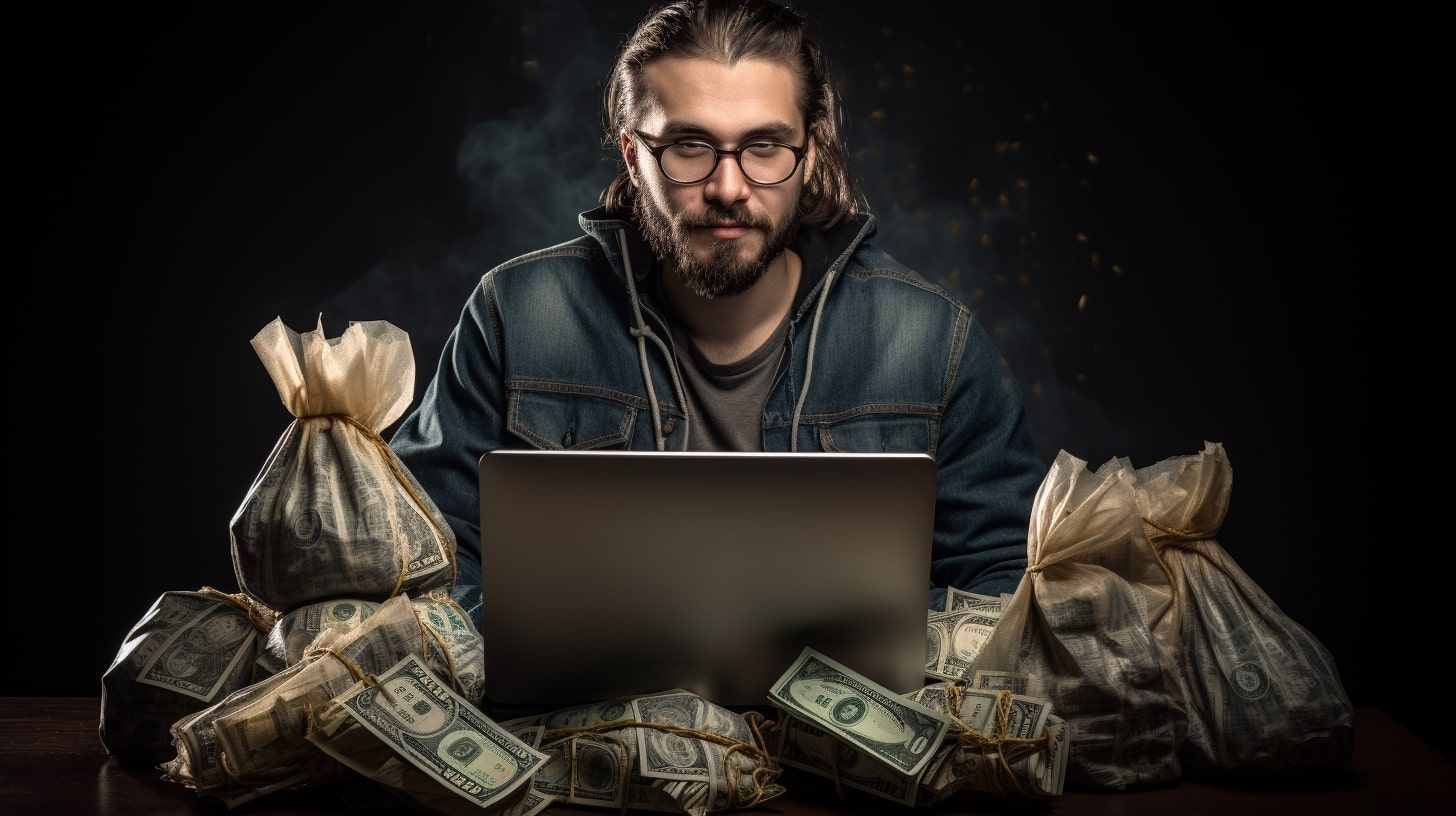 Who pays for infrastructure, proxies, and storage?
The most important fact is that Apify covers all the platform costs, so you will never have to pay anything to Apify for other users running your scrapers. Its little or no effort for you and a reliable way to generate revenue. You can't lose money on this.
You also limit support requests, because all questions related to the Apify platform will be handled by us.
What does Apify get out of it then? When you choose the monthly subscription scheme, we will keep a 20% commission from your earnings. That's it, no other hidden fees. We're only making money if you're making money.
When you choose the pay per result scheme, we will deduct the Apify platform costs plus a 20% commission from your profits, and again, we won't charge you anything unless you're actually earning money with us.
The ease of creating Actors on Apify isn't just limited to the initial setup. The platform continues to impress during subsequent stages as well. Once the Actor is crafted, the process of deploying it is seamless, ensuring that my code runs efficiently without the need for extensive configurations. This convenience drastically reduces the time and effort required to get a scraping or automation task up and running.
-- Abdurrachman M, software developer earning passive income from Apify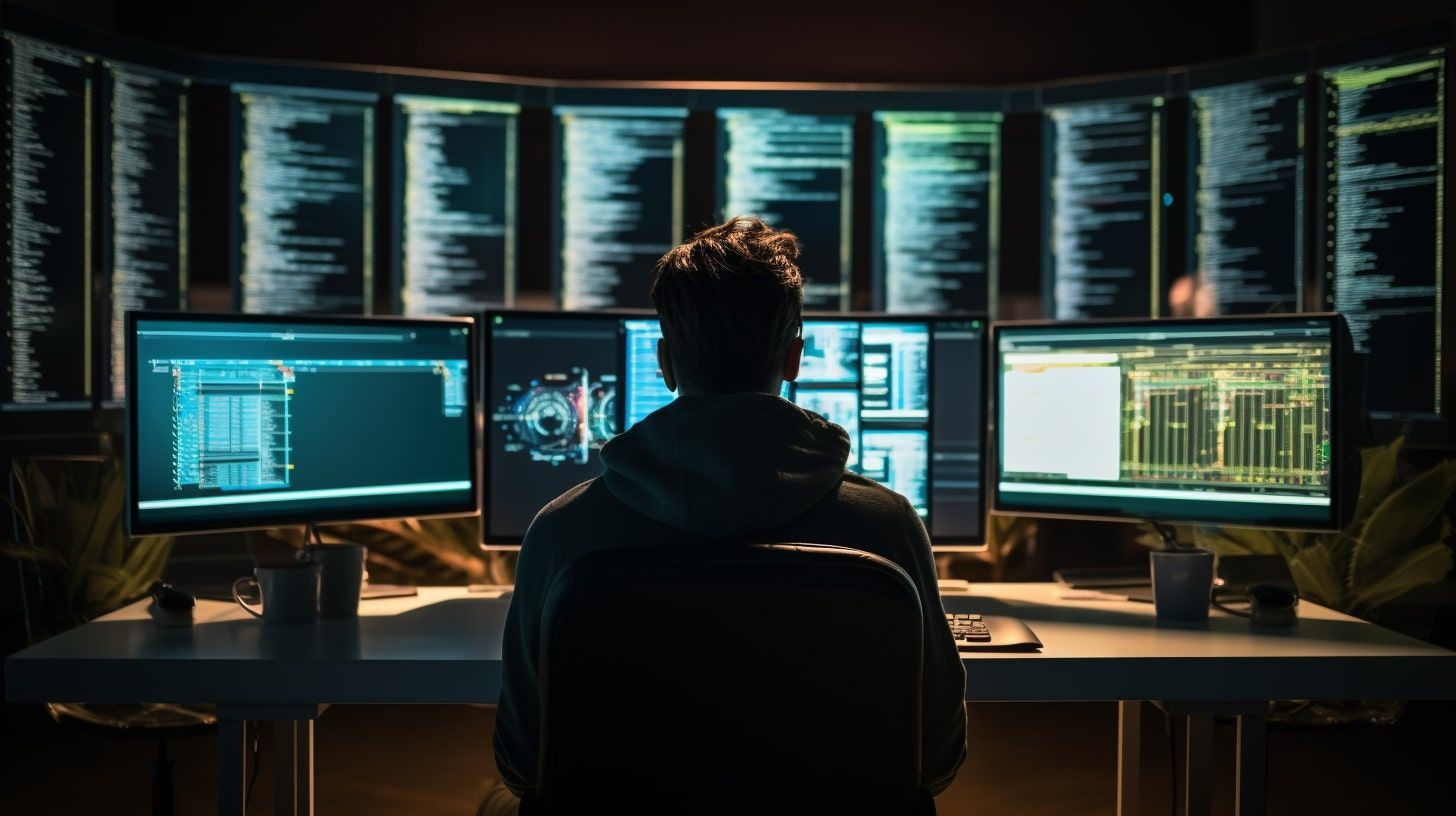 What programming languages and libraries does Apify support?
Apify works great with both Python and JavaScript. You can also use Scrapy, Selenium, Playwright, or Puppeteer. Apify Store makes it easy for you to start from scratch with code templates, or deploy your existing scrapers to the Apify platform. You can also give give your crawlers an unfair advantage with Crawlee, our popular library for building reliable scrapers in Node.js. Check out our extensive docs if you're already interested in getting started.
Great, your scraper is out, but how do you reach your target audience and get users?
Over the years Apify has become a reputable, visible online business with great domain authority, so simply publishing your web scraper on Apify Store means your scraper will be discovered by users.
However, good individual SEO is still very important. The best way to to bring a healthy stream of new users, and earn passive income, is writing a good README for your scraper. It's important to show how to use your scraper, explain all the features and even mention a few best practices. You can take inspiration from many great readmes already published in the Apify Store.
Just be careful not to copy content or digital assets created by other developers. That's not allowed.
And now the big question – how much passive income can you earn?
The most successful Actors on Apify Store are the ones owned and operated by Apify, bringing in hundreds of thousands of US dollars in monthly recurring revenue. But it's not our goal to keep it that way. Ideally, we want all the best Actors to be created and maintained by our developer community, just like in Apple App Store or Google Play.
We can't share detailed names and numbers, but at the time of writing this, in summer 2023, software developers on Apify are bringing in tens of thousands of dollars each month. The most successful independent creator on the Store makes over $4,000 in monthly recurring revenue, and there are several others who make more than $1,000 every month. That's decent money for passive income streams. This has grown from around $700 for the best and almost nothing for the rest a year ago. That's almost 480% year over year growth 🚀
This January, I've reached a professional milestone by making over $3.5K with Apify's paid actors program. As both a freelancer and a software engineer of 15+ years, I'd choose Apify over all the other options.
-- Tugkan, software developer with paying customers on Apify
The best time to join is now, because you can start capturing users and building your brand early. Most importantly, you can start generating passive income right away. Find out more about how to monetize your code and get started.
But you don't have to start with Apify Store, you can also earn money purely from bringing your existing customers to Apify. Read on to find out about our affiliate marketing and partner program.
Affiliate marketing: get on board Apify's partner program for regular monthly income
Publishing your own scrapers to the Apify Store is not the only way software developers can make passive income with Apify. We also reward devs who bring new customers to the Apify platform.
If you're a freelance web scraper developer that works on Upwork, Freelancer or a business owner who builds web scrapers for your own customers, then let's look at how you can switch your scrapers to Apify.
Generating passive income by bringing your own customers to Apify
If you bring new users to Apify and they become paying customers, we will pay you 20% of their spend as commission through our affiliate program. You can leverage this in two ways.
You can show your customers how to use one of the public Actors from the Apify Store and get commission for that, without having to build anything at all. This means minimal effort for you.
You can build scrapers for your customers on the Apify platform, instead of AWS or some other cloud, and get commission from their spend as well.
The benefit for your customers is that they will get the full power of the Apify platform with their scrapers, without you having to code web apps, APIs, storages or custom integrations.
And the benefit for you is that thanks to all the features of Apify, you'll be able to deliver scrapers to your customers faster, earning money in the process while maintaining your financial freedom.
The scripts available for use on Apify's marketplace are great. I extended the functionality of their scraper for my clients doing research in the real estate market. To have written the program myself would have taken a lot of time - the actor had a great foundation for my client's use case and saved me a lot of development time.
– Sami A., software developer who brought customers to the Apify platform
Get new leads from Apify
When you publish great scrapers on Apify Store or bring us new customers, you can become our certified partner. Our certified partners are recruited from the best software developers in our community, and the best certified partners get access to our lead sharing program.
New leads contact us every day and our in-house development capacity is limited. To provide the highest level of service, we share those leads with our best partners and let them close the deals themselves. They can keep all revenue for development of web scrapers and integrations, and to promote healthy long-term relationships, we even give them a 20% commission from the Apify platform fees. Many of these leads continue to generate recurring payments for many months or years.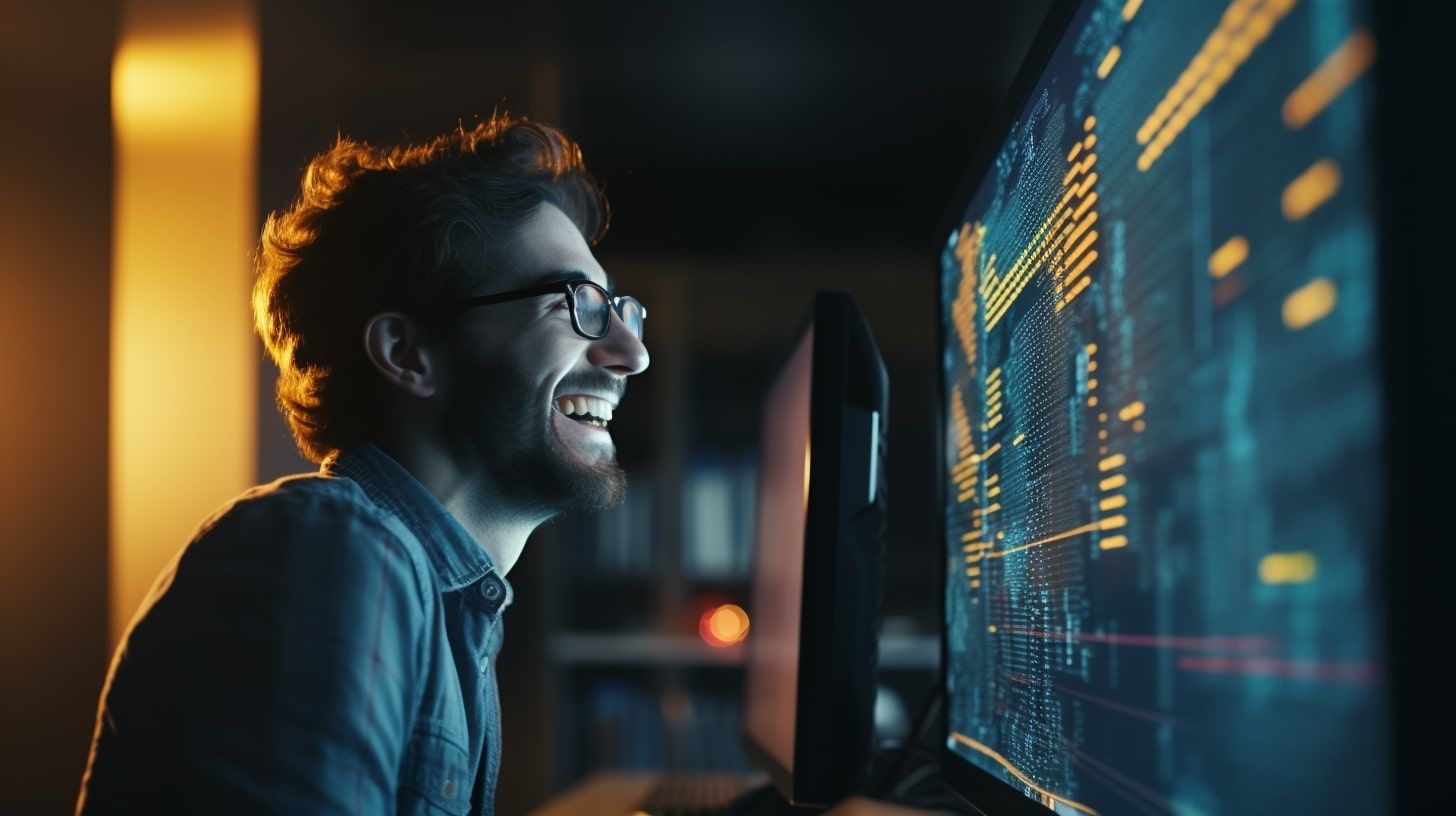 Beyond passive income: the long-term perks of developing on Apify
While it's great to focus on the financial benefits of working with Apify, it's not all about creating passive income streams. Here are some of the non-financial reasons to bring your work to the Apify platform.
Build your brand and reputation
Being active on Apify Store not only brings you income but also gets your work in front of a global audience. This is a fantastic way to build your personal brand. Your Actors become your portfolio, showcasing your skills, innovation, and problem-solving abilities to potential clients and employers.
Networking opportunities
In the software development world, it's not always what you know, but also who you know. Our community is full of industry experts, up-and-coming developers, and companies looking for specialized skills. Being part of this network opens doors you might not even know existed.
Potential for collaboration
Have an idea that's too big to tackle on your own? Within the Apify community, there's always someone with the skills you need. Whether it's a complex scraping project or integrating different technologies, two heads are often better than one.
Portfolio booster
Your work on Apify isn't just a money-maker; it's also portfolio material. Companies and clients love to see real-world examples of your skills, especially when those skills have been turned into profitable projects.
Never stop learning
The Apify community is a treasure trove of knowledge, and there's always something new to learn. From best practices in web scraping to the latest techniques in automation, you'll gain access to valuable information just by being involved.
Your collaboration with Apify can be rewarding in more ways than one. It's not just about the passive income; it's about growing as a professional, expanding your network, and continually pushing the boundaries of what you can achieve.
The path to profitable passive income starts here
Whether you're a seasoned developer or someone just starting out in the world of coding, Apify offers a range of opportunities to turn your programming knowledge into a solid, reliable source of income. From publishing your own Actors on Apify Store to graduating to our certified partner program, making money on the Apify platform is one of those passive income ideas that can actually work out in real life.
With our growing community, robust platform features, and the ever-growing demand for web scraping, especially in the age of data for generative AI, your potential for earning and learning with Apify is virtually limitless.
Join us on Apify Store to secure your financial future with the most profitable passive income project you'll find out there. It's a win-win you won't want to miss out on.
FAQ
Who owns the source code of Actors in the Apify Store?
It's always the creators of the Actors. Apify does not have access to the source code, unless it's in a public repository or the developer chooses to make the source code visible to Apify.
What about competition between web scrapers?
Just like in Apple App Store, Google Play, or other online app stores, competition between Actors is permitted. You can publish a scraper for a website even if one (or many) are already there. The only thing we penalize is copyright infringement. If someone were to copy elements of your Actor, such as README, input or output structure, we would take the infringing Actor down.