Tired of looking for the right web scraping developer on freelancer websites? Read about a shortcut way to find and hire a software specialist for a data scraping project.
Are you looking to find developers for your web scraping project? Well, you're not alone in your search for great web developers. Due to the increasing complexity and the sheer amount of data on the web (expanding as we speak), many businesses now need an expert able to do their web scraping job for them. There are a few well-trodden ways to find and hire a contractor like that, such as via freelancing platforms.
However, those might not be the best options anymore for a number of reasons involving burnt deadlines, the low quality of extracted data, and unexpected infrastructure and budget costs. So is there any smarter way to hire data scraping specialists these days? Well, there's one new solution to this problem - a space designated for web scraping experts exclusively. We're going to talk about why creating such a space was long overdue and why finding a web automation dev might work a lot better than the old ways.
🔖
TLDR: Get your scraping project done by devs who care and have been on the web scraping scene for a while: pick your Apify freelancer here ➜
Where do I find web scraping developers?
Let's say you are determined to hire Puppeteer developers for a pilot data extraction project. The most intuitive way to do it would be to head over to popular freelancer websites such as Freelancer or Upwork in hopes of finding such a web scraping specialist. Another way is to hire someone directly to be a part of your data extraction team. You can also partner up with a data analysis agency and see if you can "borrow" their team members for the project.
But all of these ideas involve a few invisible risks that, unfortunately, most customers find out about after they've already started collaborating on the project with a freelance web scraper.
Expectations when looking to hire web crawler developers on freelancer sites:  
Supposedly easy to find, lots of choice.
Freelancers have all the needed software, technical and communication skills, plus experience with such projects.
Cost-effective and delivered on time.
Good quality of data, completeness of data, and correspondence of data to brief requirements.
No post-data-delivery issues.
The freelance platforms may look like an oasis of thousands of available professionals and highly skilled web scraping engineers able to complete your project within your requirements and with the minimum of bottlenecks. All you need to do is pick one, tell them what you want, and agree on pricing. In reality, choosing the right developer involves a lot of gray zones at almost every turn, putting at risk deadlines, data quality, and resource allocations.
Risks of deciding to hire freelance web scraping software developers:

⏳ Timing deadlines are actually the least of your worries
While web scraping has many advantages, every web scraping project is different. You can rate the projects by complexity and group them by website type, but in the end, there almost certainly will be issues that will hold you back from having the job done on time. To be fair, a lot of those issues might be out of the engineer's scope of control, but at the end of the day, for a customer, those aspects don't matter if they can't receive what they paid for on time.  
☎️ Communication takes more time than expected
If you thought timing would be your biggest concern, consider communication issues. There are two potential ways it can go wrong: lack of communication and too much of it. Yes, in theory, you can chat with your freelancer 24/7 and review their work at every stage. But that's not always the best approach so you'll have to choose your vendor wisely and find a healthy balance. In any case, it's best to be prepared to spend some time on that on top of writing out the brief.
⭐️ Trust in dev skills and quality of work
You can look at plenty of reviews of a potential candidate for hire. But freelance websites are for jacks-of-all-trades and aren't a web scraping or even an IT community. There are many ways to scrape a website, but with no established standard of web scraping work on freelance platforms, there's a high chance you'll spend quite a lot of time looking for the right person for the job.
🛠 Infrastructure management will still be on you
In addition to getting non-standardized software from the dev (and in the worst case, also not on time) now you have a new problem. Most probably, you will have to run the scrapers yourself. Managing the infrastructure of scraping is, more often than not, painful, and definitely not what you were looking for when starting this whole data scraping thing.
🤝 Trust in return for value for the scope of work
Though many freelance devs do go out of their way to keep their data extraction customers returning, many others have rather a one-and-done mindset. This doesn't mean you will not get the data or the scraper; it only increases the chances of mediocre, passable work. And you'll have to start your search all over again. You can see how what seemed to be an easy win can turn into a rabbit hole of issues.
So how do you find a web scraper developer?
Finding good developers for a project is complicated; finding web scraping experts is even more so – they are rare creatures. In addition, to match the goal with the possibilities, web scraping projects require quite a bit of precise back-and-forth communication. Not every freelance dev is ready to invest time into that.  
You can probably sense that we know what we are talking about. What if there was some sort of channel facilitating the demand for web scraping projects and the supply of quality dev work? And what if there was not only that but also a platform to support that pilot data extraction project from the get-go? The answers start with Apify's community of freelancers.
What are the pros of working with a dev from the Apify community compared to elsewhere?
1. Our scraping solutions are scalable
This one is easy. Apify is a web scraping platform we made ourselves. It already facilitates dozens of web scraping projects every month. The thing is, we have a lot of great web scraping specialists on our team, but not enough to cover the demand for all web scraping projects coming our way. This is why we've made it easier to find interested web scraping freelancers with the know-how for building smaller-scale projects on our platform as well.
If you're only interested in trying out data extraction and completing a pilot project – there's a high chance you and your developer will find each other and hit it off on our Discord. But if you like the outcomes and plan to scale your scrapers - we've got our enterprise-level custom solution team ready for you as well.
✨
Got something special in mind? A custom multilayered project you'd trust only to the professionals? Fill out a short form, and we'll get our team on it in no time. ➜
2. Devs under #freelancers tag are experienced (both in tech&comms)
This is related to the previous point. Freelancers from our community create a lot of scrapers using our platform, and some of them have been doing it for years on end. As we've worked with them directly, we can recommend quite a few of those web scraping specialists (see FAQ). They've always been interested in delivering the most high-quality solutions and you can easily check their track record in Apify Store.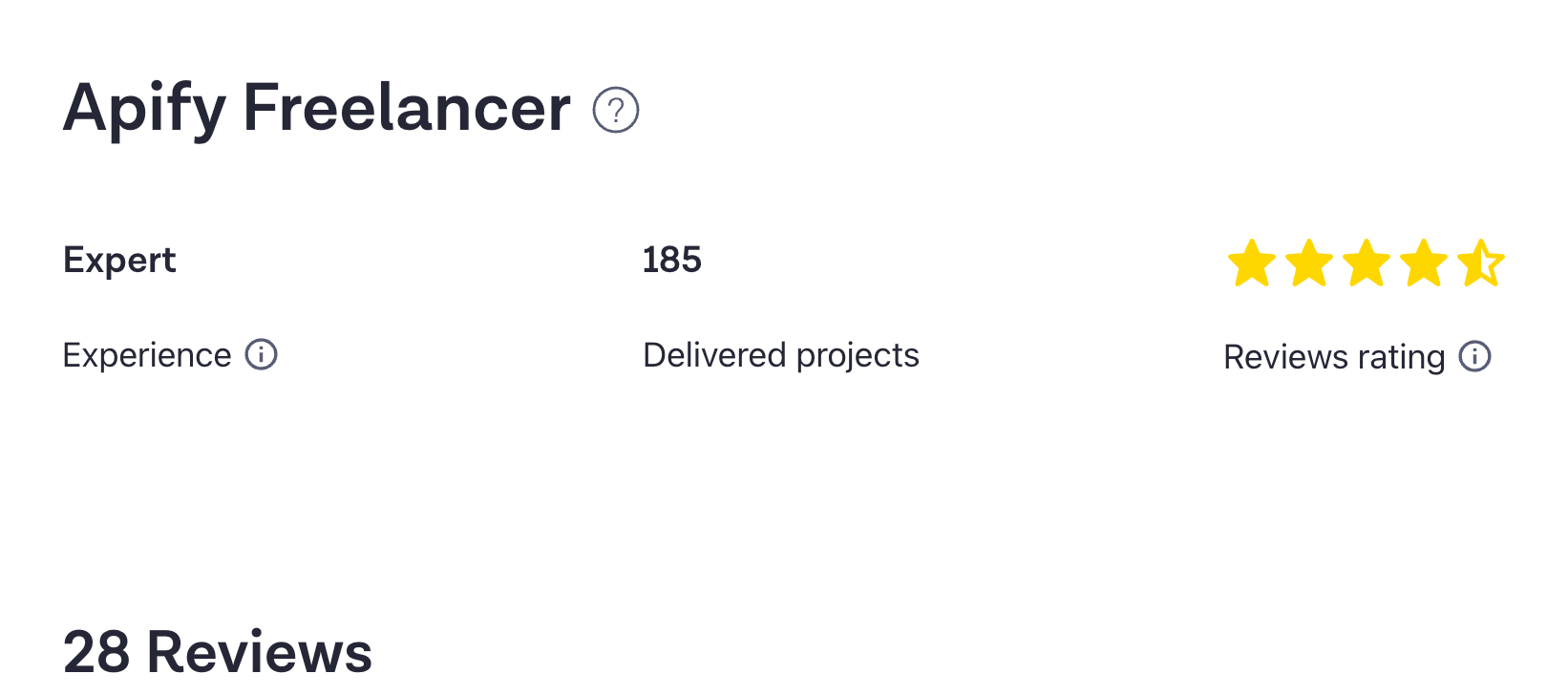 Moreover, many customers tend to focus on the just-getting-data part a lot, without considering that any web scraping project requires quite a bit of a learning curve. These devs cover both sides and can explain anything from simple questions like what is the difference between web scraping and web crawling to more complex queries.
3. The environment devs are working in is stable
They deliver the solution via the Apify platform, where the software is hosted and run. Compared to a local solution, this approach guarantees the convenience of having everything in one place and little to no maintenance or infrastructure-related issues in the future.
4. Our platform has integrations, API, and webhooks
This opens up nearly limitless opportunities for automation for our customers. Name an app, and the Apify platform most probably can already join your newly built scraper with it.
5. You get what you pay for
Budget agreed upon in advance and one-time payment – it's as simple as that with Apify freelancers (at least that's our experience). In addition, having the scraper settled on the Apify platform gives your solution a higher success rate by lowering the chances of being blocked by the website. All thanks to Apify Proxy.
Is web scraping legal?
Short answer: yes. Long answer: it highly depends on how you use the data you've scraped. See our piece on ethical web scraping, the concept we ourselves adhere to. If you're unsure about the legal side of your project, try to steer away from scraping personal data or abusing intellectual property, and adhere to Google's Terms of Service, if applicable.
How to define your web scraping project with Apify
Step 1. Describe your needs
Head over to Crawlee&Apify Discord, find the #freelancers tag, and describe your project. Your potential vendor(s) will contact you promptly, most probably with a few questions to get a better understanding of your data extraction needs.
🗺
A detailed guide on how to prepare a good web scraping project brief from our Head of Delivery ➜
Step 2. Get and review your project proposal
Next step is to receive project proposals and quotes with a timeline for delivery. Your potential vendors will discuss all aspects and terms of the project with you and agree on the deposit. After discussing the details, you will choose a specialist whose skills, price range, and timeframe suit your project specs best.
Step 3.  Communicate on progress
The web scraping developer working on your project will stay in contact with you throughout the process.
Step 4. Get your scraper
You will receive your solution on the Apify platform, test the developed scraper, and work a little more on improving and ultimately approving it. Now it's yours and ready to work with!
To keep it simple, running your fingers through Upwork/Freelancer options in hopes of hiring a good web scraping developer is like looking for a place through Craigslist. It is technically possible to find something good, but time- and effort-consuming. In contrast, finding an expert in web automation in Apify Community is as convenient as finding an apartment on Airbnb. But don't listen to us; listen to the customers who've tried the easier way!
Here are just some of their reviews on G2:
Also, check out this story from an Apify contributor who has already built hundreds of scrapers with us and helped dozens of customers to reach their data extraction goals 💪
---
---