Follow these four easy steps and learn how to scrape structured data from IMDb without using the IMDb API with a customizable and cheaper IMDb Scraper.
IMDb stands for Internet Movie Database, and it's a repository of data about movies, TV series, video games, and more. It's packed with information on movie plots, cast actors, and ratings. It contains a large quantity of user-generated content, such as descriptions, stars, and reviews. The IMDb API allows you to download all this information in a JSON file on your device, but it has its limitations. Enter Apify's IMDb Scraper.
Why scrape IMDb?
Scraping IMDb information allows you to get structured data about movies, TV shows, and videogames that you can visualize in many different programs, from Tableau to Excel. There are endless ways and reasons to scrape data from IMDb. Here are just a few:
Sentiment analysis: you may want to collect ratings and reviews to get a sense of the reception a movie or TV show got or the level of appreciation of a genre among the audience. A quantitative analysis of the stars or a qualitative analysis of the reviews could constitute a good source of information. IMDb Scraper extracts ratings and reviews for you in a structured data format, so you can quickly sort through them and make analysis smoother.
Market research: you are on the lookout for the highest-rated movies and genres to appropriately target your movie themes merchandise or to write your next screenplay. With IMDb Scraper, you can extract data by genre and sort the result by ratings, for example, which will allow you to get a quick overview of the latest trends.
Movie app: you may be developing an app for movies, TV series, and video games, where users can log what they have watched and what they are planning to watch, together with their ratings and reviews. Customized API access to the largest data repository on the topic will come in handy to provide content for your app – unless you were planning to log every movie and tv show ever produced manually… 🤯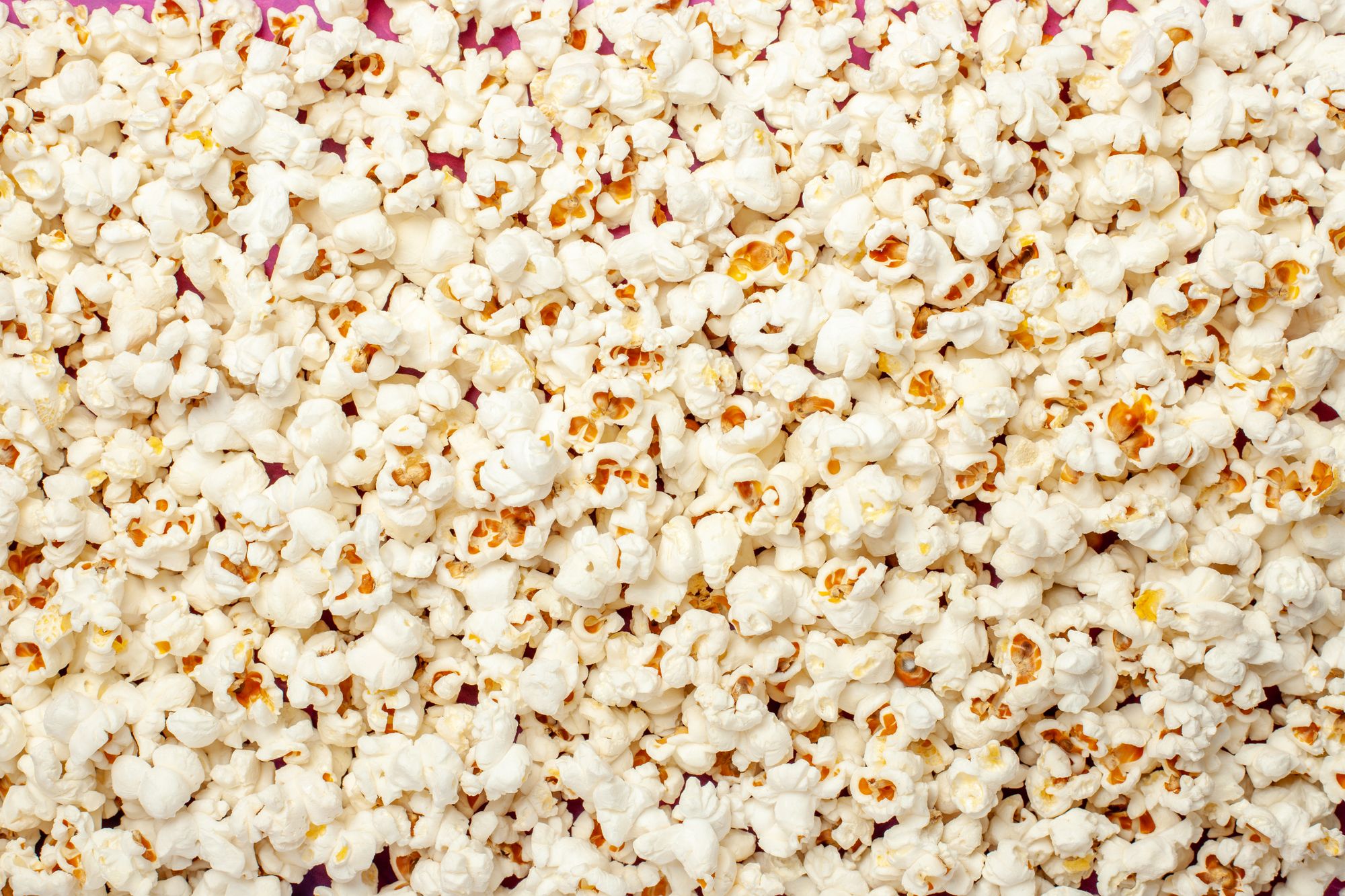 Is it legal to scrape IMDb?
While web scraping is very much legal, you still need to comply with certain rules. Regulations such as GDPR or CCPA deal with the accumulation of personal information, while DSM Directive and Fair Use doctrine aim to protect copyrighted content.
⚖️
To learn more about the legal side of web scraping, check out our blog post on the subject ➜
Does IMDb have an API?
IMDb has three APIs that allow you to extract information to analyze data such as movie titles, tv show titles, cast, and box office results. They let you choose one or more packages of APIs based on the information you want to extract, for which you pay a monthly subscription.
However, IMDb API has two crucial limitations. The first one is that the packages are not customizable. They are ready-made, and you can't modify the type and quantity of information that you are going to extract. Secondly, the IMDb API is not free, and IMDb API subscriptions are significantly pricy.
Luckily, there are many alternatives that allow you to easily scrape IMDb data for lower prices. At the top of this list, there is Apify's IMDb Scraper.

How do I extract data from IMDb?
IMDb Scraper allows you to extract information from the IMDb database. All you have to do is provide it with an IMDb URL to scrape. Let's go through the steps together.
🎞
Looking for a more advanced scraper that allows for multiple starting URLs? Try IMDb Advanced Scraper! ➜
1. Find IMDb Scraper on Apify Store
First, you'll need to go to IMDb Scraper's page on Apify Store and click Try for free. If you are not logged in, you will be prompted to log in or sign up via your email address, Google, or GitHub account. Once you are done, you will be redirected to Apify Console. After clicking the Try for free button again, you will be able to fill in the input fields.

2. Select the URL you want to scrape
At this point, you will need to open a separate tab in your browser and visit this page, where you can select and filter the information you want to extract. Once you have checked all the boxes, copy the URL address from your browser's URL bar at the top of the screen and head back to the IMDb Scraper page.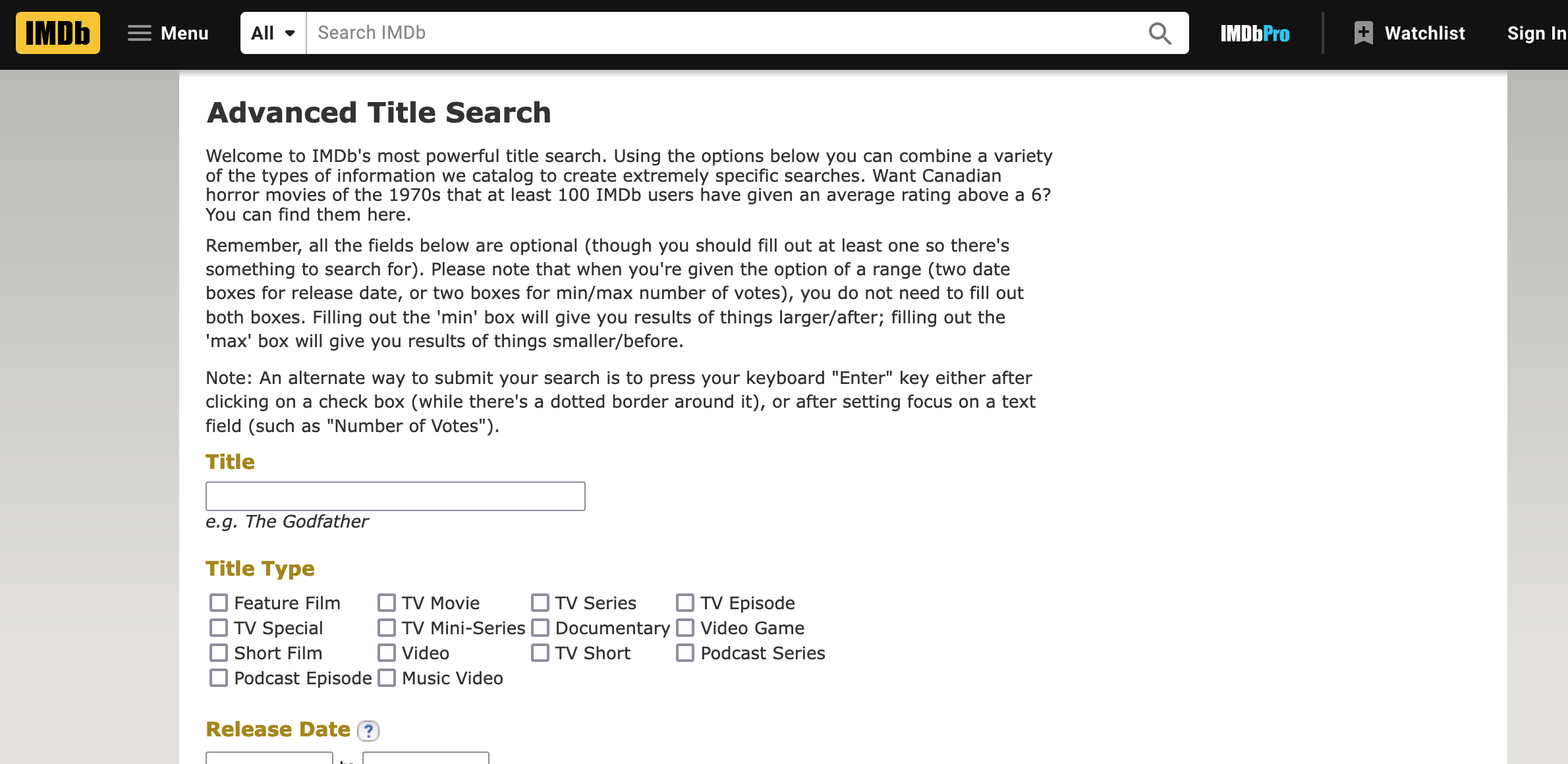 3. Run the scraper
Paste the URL you just copied into the IMDb Scraper's input field, and select the maximum number of results your want to obtain. When you are all set, click the Save & Start button and wait until the status switches from Running to Succeeded.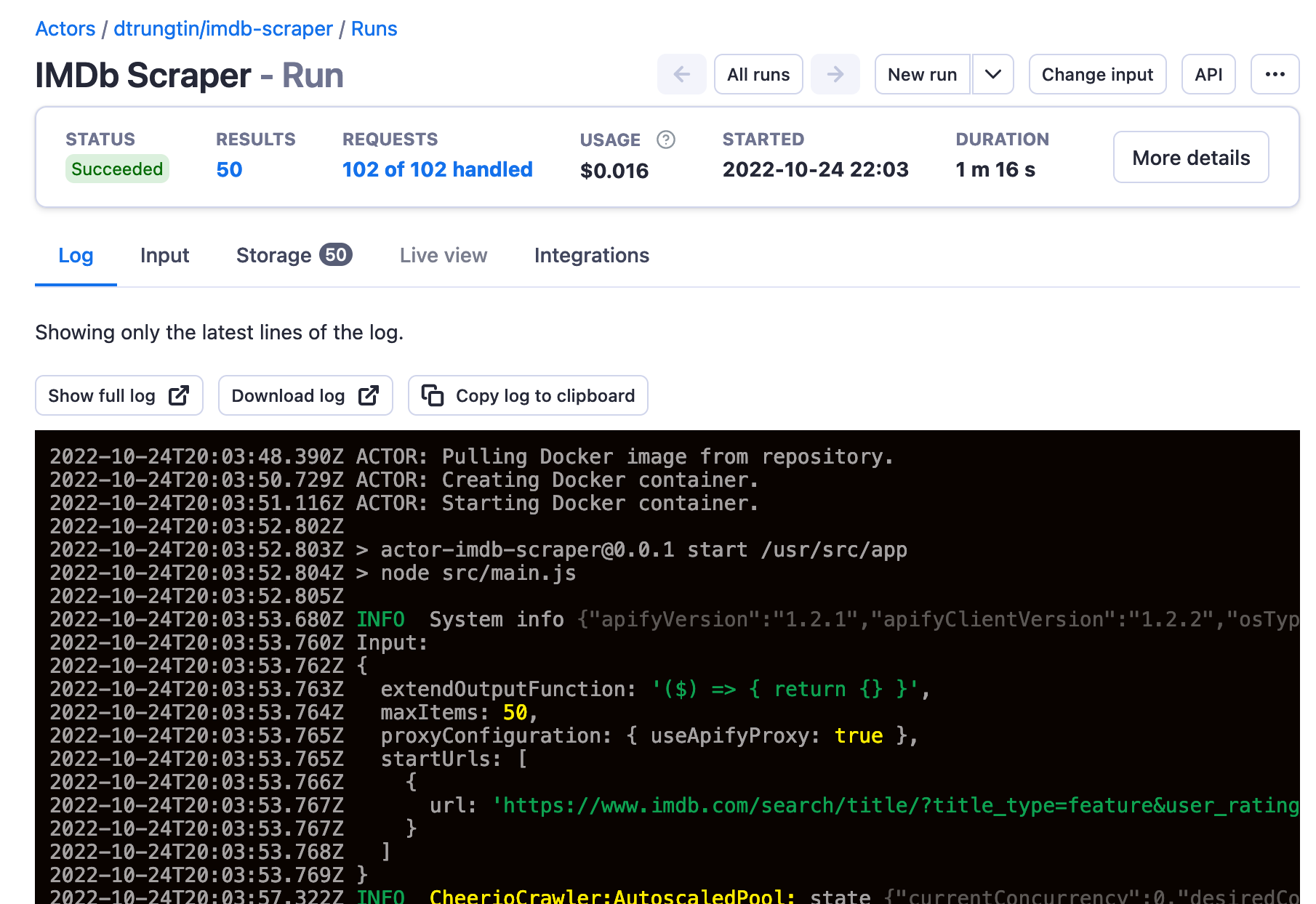 4. Download your IMDb data
It's now time to get your data! Move over to the Storage tab, where you can download and preview your results in several formats – Excel, JSON, CSV… Find the download file on your device and visualize it in the program of your choice!

And that's it! These four easy steps alone will provide you with all the structured data you need from IMDb. Feel free to reach out to the Apify team if you have any issues!
---
---