A tutorial to show you how to scrape Bing data that can be used SEO improvements, research, trend alerts, competitor tracking, and more.
We all know very well that google.com is the no.1 search engine worldwide. But, as we also know from the famous board game that pulls friends and families apart, monopoly has never been the answer. While Google SERPs do have more impactful search volumes and tend to reach more internet users in general, it's only wise not to put all your SEO eggs in one basket. Believe it or not, but there's quite a lot of people who do not google, but are used to surfing the web with the powers of Bing. Let some surprising numbers speak for themselves:
The Bing Network contains 136 million unique searchers.
Those searchers make 5.4 billion queries every month.
Bing holds a market share of 34% of the global desktop searches.
Heads-up for businesses - Bing Ads are displayed to 63 million web searchers that aren't normally reached by Google AdWords.
Competition for ad space is generally lower on Bing, resulting in a far lower cost of the advertising campaigns.
Last but not least, 40% of Bing Network users are aged from 35 to 54 years old, so if you need to target that particular demographic, you've found yourself the right search engine.
Why scrape Bing?
You would be right to assume search engines serve as the gateway to the internet for billions of web users. There is a quirky saying summarizing the essence of web search: the best place to hide a dead body is the second SERP. If you want your business, idea, organization, project, brand, or persona to be easily findable on the web, there's no way around that without knowing how your page ranks in the search hierarchy. In order to know that, the SEO ranking data has to be regularly collected and presented in an objective way - which is what a Bing Search Results Scraper can do in under 5 minutes.
At the end of the day, the reasons to scrape Bing are the same as for scraping any search engine: here's why you should scrape Google SERPs, for example.
And here are a few other reasons why anyone might need to scrape Bing Search:
Consistently monitor how your website ranks on Bing SERPs for specific keywords.
Monitor competition automatically: both organic results and Ads section.
Analyze advertisement campaigns to sharpen the keyword targeting of your Bing Ads.
Improve the performance of your website content by applying the SEO insights needed to top the Bing SERP rankings.
Make data-backed decisions in your SEO strategy.
Follow demand and predict new trends by scraping recommended searches, Related queries, See results for and People Also Ask
You can see our industry pages for more tangible ideas, use cases, or inspiration on how to use scraped Bing data in your business.
Step-by-step guide to scraping Bing SERPs
1. Go to the actor's page, and click the Try for free button. You will be redirected to Apify Console, which is your workspace to run tasks for your scrapers. If you already have an Apify account and are logged in, go to Step 3.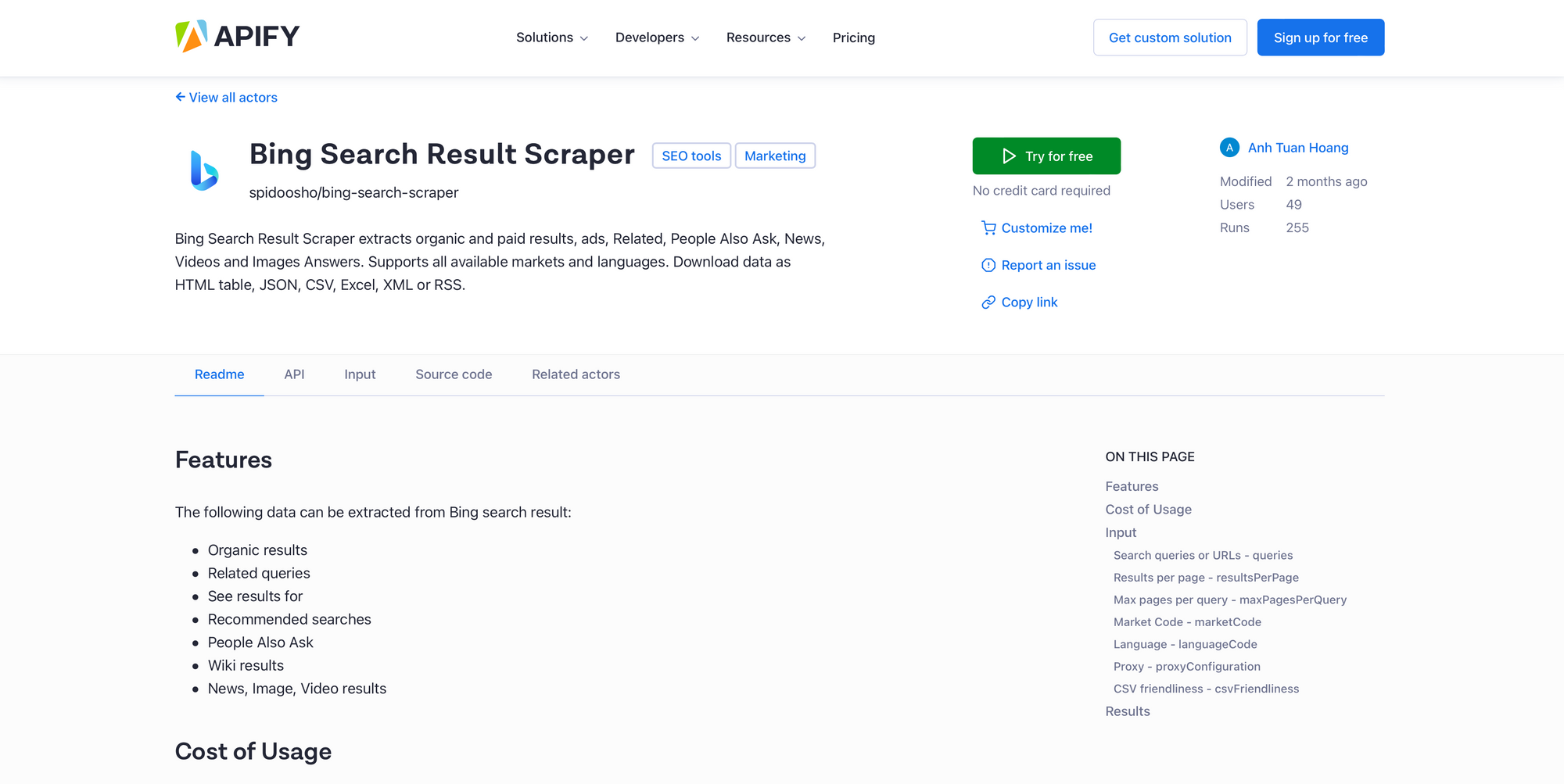 2. If you are not signed in, you'll find yourself on the sign-up page (if you are already signed in, skip to Step 3). Sign up using your email account, Google, or GitHub. You will be redirected to the scraper's page on your Apify Console.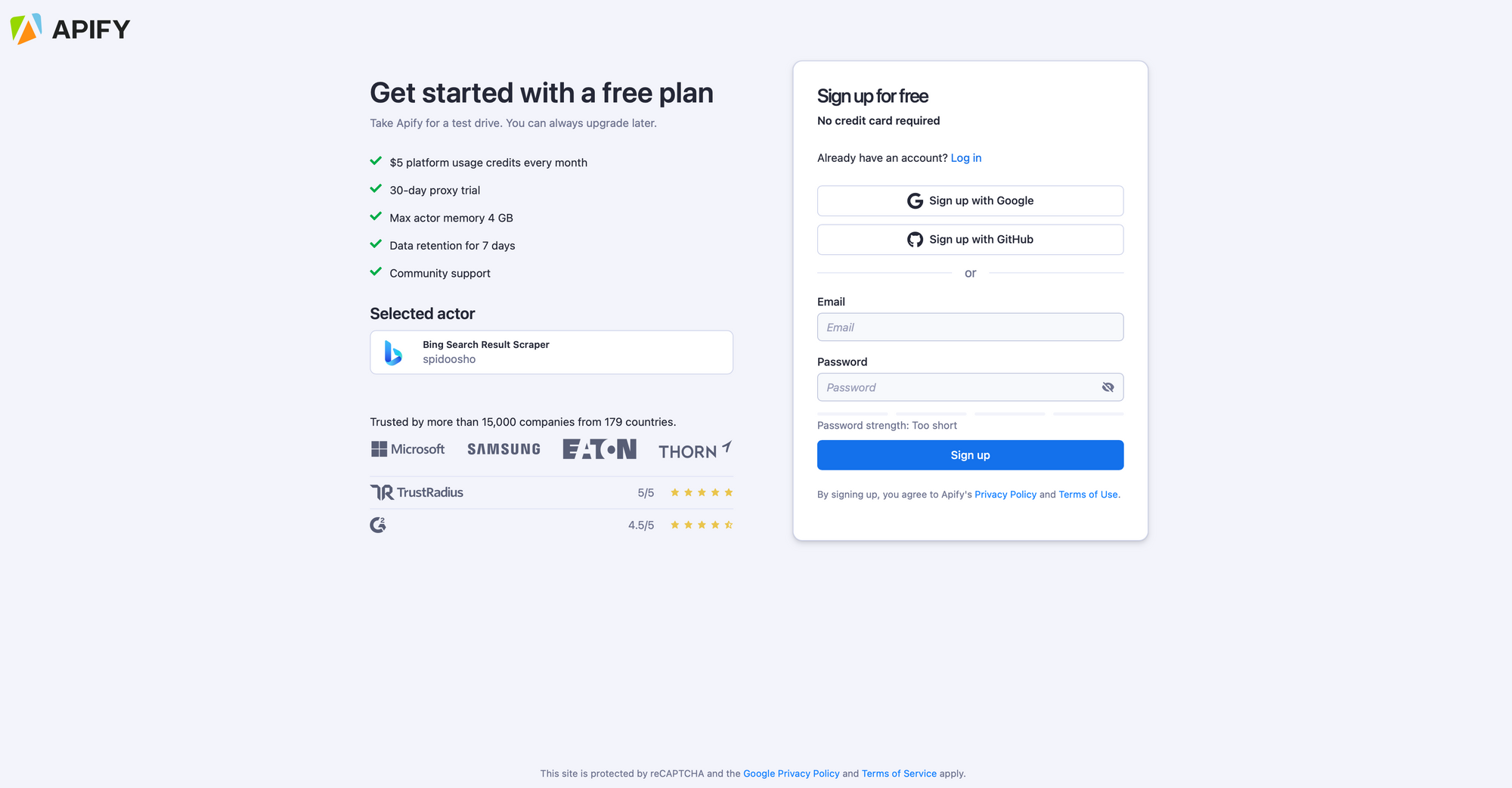 3. You can now define your scrape request. Which keyword results do you want to scrape from Bing? You can insert that into the input field, or you can insert a corresponding search URL from Bing itself. The URL and our chosen keyword in this case are the same queries just in different forms, so either one should be enough. Let's also search for the 10 first SERPs and make sure we're searching in the American market.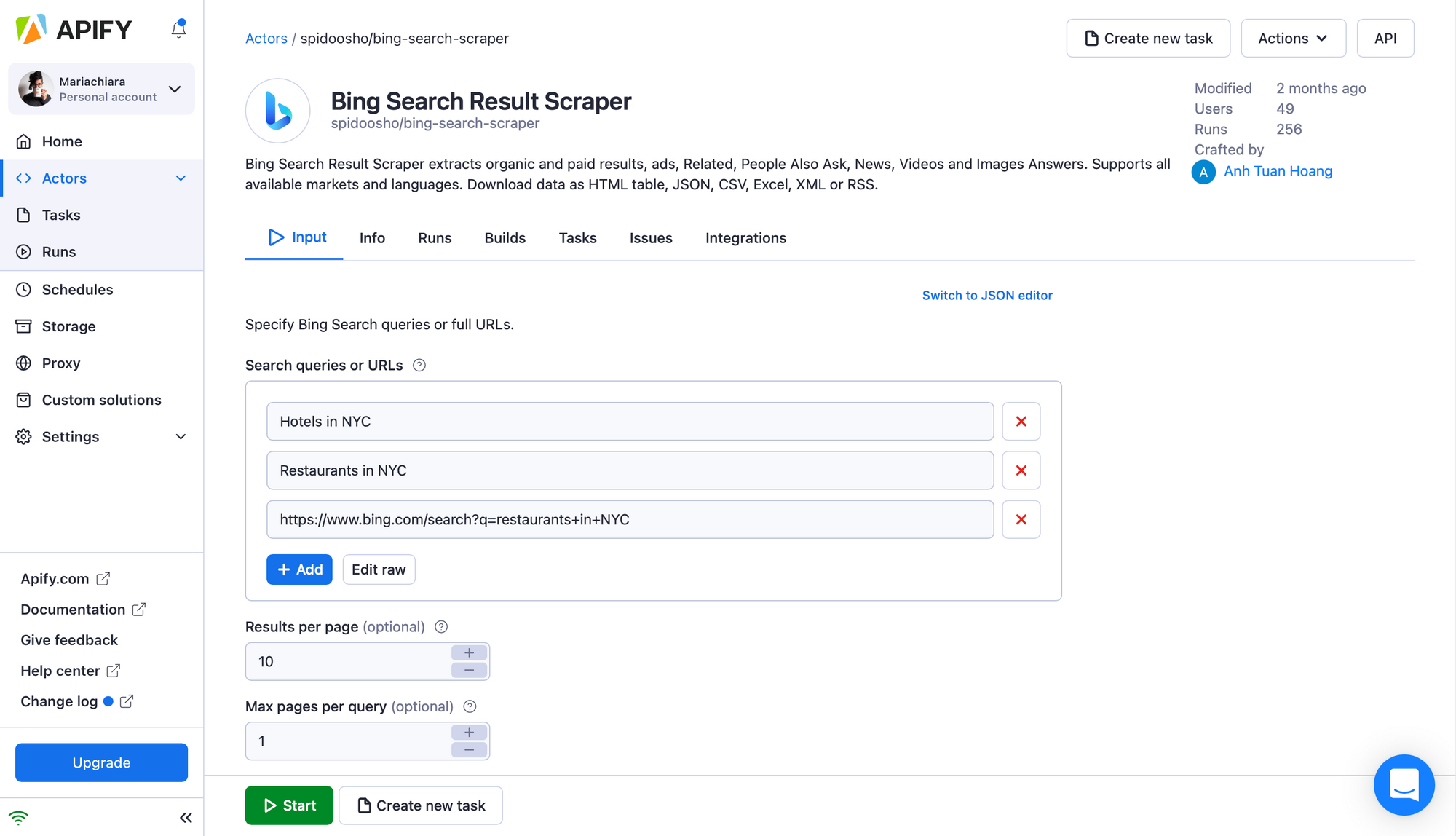 4. Once you are all set, click the Start button. Notice that your task will change its status to Running, so wait for the scraper's run to finish. It will be just a minute before you see the status switch to Succeeded.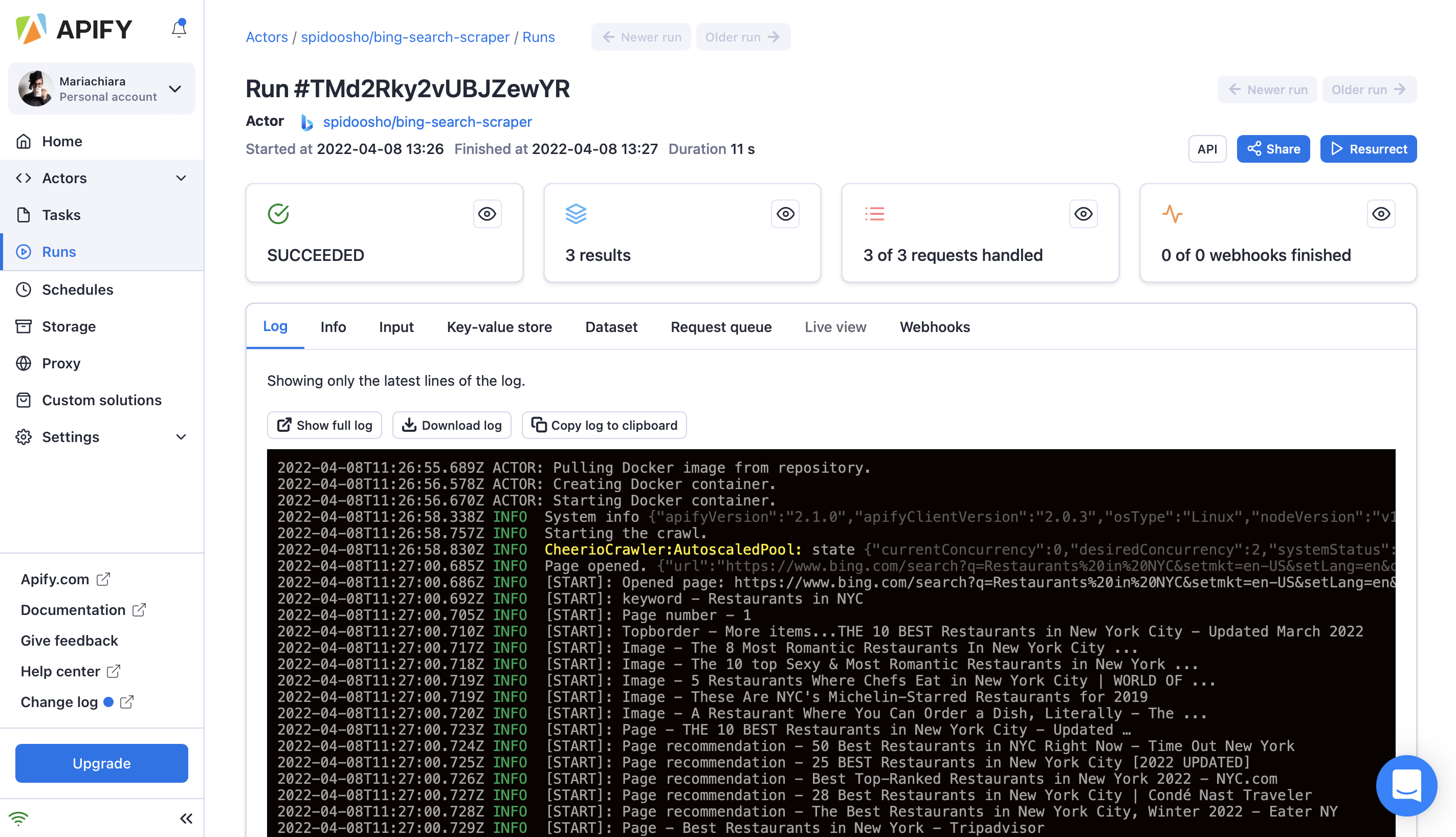 5. Move to the Dataset tab to see the results of your scraping. Explore the Dataset tab containing your scraped data in many formats, including HTML table, JSON, CSV, Excel, XML, and RSS feed. Preview the data by clicking the Preview button or viewing it in a new tab if the dataset is too large.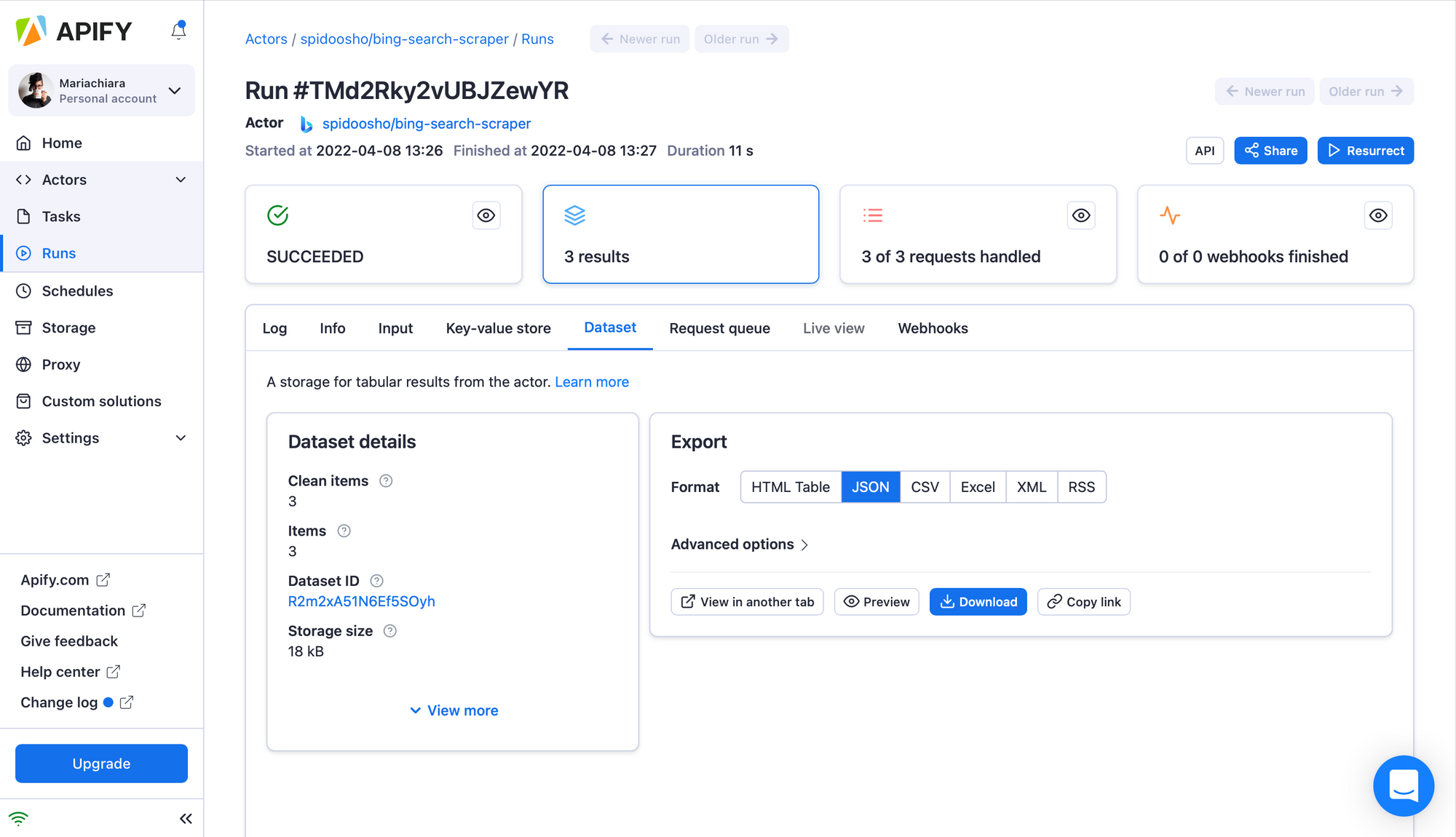 6. You can choose to download it onto your computer for further use as spreadsheets or in other apps and your projects.
We will be adding more customizable input parameters in the future. Email us at  support@apify.com  if you have any suggestions or questions.
---
---