Nowadays, the travel industry is less about busy agencies located in the city center and more like a complicated system of travel sites with an enormous and versatile selection of travel destinations, reviews of places to stay, comments, and user profiles. The availability of such data on websites like Booking.com opens up unlimited opportunities for their use. Here are just a couple of data-backed examples of how the mere existence of sites like Booking.com has reshaped the traveling and hospitality industry:
As it becomes safer to travel, the hospitality industry could benefit from the enormous amount of data available on the internet, especially as all of it is open to public access.
How to use data extracted from Booking.com
Here are a few ways data scraping and the use of extracted data from Booking.com can be beneficial for the travel industry:
In the current circumstances, it wouldn't be an overstatement to say that the survival of the travel industry largely hangs on investing in data: on collecting, aka scraping, and accumulating it, and applying the insights it provides. At the end of the day, only businesses backed with robust analytics and data can remain one step ahead of the competition, be able to predict market trends, and stay ahead of the curve.
What about Booking.com API?
The Booking.com Connectivity APIs offer several specialized functions, divided into these categories: content, rates & availability, reservations, promotions, and reporting. The Booking.com API interface is considered user-friendly, but getting that data in a machine-readable format is not a simple task with official Booking.com APIs. Moreover, Booking.com utilizes many anti-scraping mechanisms, one of them being that it will only display a maximum of 1000 results for any given search. This is obviously an issue for proper scraping, but the Apify Booking.com Scraper lets you overcome this and other limitations.
Our Booking.com Actor does this by using various criteria filters to limit the number of results and then combining data from all limited searches into one, keeping only unique results. With our Booking Scraper, you can scrape hotel data from Booking in several ways, including but not limited to location, availability, and pricing, anytime you need.
The primary drawback of this approach is that when you start the crawler using startUrls, they cannot contain any of the filters since the crawler will simply replace them. This means that if you want to start the crawler using your own filters in the URL, you will be limited to a maximum of 1,000 results.
Is it legal to scrape Booking.com?
Web scraping is legal, but be aware that personal data is protected by GDPR in the European Union and by other regulations around the world. That means you should only scrape personal data if you have a legitimate reason to do so. If you're unsure whether your reason is legitimate, consult your lawyers. We also recommend that you read our blog post: Is web scraping legal?
How to scrape Booking.com (step-by-step guide)
1. Go to Booking Scraper and click Try for free
When you click the Try for free button on the scraper's page, you will be redirected to Apify Console, which is your workspace to run tasks for your scrapers. If you already have an Apify account and are logged in, go to Step 3.

2. Log in or sign up for an Apify account
You can log in or sign up to our platform for free using your email, Gmail, or Github account.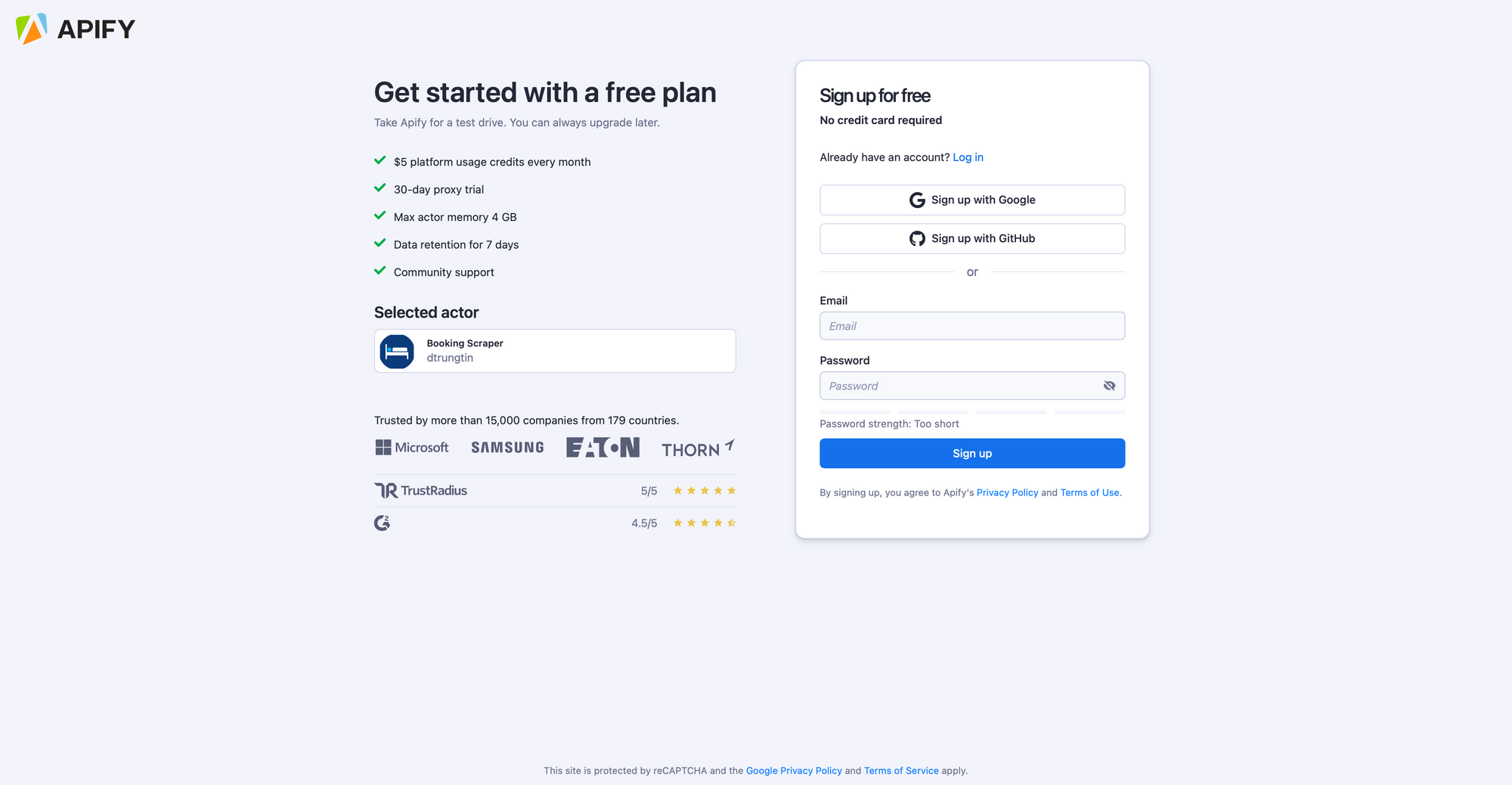 3. Fill in the input fields
You can now fill in the input fields for your search. Let's say, you're looking for a nice place to stay in New York. Just type New York into the first field. Alternatively, search for New York on the booking.com website, type it in, and press Enter. And then copy-paste the resulting URL into the field.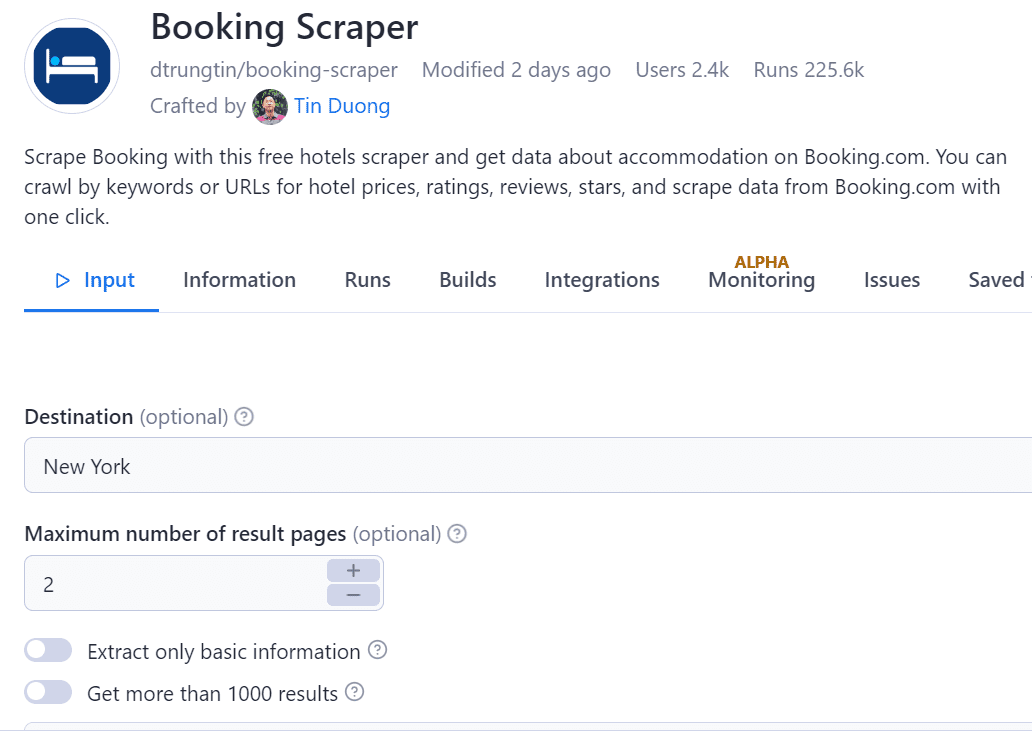 4. Click Start
Once you are all set, click the Start button. Notice that your task will change its status to Running, so wait for the scraper's run to finish. It will be just a minute before you see the status switch to Succeeded.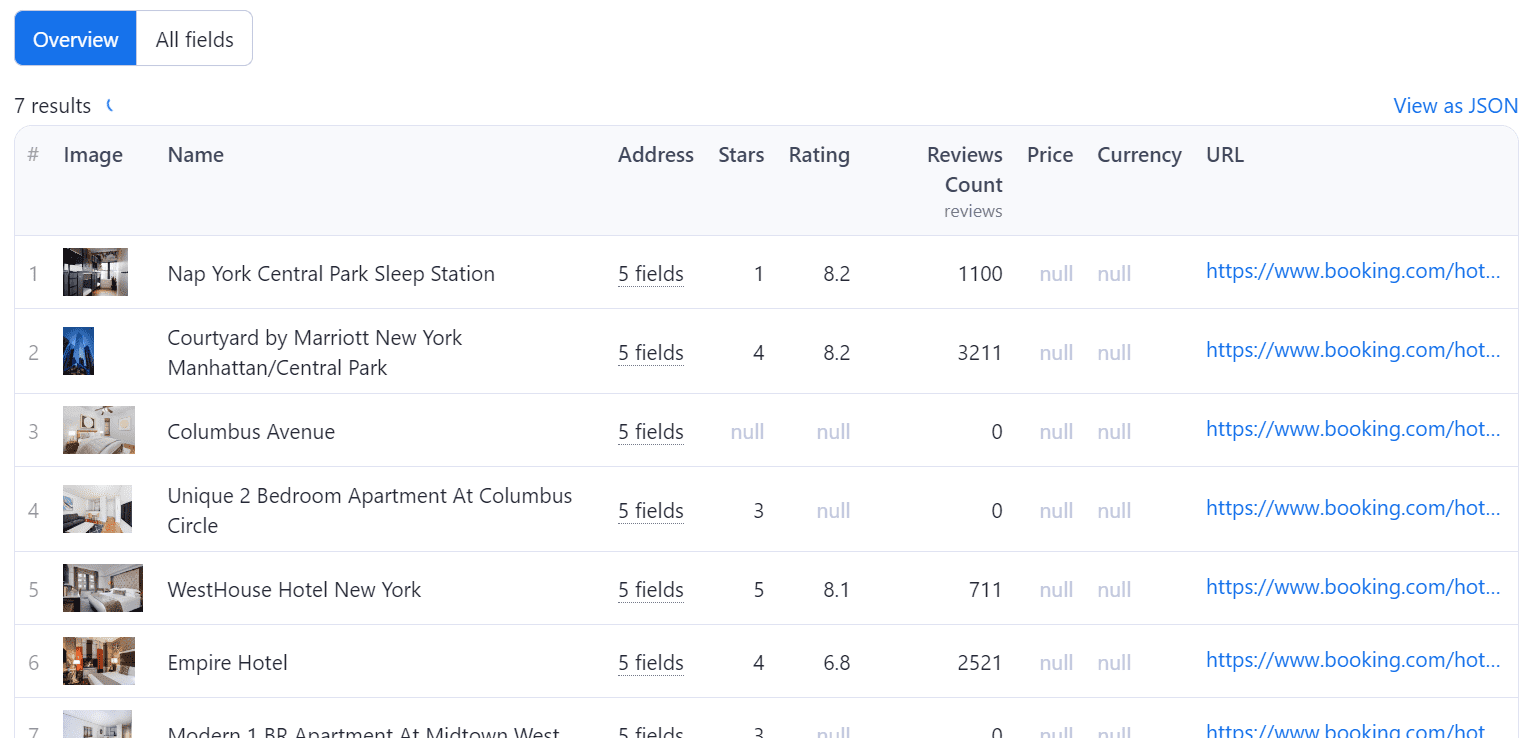 5. Collect your data
You can now get your Booking dataset by clicking the Export dataset button. This dataset contains your scraped data in many formats, including HTML table, JSON, CSV, Excel, XML, and RSS feed. Preview the data by clicking the Preview button or viewing it in a new tab if the dataset is too large.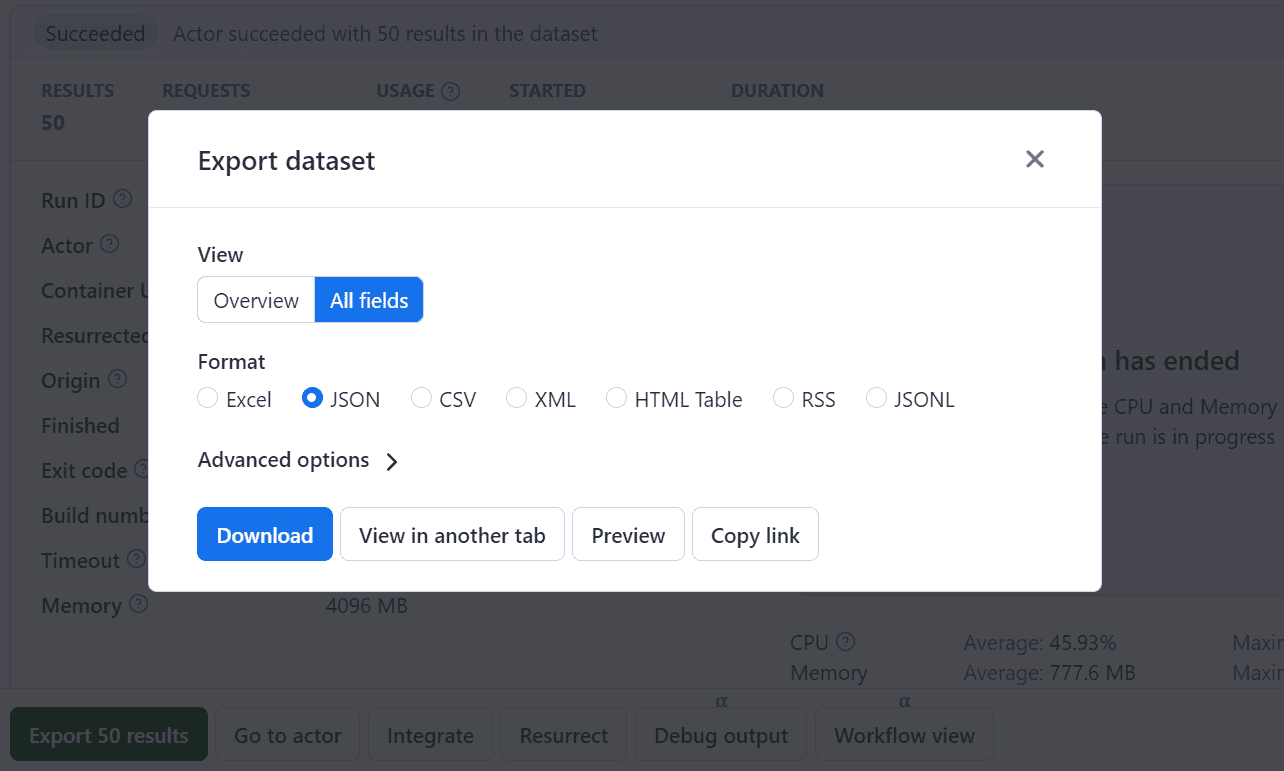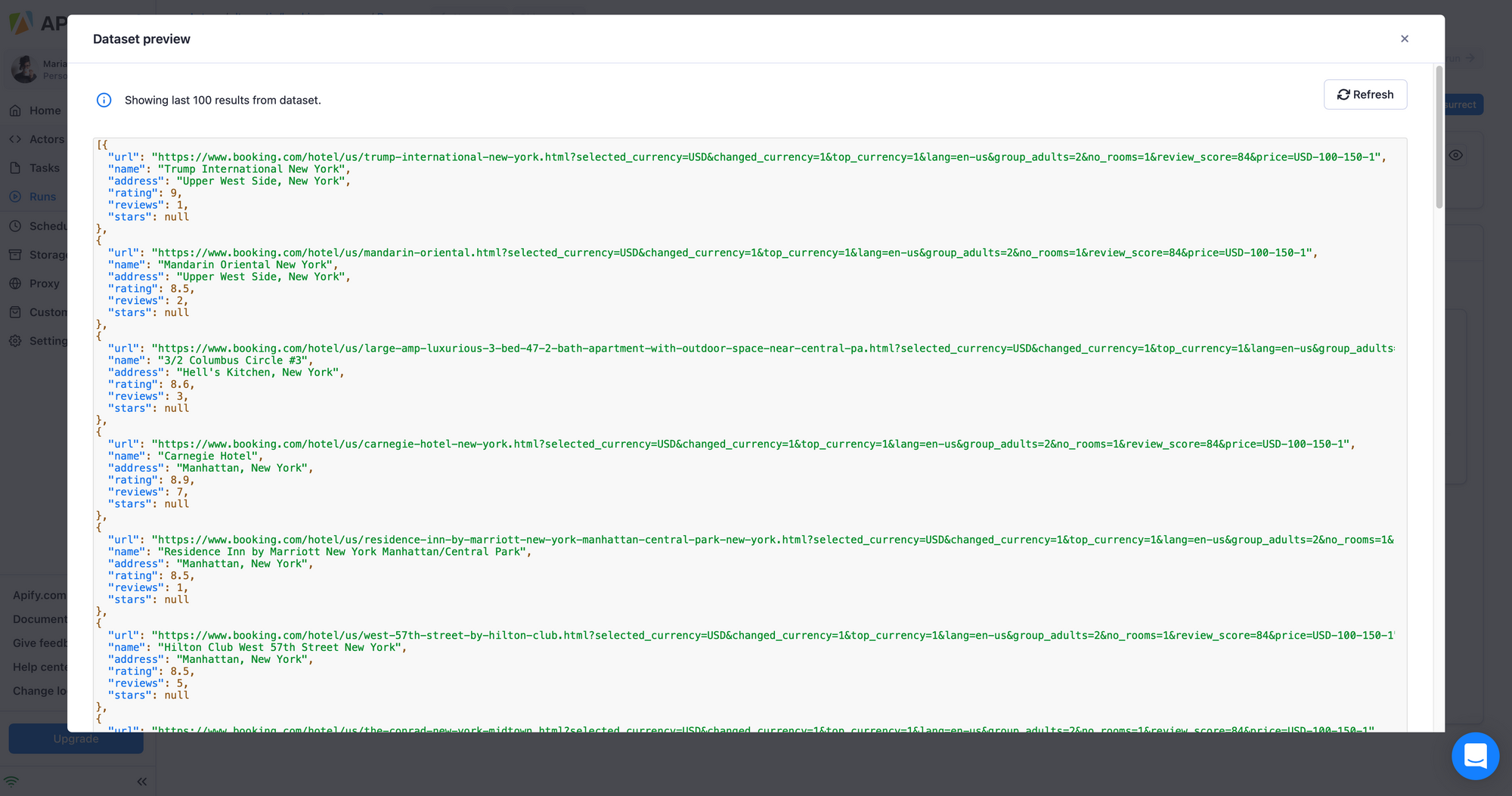 Here are some input parameters you can configure before running the scraper; you can read more about them in the scraper's Readme:
search, the only required attribute, extends to the city and region
useFilters sets if the crawler should utilize criteria filters to get you over 1,000 results per one run
type of property to search, it will use filters, so cannot be combined with useFilters (the abovementioned 1,000+ results attribute)
minScore for minimum allowed hotel rating places to be included in results, the default being relatively high - 8.4
check-in and check-out dates in the yyyy-mm-dd format
number of rooms, as well as adults and children to be set for the search
preferred currency and language and others

This actor consumption is relatively low; you can get 1,000 results without details for around 1 CU and 1,000 results with detailed information for 10 CU. We are working on implementing updates and have planned some new features for the future, such as being able to scrape texts of the user reviews as well as extract all images.
You might also want to try out our other traveling and accommodation-related scrapers: Tripadvisor Scraper, Airbnb Scraper, or scrape Booking data on the regional instead of city-level with our Booking Regions Scraper.