Today, we're launching the largest Apify update this year: a new billing system with new monthly and annual plans, flexible pay-as-you-go…
Today, we're launching the largest Apify update this year: a new billing system with new monthly and annual plans, flexible pay-as-you-go platform pricing, and add-ons. In this release, we're also making the team account and notifications center generally available. You can migrate to the new billing system right away in the Apify app. Don't worry, your monthly price and all your favorite features will remain unchanged!
Read on to find out how the new billing system makes it even easier to use Apify.
Background
It's no secret that our legacy billing system is far from ideal. In the past, when choosing a subscription plan, you needed to estimate in advance how many resources your jobs would need, then select a plan with the right number of proxies, and the right limit for actor compute units or Google SERPs. When your jobs exceeded those limits, you had to either manually upgrade to a higher plan or contact our support team, otherwise your account would have been blocked.
The problem is, in web scraping and automation, it's not always possible to say in advance how much computing resources your workloads will need. Each website is different — some can be crawled using raw HTTP parsers, some need a headless web browser, some require datacenter proxies, others residential, some need higher data transfers, some more storage, and so on. And to make things worse, these parameters change over time.
So, some of our users often ended up worrying about their usage and limits, and changing their subscription plan every month. In fact, billing issues were one of the top complaints from our users. We had to do better, while keeping the system simple for everyone.
New billing system
We designed the new billing system from the ground up to combine the simplicity of standardized subscription plans with the flexibility of pay-as-you-go pricing for platform usage. When purchasing an Apify subscription, you can now simply select a plan with the features matching your needs, without knowing your exact platform usage in advance. If you exceed the limits of the current plan, your account switches to pay-as-you-go mode.
The new billing system offers the following features:
Monthly and annual plans: Get a 10% discount for a long-term commitment.
Add-ons: Easily purchase additional data-center proxies, team account seats, increased actor memory, or enterprise-class support.
Over usage: Need more power for just one month? No problem, you can now go over the limits of your plan and pay as you go for your excess usage.
Multiple payment methods: Pay using one or more credit cards, debit cards, and PayPal accounts.
Flexible billing settings: Easily update your billing and invoicing details at any time.
New pricing & plans
We've simplified our pricing to offer three standard paid plans that will suit the needs of most customers: Personal, Team, and Business. For customers with special requirements, we offer fully-customized enterprise solutions. We also offer a limited free plan for students and developers.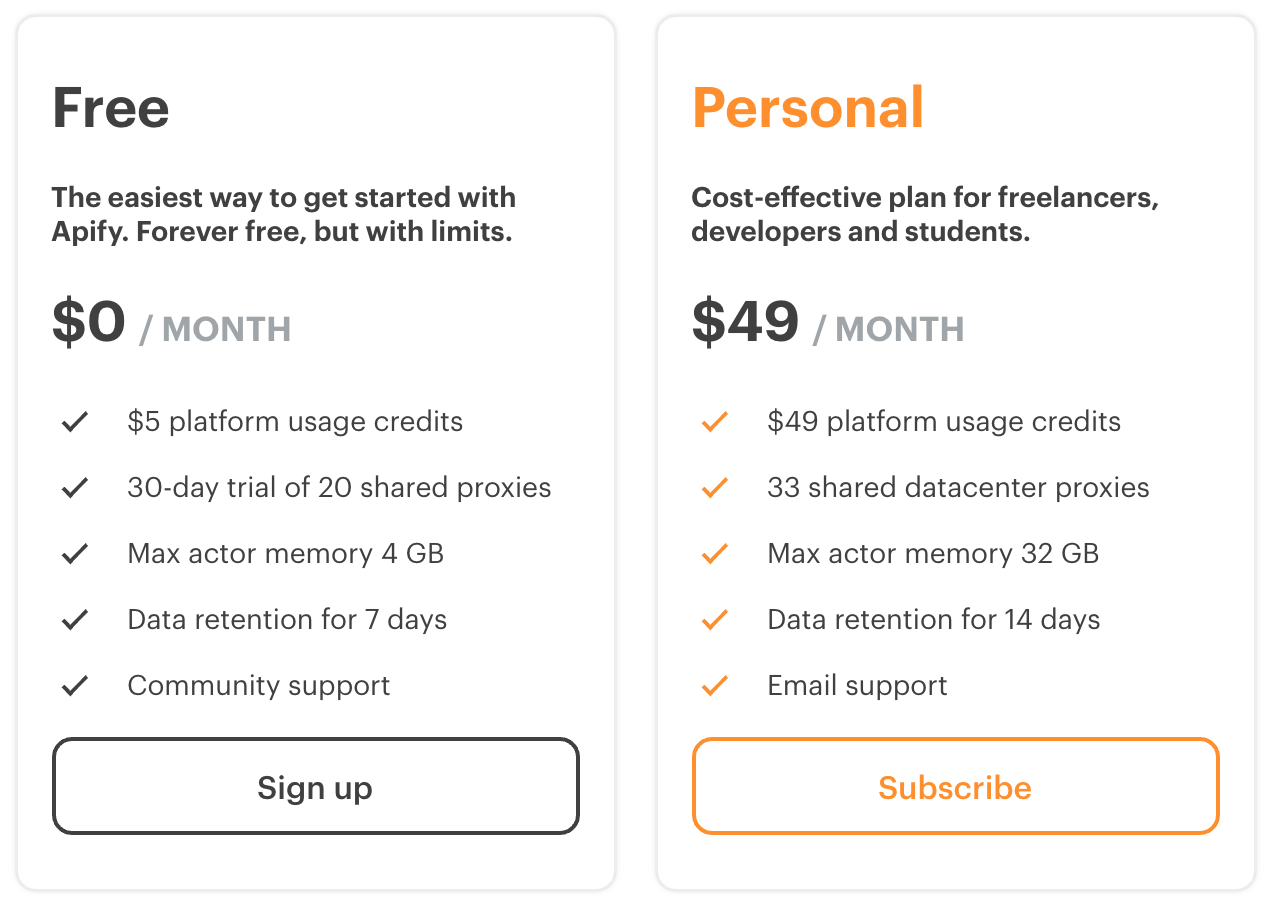 Each plan comes with a specific set of features and an amount of platform usage credits, which are then used to pay for your exact usage of Apify platform services, such as actor compute units, Google SERPs, or residential proxies. See below for more details on usage credits.
If you're not sure which plan is right for you, simply pick the lowest plan that has all the features that you need. If your platform usage in a given billing cycle exceeds the credits provided by your plan, you will get a notification and the excess usage will be added to your next invoice. You can upgrade to a higher plan any time in billing settings in the Apify app, and you'll only pay for the price difference.
Platform usage and credits
The Apify platform provides a number of cloud computing services that are charged based on your actual usage. These include actor computation, proxy SERPs and residential data transfers, internal and external data transfer, and storage operations. We monitor your exact usage of these services and compute the total cost according to the platform pricing.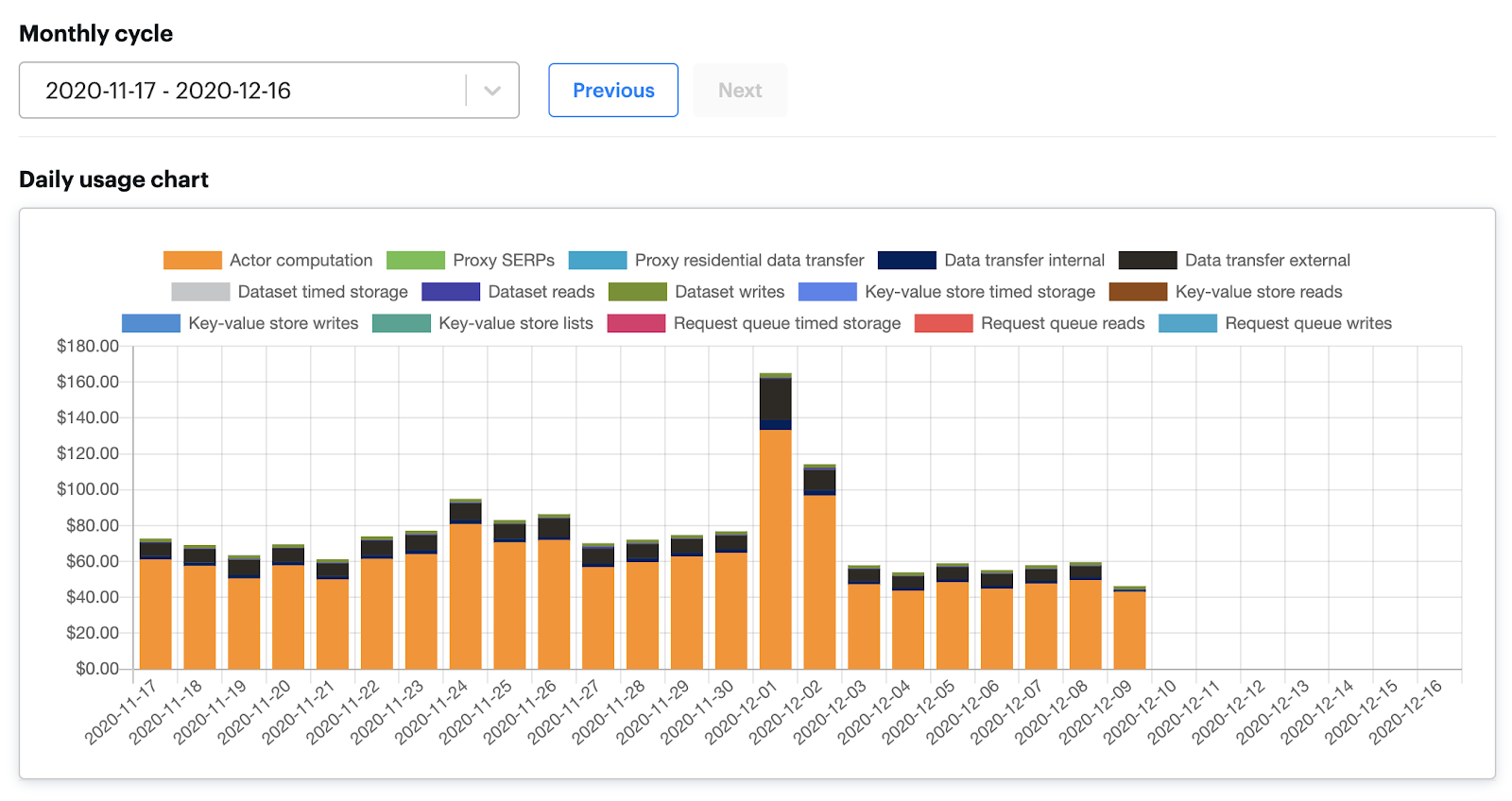 The cost for your platform usage is covered out of the credits provided by your subscription plan. If your usage exceeds the credits, the extra cost will be added to your next invoice, so that you pay as you go. For your peace of mind, we'll send you email notifications in case your usage seems likely to exceed the credits.
Migration to new billing system
Starting today, all new users have the new billing system enabled by default. Existing users can migrate to the new billing system in the Apify app, by clicking a button in a notification that will appear in the app. After migration, you will keep the same features and monthly price that you had before, including any special prices and discounts. If your usage stays the same as in the past, your price will too.

Users on the free plan can migrate until January 10, 2020 and users on paid plans until January 31, 2021. After these dates, all user accounts will be migrated to the new billing system automatically, at arbitrary times.
IMPORTANT NOTES
To ensure your monthly price doesn't go up after migration, your existing limits of actor compute units, data transfer, residential proxy traffic, and SERPs are preserved. However, unlike the legacy billing system, the new system considers these to be hard limits and blocks usage of the corresponding services right when the limits are exceeded. You will be notified when you cross 50%, 75%, and 90% thresholds of these limits, to give you enough time to adjust your usage. Please contact us to increase the limits for you.
Beware that after your user account is migrated to the new billing system, the get private user data API endpoint will return a slightly different data object. Please update your API integration to accommodate for these changes.
If you have any questions or concerns about the new billing system or migration, don't hesitate to contact support@apify.com.
Team account
In this release, we're also making generally available one of the features most requested by our users: the team account. This enables you to share access to a single Apify account with multiple users, without needing to share a single password. You can grant the users granular access rights, to make sure your Apify account stays safe. The team account is only available with the Team and Business plans.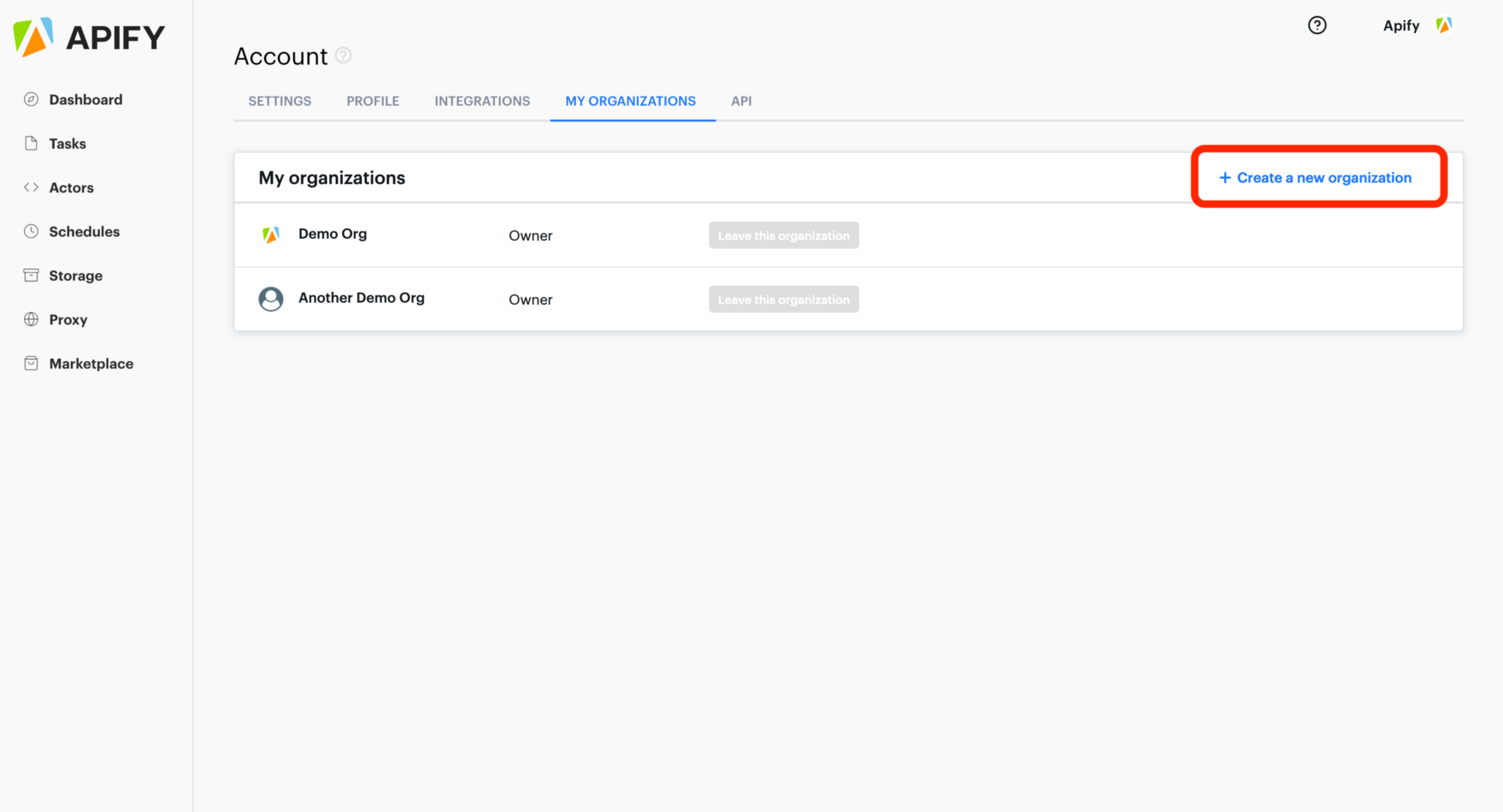 For details, see the team account documentation.
Notifications center
The new billing system also includes a new notifications center to make it easy for you to stay up to date with what's happening with your Apify account. For example, you will get notifications about new invoices, excessive platform usage, expired payment methods, new features and so on. The notifications are shown in the app and also sent by email, so that you won't miss a thing.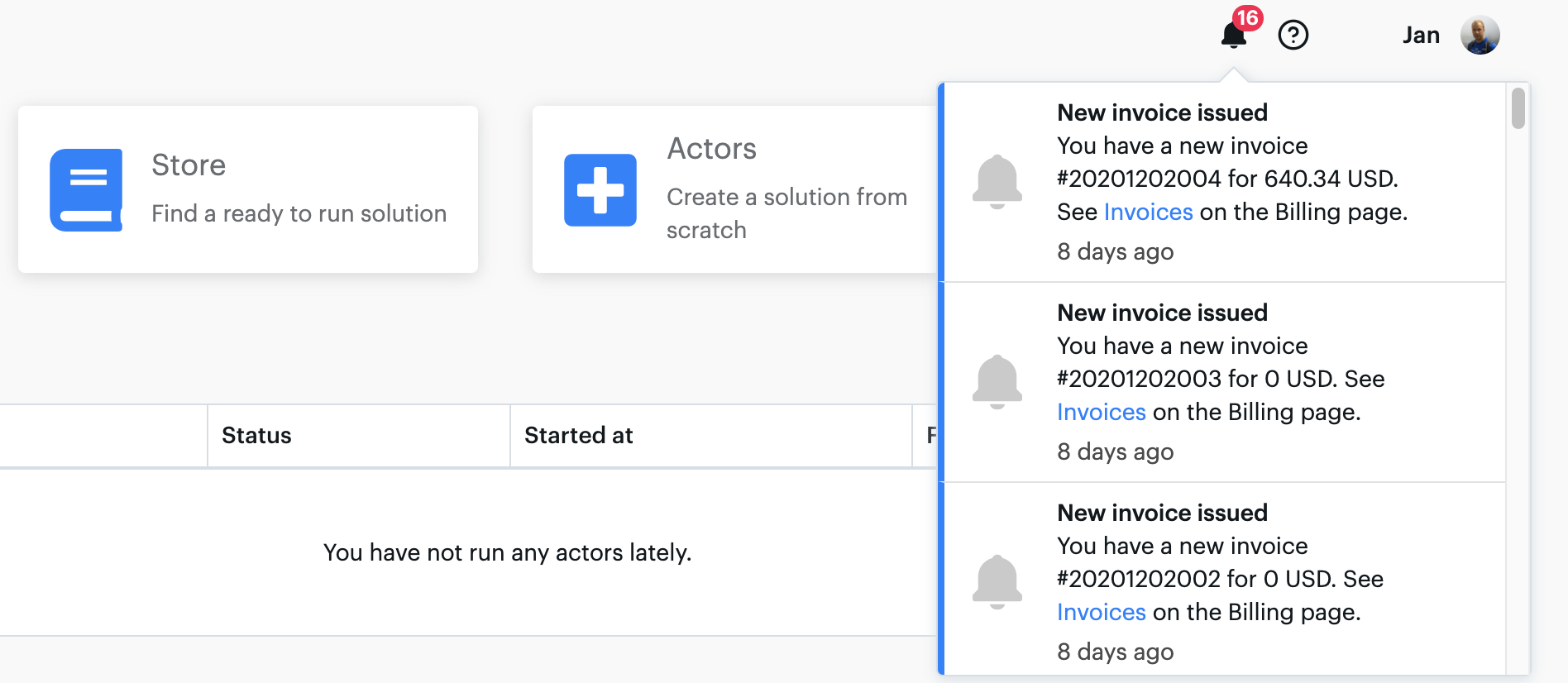 What's next?
That's not all. The new billing system is a flexible base on which we plan to deliver valuable new features for you. Stay tuned, more goodies are coming soon 🎁 😉
If you have any questions or feedback, we'd love to hear from you. Simply write to support@apify.com
---
---