Need data fast? Ordering custom solutions on Apify just got a whole lot faster and much more affordable with Offers on Apify Marketplace — a feature that allows developers to prepare proposals for projects and share them directly with you!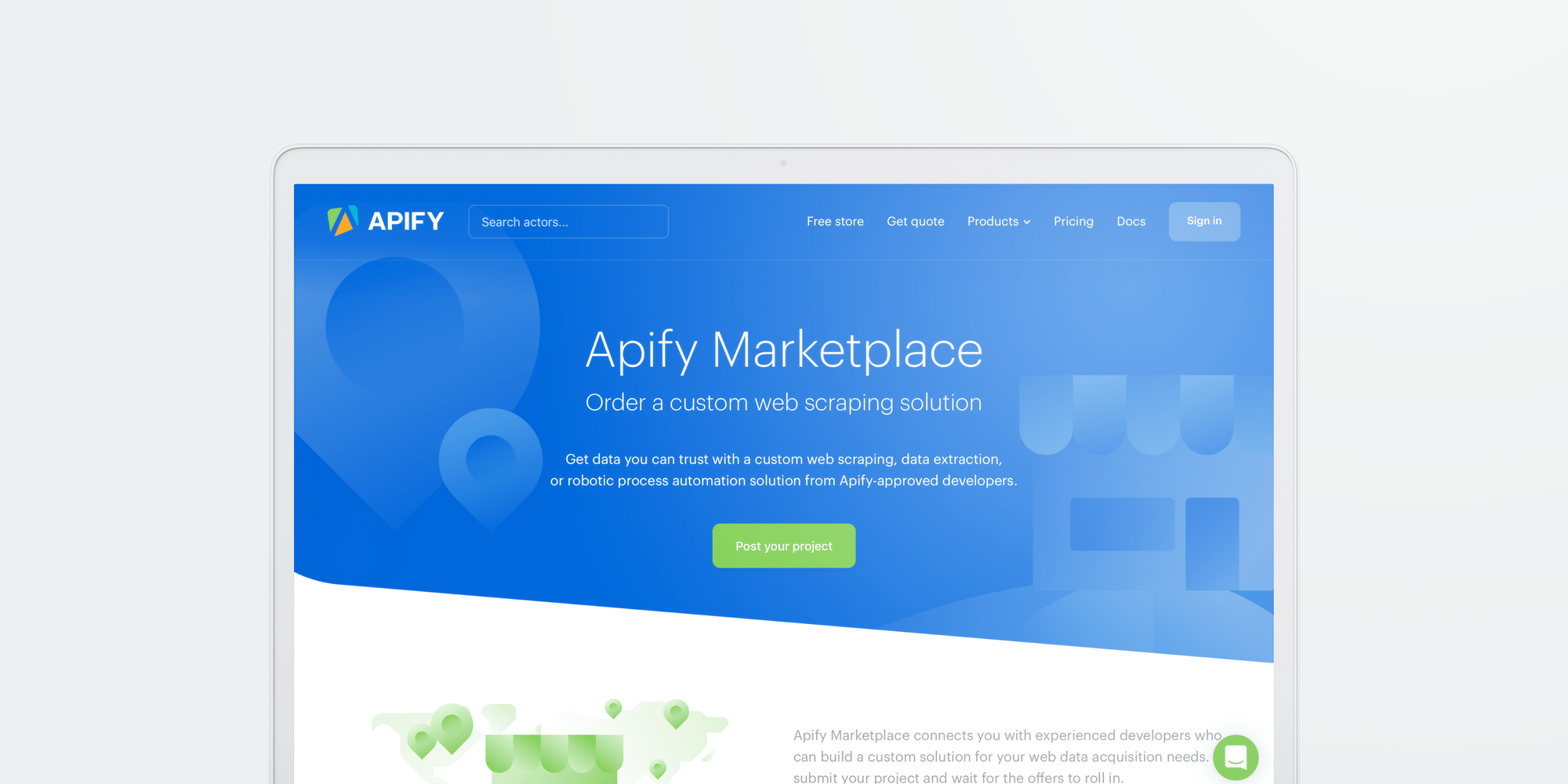 Apify Marketplace connects you with Apify-approved developers who can build a custom solution just for you. Do you want to monitor your competitors and react to their price changes? Do you need to generate leads for your business? Or are you looking to automate repetitive and time-consuming tasks? Get data you can rely on for these use cases and many more with a custom web scraping, data extraction, or robotic process automation (RPA) solution. All you have to do is submit your project description then sit back and wait for the offers to roll in.
Why should you order your project on Apify Marketplace?
Ordering your project on Apify Marketplace guarantees you a turn-key solution from an experienced developer at a price that won't break the bank. No coding needed. Your solution is ready to go upon delivery, so you can start with what's most important to you — gaining valuable insights from your data right away.
And did we mention that it's risk-free? If the solution isn't up to your standards, you'll be refunded the full amount. Each Marketplace developer has been carefully selected and onboarded by Apify staff and has successfully delivered several projects for us before being added to Marketplace.
Have more questions? See Apify Marketplace FAQs.
How do offers work?
It's simple! The first step is to specify what you need. Enter your project specs in the request form in as much detail as possible. Imagine that you're writing out each step for someone to perform manually to ensure you get an accurate quote and time of delivery. If you have a data extraction project, follow these guidelines to make sure your project goal is clear and ready for developers to send you offers. For web automation submissions, see these guidelines. We want to make sure you get the best possible solution, so once you've submitted the form, the developers or Apify staff might reach out to you with a few more questions.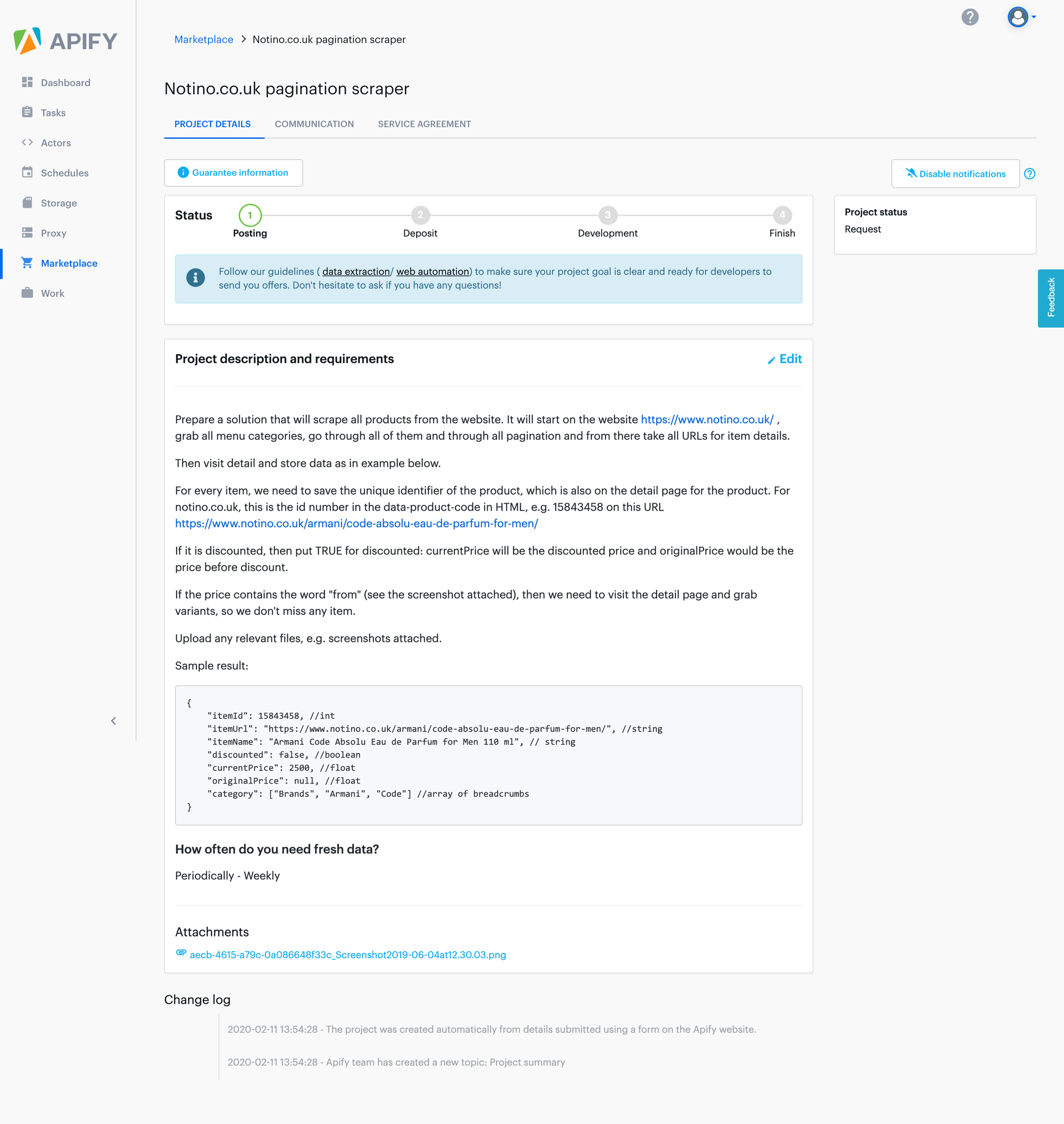 Next, sit back and wait for the offers to roll in. You'll start receiving offers from developers with a proposal, quote, and timeline for delivery. Choose the one that's best for you, and then we'll ask you for a deposit to reserve the spot in the developer's calendar.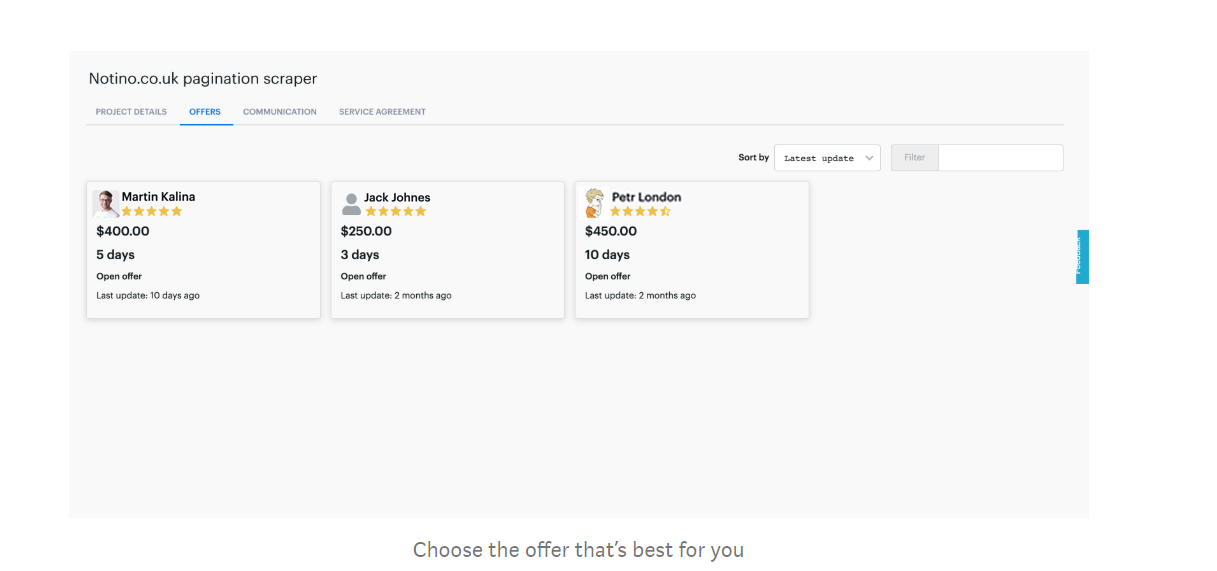 You'll be involved every step of the way. The selected developer will be in close contact with you throughout the process to make sure everything stays on track. You can discuss any ideas or concerns with them. And if there are any issues, an Apify moderator will be available to assist.

That's it! When the solution is finished, you'll have the opportunity to test it thoroughly before approving delivery. You also have 14-day bug protection, so if anything comes up during that time, the developer will fix it for free.
All that's left is to enjoy your solution and start planning your next project!
Want to see some of the awesome projects we've worked on for customers like you? Check out our success stories.
Ready to give it a try? Submit your project.