Welcome to the first issue of our new series that will keep you up to date with the newest features on the Apify platform.
So what's new at Apify? Read on to find out! Want the latest news? Just follow us on Twitter.
Access rights
We are launching access rights. This is a new feature that allows you to provide other users with limited access to your actors, tasks, and storages. It's a step towards a team account feature we are currently working on. You can read more about it in this blog post.​

New documentation
Apify's documentation has been completely redesigned and now has its own domain at docs.apify.com. Its source files are also now publicly available at its Github repo so anytime you find a problem, you can create an issue there or contribute with a pull request. Many new features such as full text search will be added soon! Check it out at docs.apify.com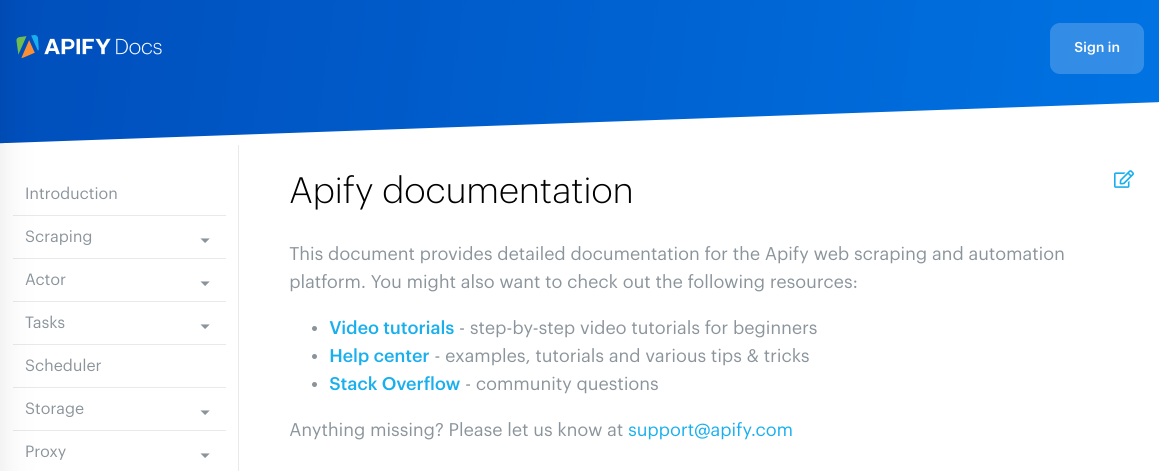 Public actors
Apify Store is overflowing with new scrapers for popular websites! Here are a few recent examples: All Recipes, IMDB, Glassdoor, YouTube, Indeed. For more, see Apify Store.
Making Apify Marketplace more open
We're excited to announce the launch of Offers — a feature on Apify Marketplace that allows developers to prepare proposals for projects and share them directly with customers. Customers can then decide which offer is best for them and accept it. Their decision is based on factors such as developer reviews, price, time of delivery, and the description of how the developer would solve their problem. Read more in the blog post.
Apify SDK 0.17.0 is out!
This is a large release that bids a final farewell 👋 to Node.js 8 and 9, contains a large number of bug fixes, feature improvements and a new experimental feature called SessionPool to handle session rotation, creation, and persistence during the crawl. Other notable additions are:
For a complete list of changes, see Apify SDK changelog.
And there's more…
Each storage type (key-value store, dataset and request queue) can now be named and renamed using API or manually in Apify app.
Dataset get items API endpoint now returns an unlimited number of items.
Oh, and did you notice that the Apify app has a completely fresh look :)
---
---